DALI / DALI-2 /1-10V Dimmable LED Driver for LED Lights
As one of the most important components of LED lamps, LED driver has been one of the main sources of failure of LED lamps. As a company with 18 years of experience in designing and manufacturing LED lamps, ZGSM knows that high quality of LED driver is the core of quality of LED lamps, so ZGSM chooses to cooperate with big world-famous brands.
As one of the strategic partners of Inventronics, Meanwell,Osram and Philips, ZGSM can get the most affordable purchase price and has a large stock of LED drivers in warehouse, especially Inventronics and Meanwell LED Drivers, in order to achieve the fastest delivery.
Our LED drivers line includes AC-DC and DC-DC LED drivers, such as 12/24V LED driver, emergency LED driver, RGB LED driver, 0-10V, 1-10V, DALI and DALI2 dimmable LED driver, D4i LED driver.
Product Features
Programmable
Class I or Class II
Build in 10KV SPD
Power range from 10-1200W
90-305Vac /277Vac /348Vac / 480Vac
0-10V, 1-10V, DALI and DALI2 Dimmable
IEC 61347-1, IEC 61347-2-13, IEC 62384
Application: street lighting, flood lighting, high bay lighting, stadiums, solar street lighting, etc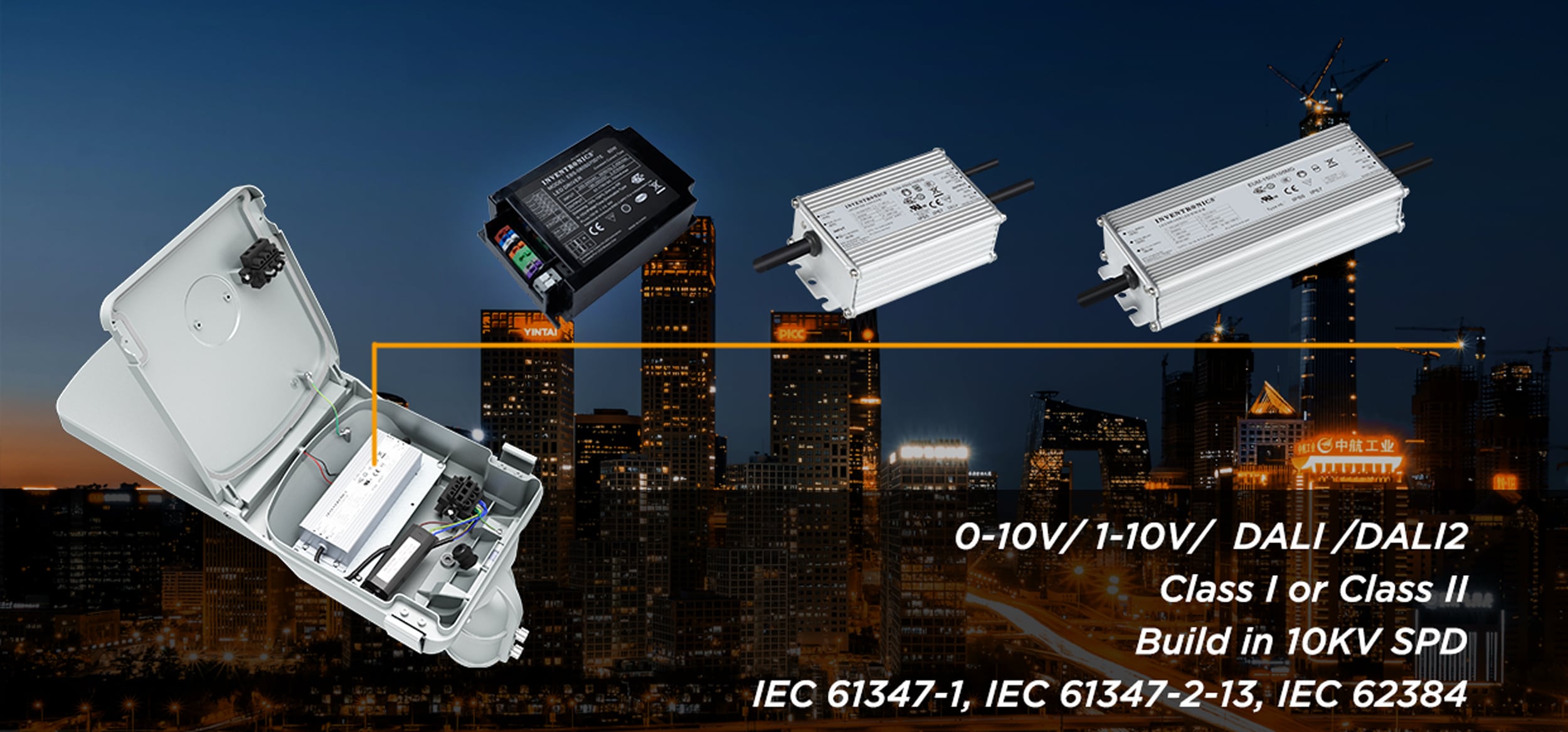 | | |
| --- | --- |
| Name | LED Driver for LED Lights |
| Power | 10W,30W,50W,75W,100W,150W,200W,240W,320W,640W,1000W,1200W |
| Protection Class | Class I / Class II |
| Shape | Metal / Plastic Case |
| Optional Function | NTC, OLC |
| Surge Protection | DM 6kV, CM 10kV |
| Dimming | 0-10V,1-10V, PWM, DALI, DALI2, D4i, Self-Adapt timer dimming |
| IP Rating | IP66 /IP67 |
| Life Time | >100,000 hours @ Case Temperature 70°C |
| MTBF | >330,000 hours |
| Operating Case Temperature | -40°C ~+90°C |
| Certifications | UL/CUL, ENEC & CE, UKCA, CB, PSE, KS, BIS, EAC, NOM, FCC |
| | |
| --- | --- |
| Model | Inventory quantity (Changing) |
| INVENTRONICS- EUM-030S105DG | 5329units |
| INVENTRONICS- EUM-050S150DG | 3277units |
| INVENTRONICS- EUM-075S105DG | 2217units |
| INVENTRONICS- EUM-100S105DG | 2625units |
| INVENTRONICS- EUM-150S105DG | 3295units |
| INVENTRONICS- EUM-200S105DG | 2914units |
| INVENTRONICS- EUM-240S105DG | 3245units |
| MEANWELL- XLG-25-A | 2000units |
| MEANWELL- XLG-50-A | 3000units |
| MEANWELL- XLG-75-A | 3500units |
| MEANWELL- XLG-100-H-A | 4510units |
| MEANWELL- XLG-150-H-A | 3600units |
| MEANWELL- XLG-200-H-A | 1750units |
| MEANWELL- XLG-240-H-A | 4650units |

0-10V dimming: ZGSM LED light with dimmable LED driver support traditional 0-10V dimming control.
DALI or D4i: With DALI or D4i certificated LED driver, they support DALI or D4i control which make our LED lights or streetlights to be IoT-ready.
Timer dimming-traditional or virtual midnight: Timer dimming can adjust the output of the lamp during the working process of the lamp through the internal timer of the LED power supply according to the on/off time of the lamp. This function does not require an additional external controller, only the dimming curve needs to be set in the LED driver in advance, and the LED driver will automatically perform dimming operations according to the dimming profile. Timer dimming has two modes available, time-based or virtual midnight.
Constant lumen output: As time goes by, the lumen of the light source will gradually decay. And the CLO function is used to compensate for the decay of the luminous flux of the LED module during usage. Through the TM21 curve, you can customize the dimming profile of the lamp (built-in driver). During the use of the lamp, the power supply will slowly adjust the output current to increase the wattage of the lamp to compensate for the attenuation of the luminous flux of the lamp.
NTC: LED lights must be effectively dissipated to ensure their normal operation. The NTC function can reduce the wattage of the lamp(sometimes it needs to be turned off) when the temperature of the lamp is out of control to avoid damage to the LED module or LED driver. This function needs to install an external sensor (such as NTC, negative temperature coefficient resistor) and connect it to the driver. It will adjust the output current of the LED driver through the measured temperature/resistance value to reduce the wattage of the lamp, so as to get more efficient thermal management of LED lights.
Related Blogs
About ZGSM
ZGSM is the best LED driver supplier, and exporter in China since 2005, The factory is ISO9001, ISO14001, ISO45001, and ISO50001 certified. We have rich experience in quality control of LED drivers, and have used more than 1 million different brands of LED drivers, cooperation with most LED power suppliers. The following are the advantages of the LED drivers we chose: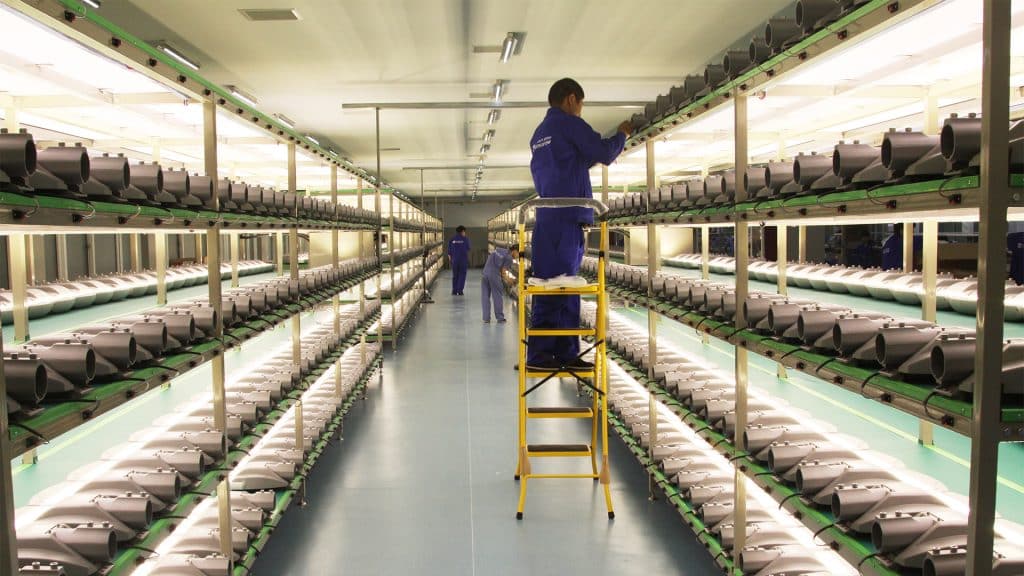 Why Choose us as your LED Driver Supplier in China?
R & D Team
Product Testing
In order to ensure the high quality of each product, we will conduct more than 30 different aspects of testing in our own laboratory before the product goes on the market. After all the tests are passed, the product can be approved for marketing. In mass production, for some basic safety and performance tests, we will conduct 100% testing to ensure that every product delivered to the customer is perfect.
Production Process