How to Buy LED High Bay Lights – A Complete Buyer's Guide
How to Buy LED High Bay Lights – A Complete Buyer's Guide
Introduction
Rising electricity costs and the negative impact of greenhouse gas emissions have led many businesses to adopt energy-efficient and environmentally friendly lighting solutions. Among them, LEDs are the most popular choice. LED lights proved to be a groundbreaking invention, thanks to their low energy consumption, fast startup time, and high-quality light. These ufo high bay led lights really help consumers save a lot of energy bills and keep their homes, businesses, and outdoor areas better lit.
If you have a large interior space that needs lighting (production facility, warehouse, factory, large department store, or gym), LED high bay lights are recommended. The powerful light of the LED High Bay Light provides just the right amount of light for large spaces with high ceilings. But LED high bay lights vary in size, color, and lumens, some via chains + hooks, some via lanyards, and some directly attached to the ceiling via brackets, so most people aren't sure which light to buy. With LED Lighting Expert, you don't have to worry at all. Here, we'll discuss a complete buyer's guide you can use to find the right LED light for your high bay application.
ZGSM is a professional expert in ufo light, more information visit Series M Ufo Led High Bay Light For Warehousing Lighting.
What are LED High Bay Lights?
LED high bay fixtures illuminate a large area with a high ceiling. There are two main categories; high and low bay light. The primary characteristic used to tell them apart is the ceiling height. Normally high bay light means the installation height is over 12 feet. And its wattage is over 100W (10000lm), that's why it's called LED high bay light.
High bay lighting is an ideal solution when a large interior space needs to be illuminated. Considering that manufacturing facilities, gymnasiums, warehouses, large department stores, and factories are large and often cover a lot of vertical and horizontal space, they require powerful lighting to provide the right level of illumination to be adequately illuminated.
While high Bay LED lights create powerful illumination at long distances to improve visibility and focus light more directly than traditional incandescent fixtures. Then high bay lighting fixtures are suspended from the ceiling by hooks, chains, or pendants, or they can be fixed directly to the ceiling (similar to troffer lamps) to provide lighting for these applications.
Below are various industries and facilities that require high bay lighting.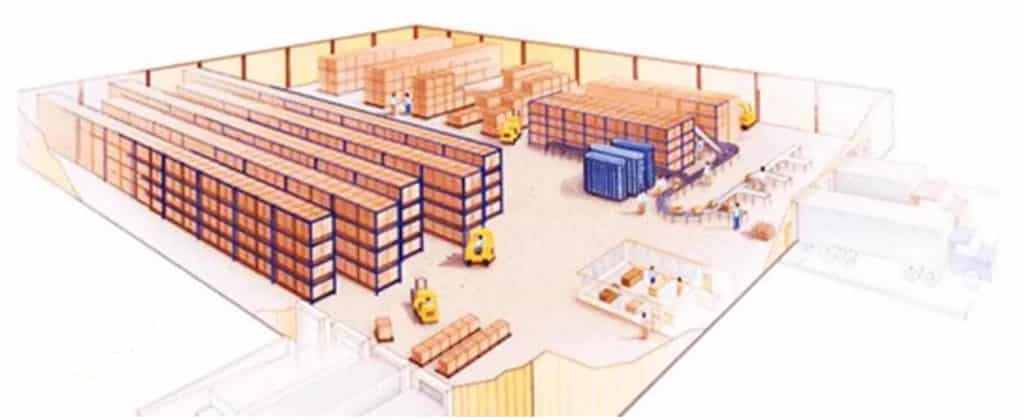 Why LEDs for High Bay Lights?
Before we get into the details of choosing the right LED light, it is important to determine why you need to choose an LED light. High bay lights have the following advantages:
Energy saving
LED fixtures use less energy to create the same lumens as traditional fixtures. That means you'll spend less money on your electricity bill when you choose LEDs versus metal halide or fluorescent lights. In addition to reducing electricity bills by 80%, LEDs combined with smart sensors can save even more money.
Different lighting distributions
With well-designed optics and layout of LED light, we can get better light uniformity which decreases the usage of the LED light. And we can also get good illuminance and a comfortable visual experience.
Long Life Span
LEDs last 10 times longer than traditional lights like HID metal halide and fluorescent lamps. The average lifespan of an LED is 100,000 hours. With LEDs the need to replace lamps is less frequent, so maintenance costs are reduced.
Durability
With IP66 and IK10, LED High Bay Light Fixtures do not break easily and are virtually unbreakable.
Non-Toxicity
LEDs are currently not considered toxic and can be disposed of in regular landfills which is eco-friendly.
Color temperature (CCT)
CCT is used to describe the color appearance of a light source. In Kelvin (K), the CCT of a warm light source is about 3500k. The CCT of neutral light sources is in the range of 3500 ~ 4500k. The CCT of the cold light source is greater than 4500k. Whether you want to choose a cool white high bay light or a warm light depends on your needs for the lighting environment
Different color temperatures give different visual experiences, please check the below table.
| Color temperature | CCT range | Feeling | Application |
| --- | --- | --- | --- |
| Warm white | <3500 | There are many red light components, which can give people a warm, healthy, and comfortable feeling | Homes, residences, dormitories, hotels, or places where the temperature is relatively low |
| Neutral white | 3500-4500 | Soft light makes people feel pleasant, comfortable, and serene | Stores, hospitals, offices, restaurants, restaurants, waiting rooms, etc. |
| Cool white | >4500 | daylight source which is close to natural light, with a bright feeling, making people concentrate | Office, conference room, classroom, drawing room, design room, library reading room, exhibition window, workshop, warehouse, and other places |
Appropriate color rendering
LEDs have different CRI (color rendering index) to choose from. If your industrial facility needs higher visual requirements, you can choose CRI80 or CRI90. If there are no special requirements, CRI70 can meet the basic lighting requirements.
Above are a few reasons why you need to choose LED lights. Now let's turn to a buyer's guide for LED high bay lights.
Which we should consider when choosing LED high bay lights?
Lighting standard for your buildings (industrial area)
If you have an area going to reform, below is an example of the illumination requirements.
Retail Store: If you have a retail store, you need bright light to attract more customers. At a minimum, you need 500 lux on the ground to illuminate the retail store. The same applies to led high bay gym lighting.
Workshop: For high-precision machining workshops, it is important to choose 500 lux so that the work environment for a worker could be improved. For ordinary machining workshops, generally choosing 300 lux can basically meet the needs of the work.
Warehouse: In the case of the warehouse for transmission or storage, a light with 200 lux is normally ok. If the warehouse includes the work area, then 300lux is suitable for this area.
Standards according to Chinese standard GB50034
| Application | Eav (lux) | Calculate surface | U0 | Ra | Glare |
| --- | --- | --- | --- | --- | --- |
| Workshop (precision machining) | 500 | 0.75 | 0.7 | 80 | 22 |
| Workshop (Standard machine) | 300 | 0.75 | 0.6 | 70 | 22 |
| Warehouse | 200 | 1.00 | 0.6 | 70 | 22 |
Type of LED high bay light
High bay lights can be round in shape and are now commonly referred to as UFO high bay lights. There are also some elongated or rectangular, commonly known as linear high bay lights. Modern LED technology allows for a lot of light in a small unit, so lighting distribution has little to do with the shape which means you can choose it as you prefer.
Round High Bay Lights
Round high bay lights are also known as UFO high bay lights because it has a circular light panel and a smaller driver on top. They are the easiest high bay lights to install as they only need to be hung at one point. Round ufo led high bays are ideal for installation on high ceilings. With its outstanding performance, heavy-duty structure, round design, and powerful beams, UFO LED high bay light is considered to have a strong, durable appearance that is aesthetically attractive in modern applications.
Linear High Bay Lights
Linear LED high bay is a linear structured luminaire whose light source is LED. They are the lights you see in almost every grocery store and warehouse. These high bay lights are designed to look like T8 bulbs, but they don't have anything in common. Linear high bay lights are great for larger buildings because they light up more space at once. They can be long and wide or long and thin. If your space has a lot of aisles or shelves, long linear high bay lights are the best option. You can install lights on each aisle so that all your products on the shelves are illuminated.
Wattage and lumens
High bay LED lights come in different wattages, but the one you need to focus on is lumens. As LEDs become more efficient, they will have less and less wattage. You can easily choose a high bay light installation depending on the height. Different heights have different watts (lumen output). The following are examples.
12-16 feet, This height is ideal for lights with 12,000 to 15,000 lumens. If we suggest the efficiency is 150lm/W, the wattage is from 80W to 100W.
18-23 feet, This height is ideal for lights with 16,000 to 23,000 lumens. If we suggest the efficiency is 150lm/W, the wattage is from 120W to 150W.
25-35 feet, This height is ideal for lights with 25,000 to 36,000 lumens. If we suggest the efficiency is 150lm/W, the wattage is from 160W to 240W.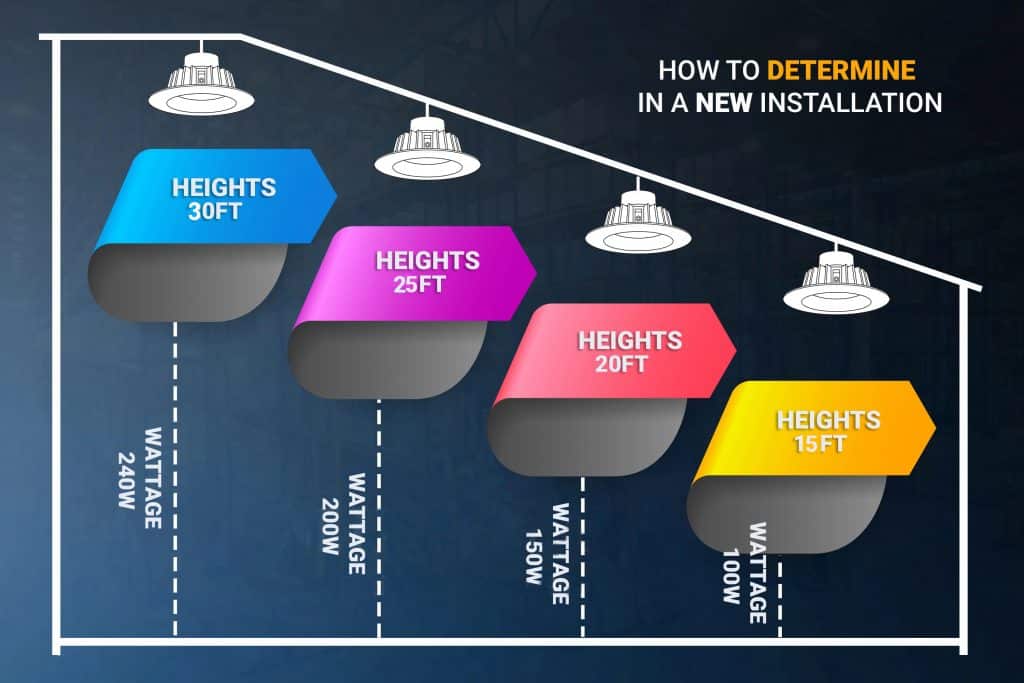 Spacing between lights
The spacing between lights is also an important factor to consider when choosing LED high bay lighting. Here are the four most common cases, and you can find the best spacing for your space.
At 15 feet height, about 12 feet spacing is for getting a high brightness and uniform light. However, if you need normal brightness, a space of 15 feet should be ok.
At 20 feet height, about 15 feet spacing is for getting a high brightness and uniform light. However, if you need normal brightness, a space of 20 feet should be ok.
At 25 feet height, about 20 feet spacing is for getting a high brightness and uniform light. However, if you need normal brightness, a space of 25 feet should be ok.
At 30 feet height, about 25 feet spacing is for getting a high brightness and uniform light. However, if you need normal brightness, a space of 30 feet should be ok.
And we have listed the below table for you to quickly check the ideal spacing for your project.
| Installation Height | High Brightness | Normal Brightness |
| --- | --- | --- |
| 15 feet | 12 ft spacing | 15 ft spacing |
| 20 feet | 15 ft spacing | 20 ft spacing |
| 25 feet | 20 ft spacing | 25 ft spacing |
| 30 feet | 25ft spacing | 30 ft spacing |
Lighting distribution
The above arrangement of lamps is based on the lighting distribution of 110°-120° (Type 5S), but this optics is not suitable for warehouse lighting with shelves. Because such warehouses often have long and narrow aisles, it will cause a lot of light to shine above the shelves if the 110° optics is still used. And these lightings are not necessary or useless. Therefore lighting distribution is also very important for high bay lights. As shown in the figure below, we list the applications of two common lighting distributions in shelf lighting. Obviously LED high bay lights with a rectangular spectrum are suitable for this type of lighting.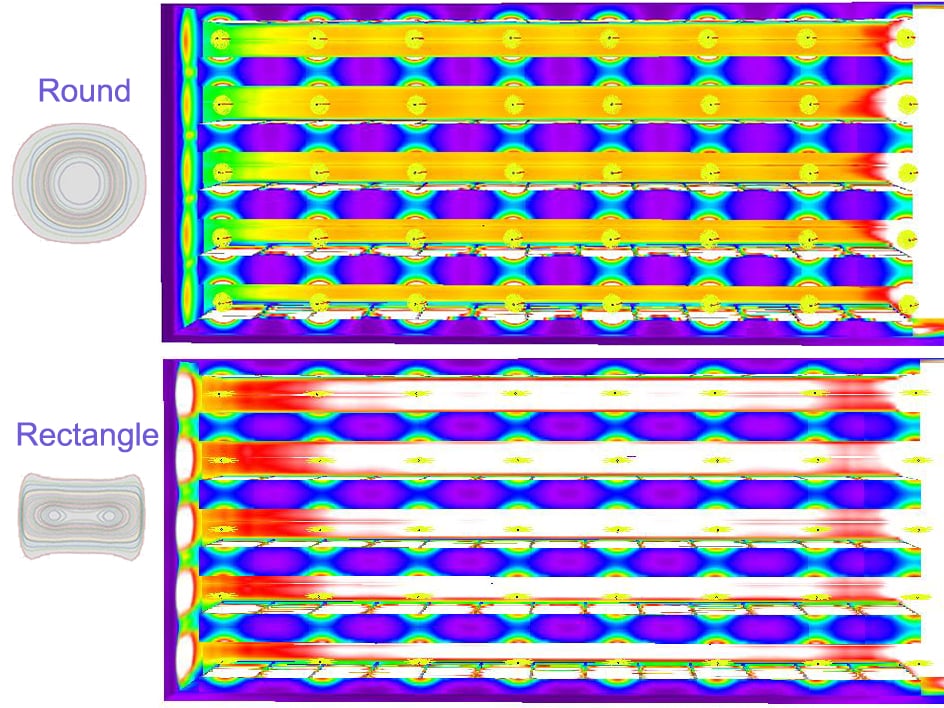 Lighting design reference
Once you've determined the wattage, spacing between lights, and lighting distribution, it's easy to know how many lights you need. The number of lights depends on the size of the space and the lighting requirements, and after confirming these two points, you can know how many high bay lights you will need. Of course, you can also create a lighting simulation to calculate how many fixtures you need.
Here is an example
If we have a 40 x 60 meters workshop which is going to be lighted. The lights are currently at 27 feet above the floor. And we want to convert from old lighting with 200-watt High Bay UFO lights or 150-watt high Bay UFO lights. Would this be appropriate? How many would I need and what is the spacing.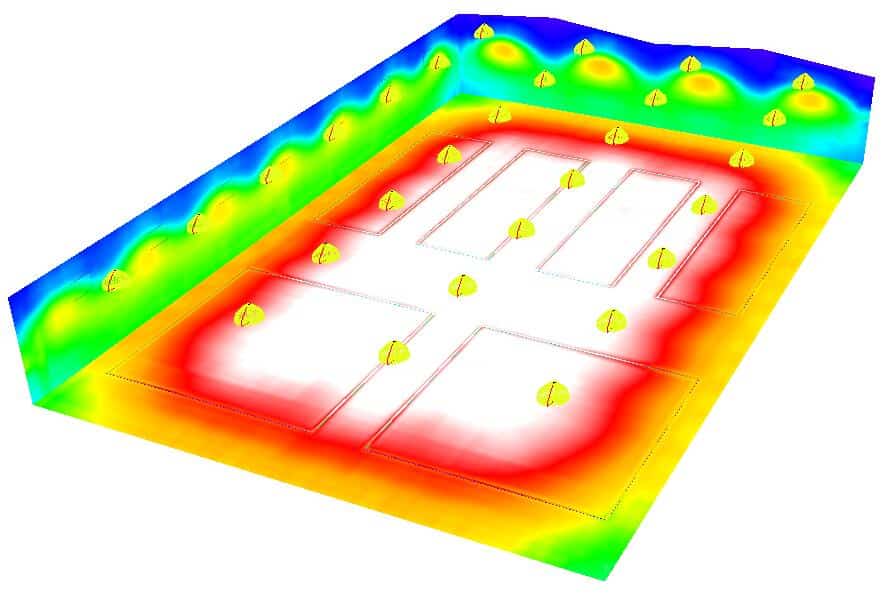 For standard solution, you can go with 200 watts with a 120 wide-angle at 27 feet height and luminaire spacing is 27 feet.
For saving energy solution, you can go with our 150W with 2835 LEDs and the spacing is still 27 feet, and the result is the same.
For a more brightness solutions, you can also go with 200W with a closer space which normally is 20 feet. This means you need more lights.
Then we have three options listed in the below table.
| Application result | Model no. | Wattage | Lamp quantity | Layout |
| --- | --- | --- | --- | --- |
| Normal brightness | ZGSM-HB09-200M | 200W | 28 pieces | |
| Normal brightness with energy-saving | ZGSM-HB09-150M | 150W | 28 pieces | |
| High brightness | ZGSM-HB09-200M | 200W | 48 pieces | |
The above is just an estimate. But we are somewhere in there.
How many LED high bay lights are required?
When setting up your high-ceiling warehouse or factory, the question arises: How many LED high bay lights do you need? Properly illuminating such spaces requires careful planning. As a leading expert in LED lighting, ZGSM can guide you through estimating the number of LED high bay lights needed.
Two scenarios dictate the number of lights needed: retrofitting existing fixtures and new installations.
For retrofit projects:
Adopt the one-for-one replacement approach, considering the total lumens produced by the original fixtures. For instance, if 10 pieces metal halide lamps 100W, each with 80lm/w efficiency, generate 800,000 lumens, you'd need around 10 pieces LED high bay lights 40W with 140lm/w efficiency and just 400 watts considering that some of the light in the MH lamp may be trapped inside the lamp and not fully projected. So in the retrofit project, we need same quantity LED high bay to replace the old MH lamps but less wattage is needed.
For new installations:
Focus on lumens rather than wattage, factoring in ceiling height:
– For heights of 10-15 feet, aim for 10,000 to 15,000 lumens.
– Heights of 15-20 feet necessitate 16,000 to 20,000 lumens.
– Heights of 25-35 feet warrant around 33,000 lumens.

Spacing between lights is vital:
– At 15 feet height, around 12 feet spacing provides sufficient light, while 15 feet ensures normal lighting.
– For 20 feet height, 18 feet spacing is normal, 15 feet gives bright light.
– At 30 feet height, 25 feet spacing yields comfortable lighting, while 20 feet ensures brightness.
Based on above we can get the quantity and wattage of LED high bay lights we need.

Project reference
ZGSM has completed a variety of high bay lighting in nearly 17 years of lighting, applications include workshops, warehouses, stations, shelves, gymnasium, food processing plants, etc. Below is the application of our H series high bay lights in the UAE factory. The project was completed in 2017, with a total of 400 pieces of LED high bay lights designed with our 3rd modules. The customer replaced the original 400W traditional high-pressure sodium lamp in the workshop, saving up to 80% in maintenance and energy costs.
For different areas of the workshop, customers use different wattages to save electricity consumption as much as possible while meeting application requirements. The new high bay clamp creates a safe, comfortable, and productive work environment for all workers, which is a cost-effective option. Below is a picture of the project, I hope this project can bring you some inspiration.
But how many LED high bay lights do I need? Actually it depends on the area size and the brightness you need as we said before. Take a 40 x 60 meter workshop for example, the quick formula is 40*60*300lux (as per your requirement) /wattage/lamp efficacy/maintenance factor. Then if we can go with 200 watts high bay light with 160lm/w, a 4×8 pattern layout is 28 pieces for getting basic lighting which is about 300lux when we space them out every 20-27 feet (@27 feet height). Or 6×8 pattern layout is 48 pieces for getting high brightness which is about 500lux.
For energy saving solution, you can go with less wattage for example 28 pieces 150W to get 200lux on ground.
Summary
When it comes to industrial lighting, staying up-to-date with guidelines is critical. Through the above introduction about the high bay light and its due, I hope you will have your own idea of the ideal industrial lighting solution. If you would like us to help you with a high bay lighting plan, you can contact our lighting team with your application type, ceiling height, space dimensions, Roof frame, wire connection, and any questions, we are available 24/7.
Rated Products
Related Blogs
Related Cases
People also ask
Author introduction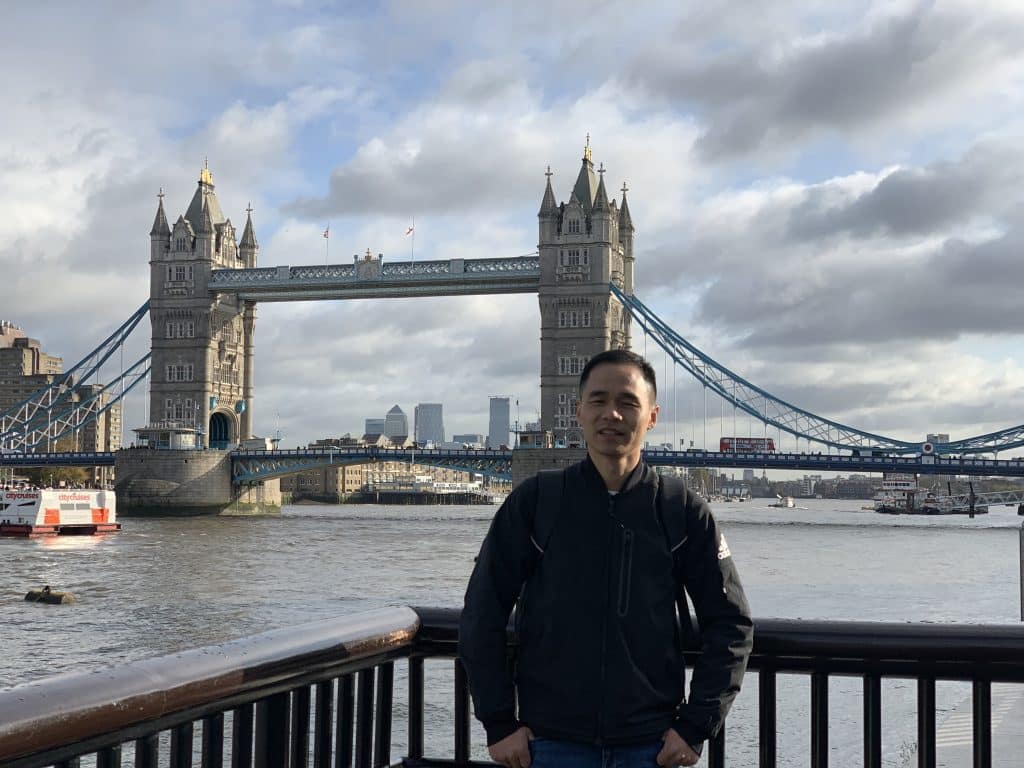 Hello Customers,
My name is Taylor Gong, I'm the product manager of ZGSM Tech. I have been in the LED lights industry for more than 13 years. Good at lighting design, street light system configuration, and bidding technology support. Feel free to contact us. I'm happy to provide you with the best service and products.
Email: [email protected] | WhatsApp: +8615068758483