Guide for gas station lighting-LED canopy lights
Guide for gas station lighting-LED canopy lights
Introduction
With the rapid development of the world's automobile industry, the construction of gas stations has also shown rapid progress. Gas stations also play an important role in providing drivers and pedestrians with bright lighting, fuel, food, and water at night. In dark environments, LED gas station lights play a vital role in providing the correct lighting and the success of the facility. Proper lighting will help guide customers into the station, ensuring their visibility and safety. At the same time, more and more gas stations now require the use of explosion-proof gas station lights to avoid accidents.
The gas station has a history of only a hundred years. It has experienced the development process from gas station to service station, and the service function has also changed from simple gas to commercialization of various services. Today's gas stations generally consist of a ceiling (roof), a fuel pump, and/or a convenience store. Therefore, its lighting quality has also developed from industrial lighting to commercial lighting, and the requirements are getting higher and higher. As to gas station lighting, canopy lights and street lights can be used as outdoor lighting, including refueling island and internal roads. And LED panels and downlights can be used as indoor lighting, including cashier areas and commercial areas. If the gas stations provides car washing service, the corresponding lamps should be waterproof lamps. At the same time, the use of lighting control systems in gas stations will help save energy, including microwave, photocell and other intelligent control systems. Among them LED canopy lights are mostly used on gas stations. And they are very common in our daily life. But what are LED canopy lights and why do gas stations use LED canopy lights?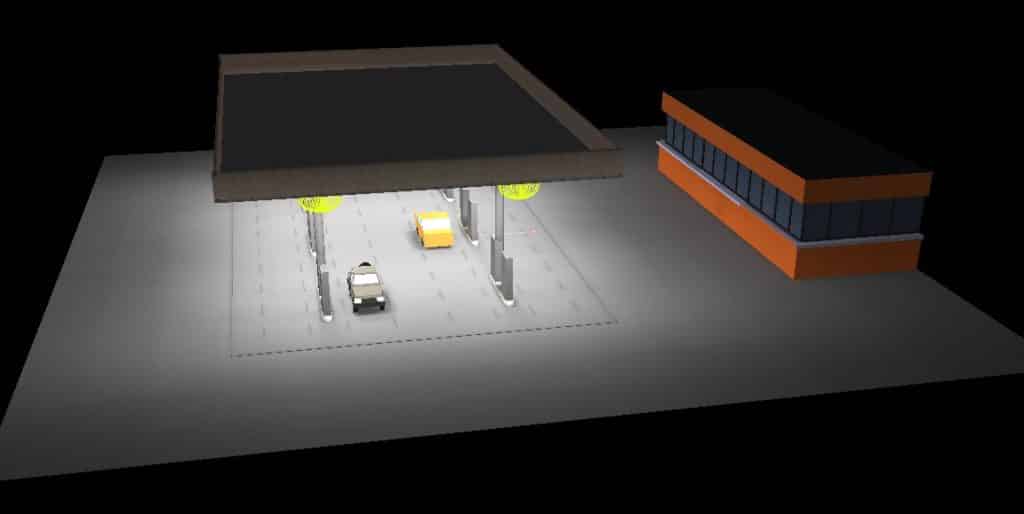 What is LED canopy light?
LED canopy lights are generally installed on the ceiling of the structure by surface or embedded. They are suitable for both outdoor and indoor use, such as gas stations and garages. In this type of light, the LEDs are hidden under the canopy of the fixture, hence the name LED canopy light. LED canopy lights are usually designed for gas stations to illuminating the area under the canopy, providing proper lighting, long-lasting time, and low energy consumption. Of course, we can also use it for lighting indoor parking lots, exhibition halls, warehouses, etc.
Gas station lighting purpose
Excellent gas station lighting will attract the attention of drivers, and comfortable lighting will make them willing to take a short rest. If the gas station meets their expectations, they will come back next time, which is human nature. Unpleasant gas station lighting can dazzle drivers, especially drivers who have just entered a gas station from a dark road environment, creating glare problems that are not only unpleasant but potentially dangerous. Low-quality lighting is not only detrimental to gas station business but also reduces employee productivity. The summary includes the following two points.
Build customers' sense of security and trust, and attract customers to patronize. Bright and easily identifiable signs will be eye-catching and provide customers with a sense of safety and trust, as well as better showcase the station's brand image.
A pleasant shopping experience will ensure that customers come back again.
The main purpose of customers is to refuel, while shopping, do car maintenance, and do other activities during short breaks. A good gas station lighting environment will bring customers a pleasant consumption experience and attract customers to visit our gas station again.
Gas station lighting standard
We have listed two lighting standards for gas station canopy.
According to GB 50034
Application
Reference plane and its height
Eav (lux)
CRI
CCT
lighting power density (LPD)
Remark
Gas station
Floor
100
60
5000 or 4000K
< 6W/m2
Eav > 50 lux on
Gasoline pump
*CCT of canopy light:5000k or 4000k
According to Sinopec
| Application | Reference plane and its height | Eav (lux) | Uniformity (Emin/Eave) | CCT | CRI | Lighting power density (LPD |
| --- | --- | --- | --- | --- | --- | --- |
| Working area of gas station | Floor | 150-200 | ≥0.6 | 4000K±200 | 80 | 8-10 |
| Working area of gas station | Surface of gasoline pump | ≥75 | ≥0.7 | 4000K±200 | 80 | 8-10 |
| Near working area | Floor | 50-100 | ≥0.4 | 4000K±200 | 80 | 8-10 |
Gas station lighting design principles
A scientific and reasonable lighting system will significantly improve the service quality of the gas station, and the gas station canopy lighting system is a key factor to ensure the service quality of the gas station. According to the relevant standards, we summarize the following basic principles.
Horizontal and vertical illuminance
Good horizontal illuminance can ensure driving safety, while proper vertical illuminance can ensure correct refueling operation, and at the same time directly affect the customer's impression of the gas station.
The horizontal illuminance of the ground to the vertical illuminance of the gasoline pump is appropriate, which not only ensures the safety of driving but also ensures the brightness of the operation surface.

Glare and CRI
Gas station lighting requires visual comfort without glare interference. The brightness distribution is reasonable and the light projection direction is correct, creating a comfortable environment and creating a good atmosphere to meet the psychological needs of customers. At the same time, as part of commercial lighting, gas station lighting needs to be equipped with pleasant lighting and good color rendering.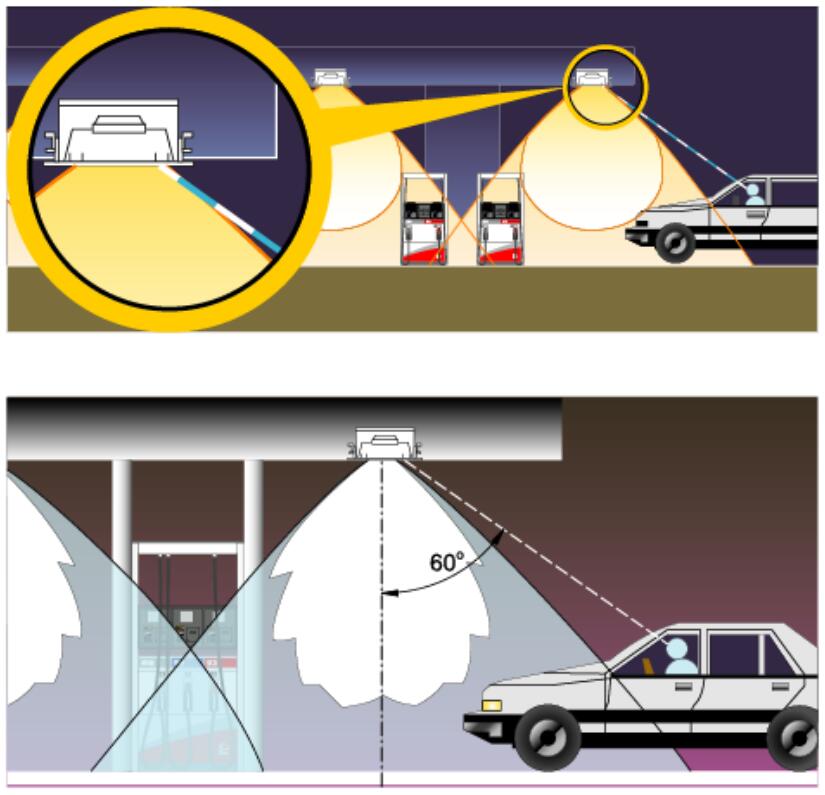 Lamp cost and Maintenance cost
The cost includes the initial investment and operation cost. The initial cost is the cost of LED lamps. If you are interested, you can refer to our Primo series price list.
| Model no. | Wattage | Price of lamp | Extra Cost of Motion sensor |
| --- | --- | --- | --- |
| ZGSM-GS04-100R | 100W | USD 64.00-74.00 /pcs | USD 13.00 /pcs |
| ZGSM-GS04-150R | 150W | USD 67.00-77.00 /pcs | USD 13.00 /pcs |
Operating costs are mainly electricity and maintenance costs. The high luminous efficiency (low energy consumption) and long life (less maintenance cost) of LEDs can reduce these costs well.
Low energy consumption
Using the best lighting design and efficient lighting equipment to achieve low energy consumption requirements, not only reduce electricity bills.
Less maintenance cost
Light sources and LED drivers are selected for long life to minimize maintenance times. We offer 5 years warranty that spare parts are easy to get, and maintenance is easy and fast.
Gas station LED canopy light selection
Primo series LED canopy lights to feature compact die-cast construction, sturdy mechanism, and reliable quality. Certified by ATEX, it can be used safely in different flammable and explosive places including gas stations and service stations. The Gas station LED canopy light IP rating and IK rating are 66 and 10 respectively. And it has a long life of 100,000 hours and a 5-year warranty. By changing the optional installation accessories, it is possible to use different areas of your gas station, including under the canopy, entrance, and commercial area.
Different installation brackets-Surface mounting /Recessed mounting /Bracket mounting
Different lighting distribution, symmetric or asymmetric
Modern and elegant design with Die-casting housing and Tempered glass
ATEX certification
Reliable LED driver and high efficacy LED chips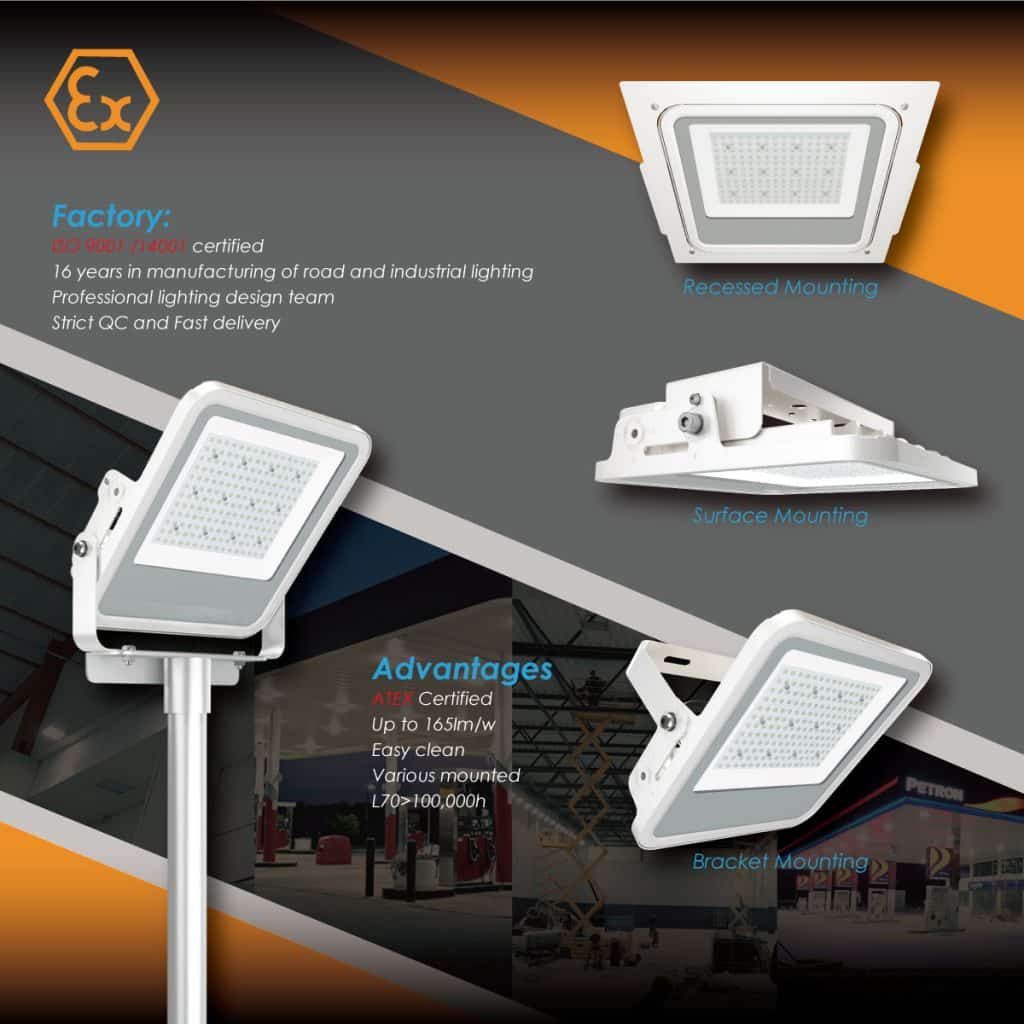 Wattage, arrangement, and optics of LED canopy light
In the practical application and installation process of gas station canopy lighting, there are widespread problems such as unattractive shape, high failure rate, and unreasonable lighting design, which affect the customer's refueling experience. Then, what principles should be followed in the design of the lighting area of the gas station shed?
How to choose and install lamps and lanterns?
1. Choose different power lamps according to the height of the canopy
Normally we use 100W LED canopy light for 6 meters of petroleum, and use 150W LED canopy light for 9 meters of gas station canopy.
2. Choose different lighting distribution for one gas station
Symmetrical light distribution lamps are arranged between the two rows of refueling machines, and asymmetrical light distribution lamps are arranged outside the first row and the last row of the refueling area in the working area.
Different types of canopy areas (single-row refueling island, double-row refueling island, multi-row refueling island) shall have different lamp layouts. The lamps for double-row and triple-row refueling islands are shown below. The left side adopts a symmetric spectrum, and the right side adopts a symmetric + asymmetric spectrum.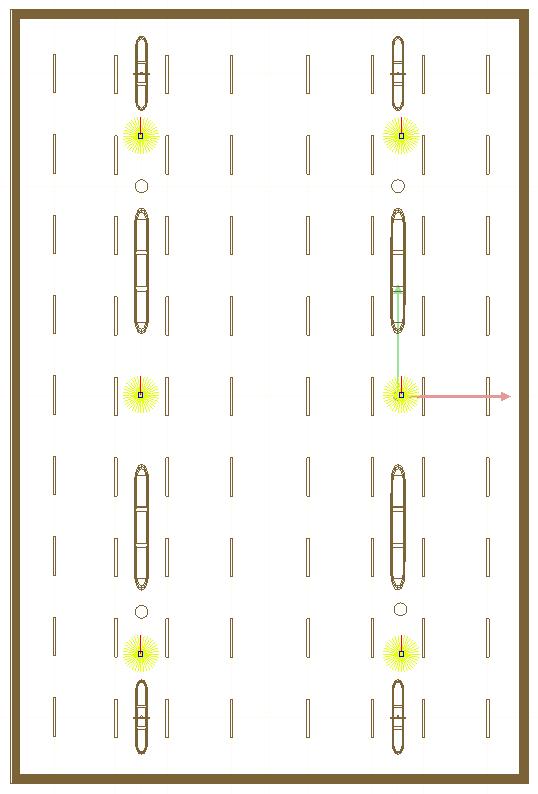 Others (Entrance and exit, store, parking area, emergency lighting)
In addition to the working area of the gas station, the entrance and exit of the gas station generally require road lighting, which is required to be more than 20lux. The convenience store in the gas station needs commercial lighting; the parking lot area needs the parking lot lighting and you can refer to our blog parking lot lighting. In addition, the LED canopy lights of gas stations sometimes need an emergency power supply for emergency use. If you need it, you can contact us.
Project reference
ZGSM and our partners have completed many lighting projects for gas stations. These projects use our A-Series, H-Series, and Primo-Series LED Canopy Lights. It is a pleasure to share our project experience and project results with you here. The lighting project of CEPSA gas station is the largest oil company in Spain. The project selected H series LED canopy lights + motion sensors (built-in). When the car drives to the gas station, the light will be 100% on, and after 30 seconds, the light will be switched to 30% brightness to save electricity effectively. This luminaire is ATEX explosion-proof certified and ideal for gas station lighting. CEPSA is very satisfied with the installation effect of our lamps and has successively increased orders for the replacement of lamps in gas stations.
Summary
Discussed above are some of the basics you need to know about gas station lighting standards, canopy lights and their features and options, as well as LED canopy lighting applications in gas stations, and more. LED lighting solutions are in increasing demand as they have replaced traditional lighting solutions and therefore, the demand for ceiling lights is also on the rise. If you are looking to install LED canopy lights for your gas station to bring clear, bright light and a lively atmosphere to the place, ZGSM is a trusted manufacturer of high-quality canopy lighting solutions. We can provide you with a range of solutions from gas station lighting planning, to luminaire selection, arrangement, and lighting distribution selection, as well as other functional options. Please contact us as soon as possible and let us light up your life.
Rated Products
Related Blogs
Related Cases
People also ask
Author introduction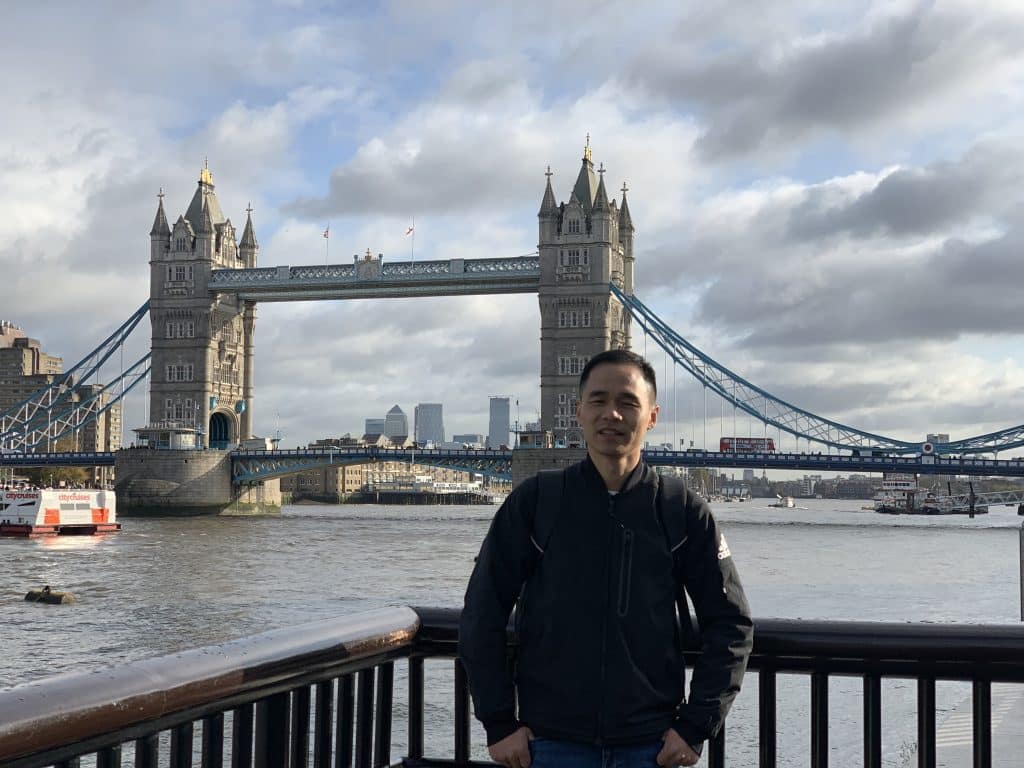 Hello Customers,
My name is Taylor Gong, I'm the product manager of ZGSM Tech. I have been in the LED lights industry for more than 13 years. Good at lighting design, street light system configuration, and bidding technology support. Feel free to contact us. I'm happy to provide you with the best service and products.
Email: [email protected] | WhatsApp: +8615068758483