Several things you need to know about LED Street Light
Several things you need to know about LED Street Light
What's LED street light?
LED street light is a lamp composed of a light-emitting diode(LED). And it will be installed on top of a pole that is used to provide light on roadways, sidewalks, parking areas, or other exterior areas. It's an Infrastructure construction unit in guarantees safety in the road, residential, or other exterior areas. For more led street light problems please read below!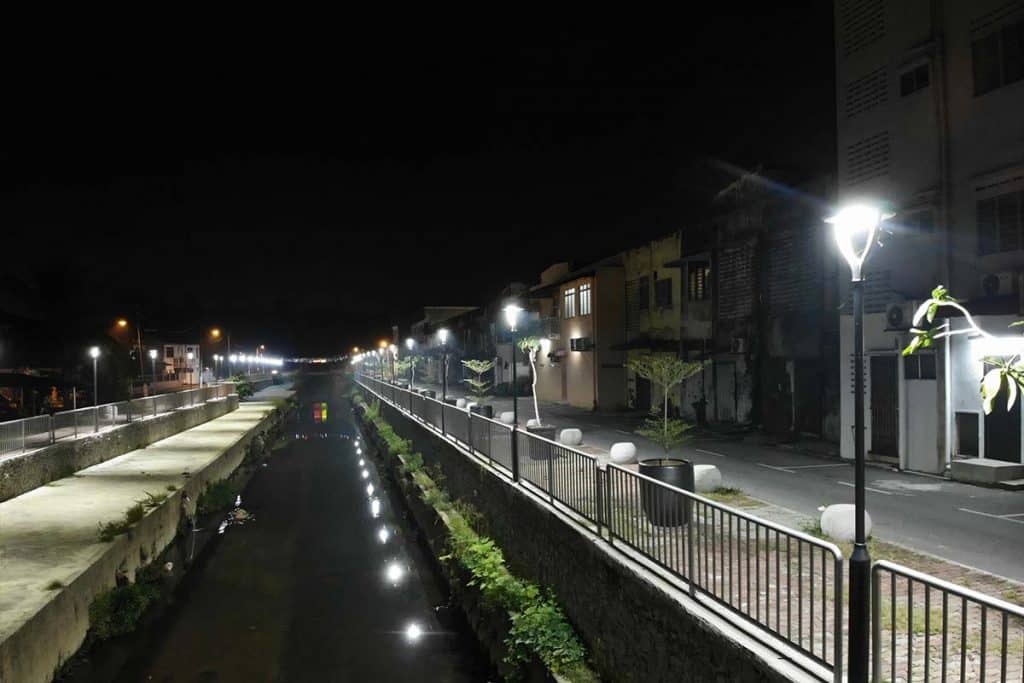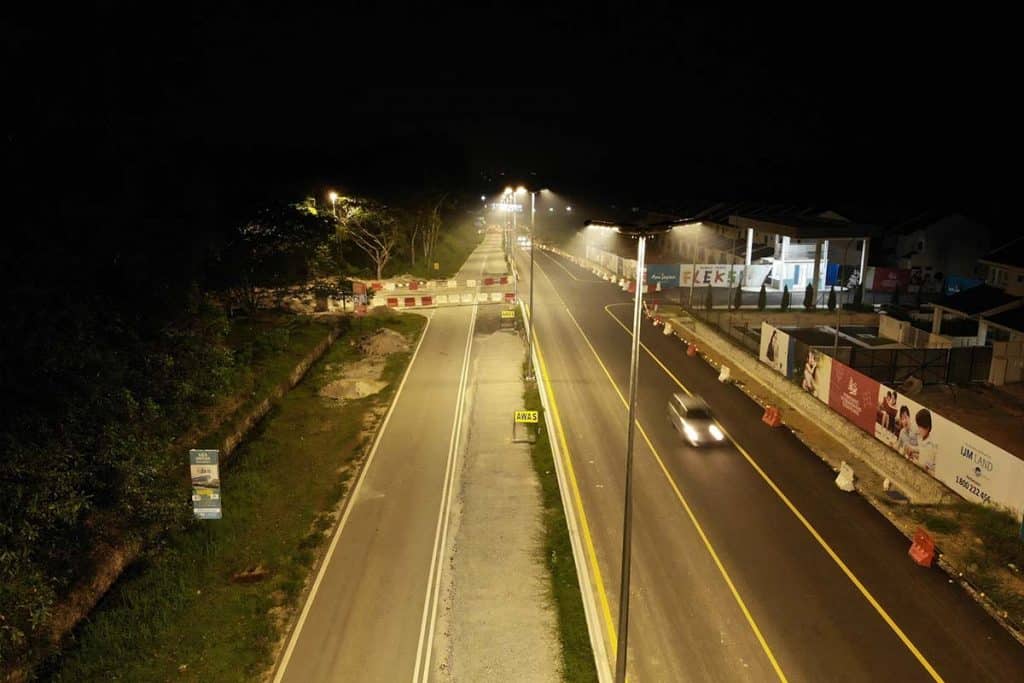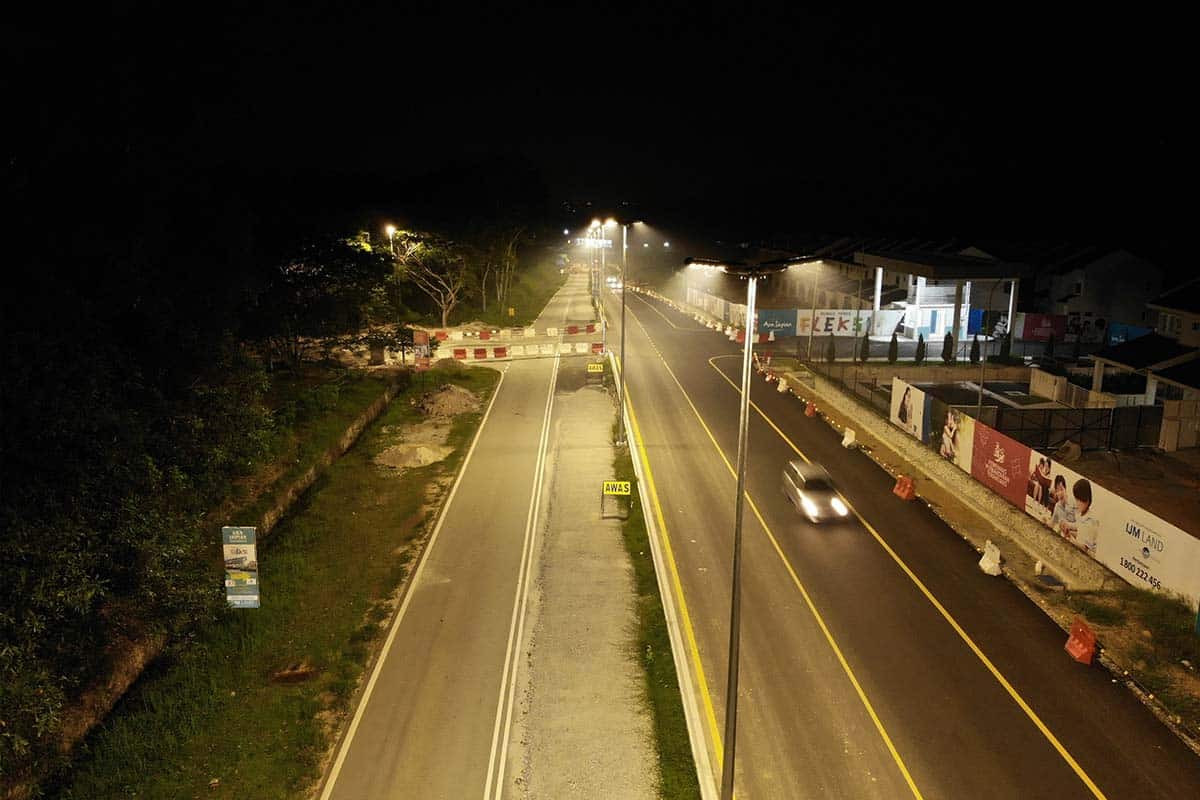 Kinds of LED street light
According to the difference of heatsink, the LED street light can be with modular design or a full die-casting aluminum design. Modular design LED street light has the advantage like easy replacement and good heat dissipation. ZGSM H series is one street light with a module which is developed in 2013 and it's still in hot sale. However, street lights with all die-casting aluminum become more popular these years. For example, ZGSM K series street led light is marketing in 2017 while the Rifle series is coming out in 2021.
According to the difference of LED chips, LED streetlights can be either with SMD or COB. SMD refers to the term "Surface Mounted Device" LEDs, which are the utmost shared LEDs in the market. COB is short for "Chip On Board". Many LED chips are packed together as a lighting module and it looks like a panel when it's turned on. And all ZGSM LED street lights are adopting SMD design. Because as our understanding, SMD is more efficient, more reliable, and more conducive to street light work than COB.
LED Road lamps can be used for many different applications.
Primary roads, secondary roads, and highways need extra light for safety. For these roads, the lighting class requirement is normally from M1 to M6.
Pedestrian streets, cycleways, emergency lanes, other road areas lying along the carriageway, and residential roads. For these applications, the P lighting class(P1 to P6) is normally required.
Other exterior lighting, like the schoolyard, parking area, urban square, and outside of the factory. For these areas, you can send us a drawing so we can make the lighting design accordingly.
Difference between LED and traditional street light
High efficiency
Firstly, LED street lights is using LEDs as their lighting source. Compared with a traditional light source, the LEDs are more efficient. It can save up to 80% energy which is eco-friendly, saving LED street lamp costs.
No toxic elements
LED street lights contain less toxic elements. And all ZGSM LED street lights have got the RoHS certificate, which means you can use our product without any worry.
Fewer lights needed
With high efficiency, it means we can use a street light LED with less wattage to light up the road. But we should also pay attention to the light distribution of LED street lights. Light distribution is the projected pattern of light that a lighting fixture will disperse onto a surface. With good lighting distribution, we can use less energy than other LED street lights, which LED street lights more efficient.
Long life span
LED street lights normally with long service time. We can explain it in the following two aspects.
The 70% lumen maintenance lifetime of LEDs can reach 100000hrs.
The LED driver failure rate is very low. The MBTF rating of the Inventronics EUM series driver can reach over 200000hrs.
All of these make LED Lights last up to six times longer than other types of lights, reducing the time of replacements. A longer life span means fewer lights and fewer resources for a municipality to run a street lighting project.
The common problem of LED street light
Driven by profit and unfair competition, Street lighting products may have some problems. LED street lights problems include LED driver failure, poor LED chips, poor SPD function, lower IP/IK, unreasonable heat dissipation, poor powder coating, poor lighting distribution, low efficiency, and poor package.
Because of the length limits, I cannot list all details in this article. If you are interested, please read our another blog 《What are the common problems of LED street lights?》 to get more information.
The wattage of LED street light
Wattage is important to the factor of LED street lights. Normally the higher the wattage, the brighter the light. But when the street light is installed, the lux(maintained average illuminance) on the ground and maintained average luminance on the ground are also determined by the height of the pole, the width of the road, pole distance, boom length, boom angle, and distance between pole to the road.
"Depending on whether they are illuminating a residential neighborhood, major road, or town center, the lamps used in streetlights vary in both size and power consumption (usually between 35 and 250 Watts)" It is often believed that the average wattage of a streetlight is around 80 watts." Outdoor Lighting Handbook.
To find suitable wattage, you have to check the lighting design tools. Except for the wattages of street lights, their lighting distribution is the main factor that has an influence on lighting results. We have listed below three options to choose the right wattage for your projects.
Quickly choose by checking the wattage of existing lamps
For old roadway lights, it's either with a high-pressure sodium bulb or a metal halide bulb. Replacing a 250W high-pressure sodium street light, normally 100W LED street light is enough. We suggest the wattage of LED street lights can be 25% to 40% of existing high-pressure sodium street light wattage.
Quickly choose by checking the height of the pole.
The rough estimate wattage corresponds to the pile height and road width as below. These are just for reference, it may change according to the final lighting design.
10w, suitable for pole height 2.5m-3m
15-20w, suitable for pole height 3m-4.5m
20-30w, suitable for pole height 5m-6m (5m suitable for road width 6-8m, 6m suitable for road width 8-10m, 2 lanes)
30-50w, suitable for pole height 6m-7m (suitable for road width 7-8m, 2 lanes)
50-80w, suitable for pole height 7m-8m (suitable for road width 8-10m, 2-3 lanes)
80-100w, suitable for pole height 8m-10m (suitable for road width 8-10m, 2-3 lanes)
120w, 150w, 200W, suitable for pole heights above 10-12 meters
Wattage as per lighting design
Before lighting design, we would like to know the height of the pole, the width of the road, pole distance, boom length, boom angle, and distance between pole to the road. It's better than you can provide as many details as possible.
Btw, you have to provide the lighting requirement for the road which we call the lighting classification. Normally it's clearly requested in the tender document. Or according to EU standards, it depends on different variable conditions, such as speed, traffic volume and/or composition, ambient luminance, weather, etc.
Below is an example of how to choose the right lighting classification (M lighting classes) for motorized traffic.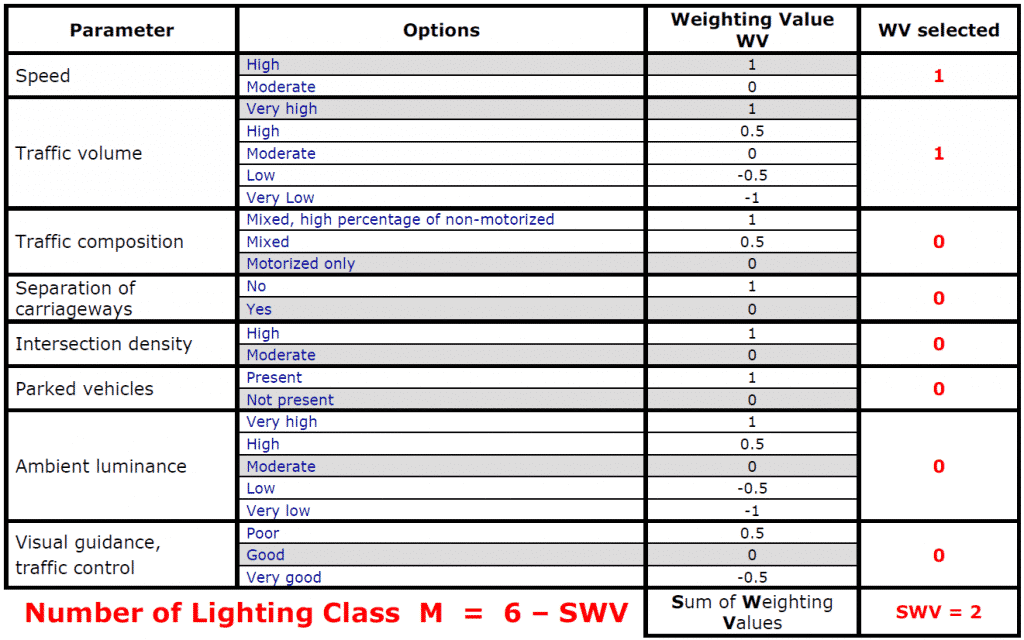 After weighting value selection, we will get SWV(selected weighting value) and find the M4 lighting class is a suitable one. Then we can use this for your lighting design. Below is the table regarding the requirement (Lav, Uo, UI, TI) for different M lighting classes.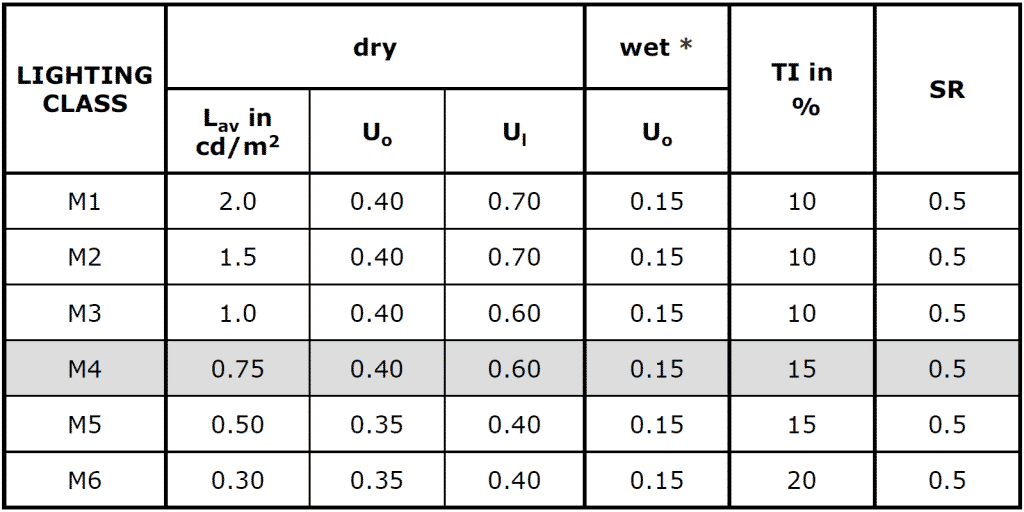 Since the Lav (maintained average luminance) is not the same for different M lighting classes, the wattage for the same road condition is not always the same. Below is a table for your reference, you can see we have made the lighting design with our Rifle series under 8m pole, 35m pole distance, and 6m width road based on different lighting classes. For M3, we have to use 70W, and for M5, we just need to use 30W.
| Pole height | Pole distance | Road width | Lighting Class | Wattage |
| --- | --- | --- | --- | --- |
| 8m | 35m | 6m | M3 | 70W |
| 8m | 35m | 6m | M4 | 50W |
| 8m | 35m | 6m | M5 | 30W |
PS: We assume the boom length is 0m and the boom angle is 0 degrees.
Important parameters of LED street light
Wattage
In the above section, we have shared some information with you about the wattage. This is mainly determined by your project requirement. It's important because you can get a better price with lower wattage. Btw, the lower wattage you can achieve, the better chance you can get your project. Because the wattage and price are important factors in tender evaluation.
LED driver
LED driver matters the function which you want to realize with your street light. You can find the reason which LED driver is important for street lights in our article 《What are the common problems of LED street lights?》
Here we just show you how to quickly choose the suitable LED driver for you. Or you can check How to choose the right LED driver for your LED light.
1. Class I or Class II, If Class II, it's better to go with Inventronics.
2. Timer dimming, Meanwell, Inventronics, or others are all ok for you. But for timer (virtual midnight), it's better to go with Inventronics
3. For other functions, like dimming, OLC, NTC or Auxiliary output, you can choose accordingly.
Since below is a brief introduction regarding function, you can check with us with your requirement so we can help you find the right/suitable LED driver.
| Brand | Meanwell | Inventronics | Osram or Philips |
| --- | --- | --- | --- |
| Stock | ZGSM have a few in stock | ZGSM have them in stock | As per the order request |
| Delivery time | Good | Good | Not very good |
| Other functions | | | |
| Class I/II | Class I | Class I or Class II | Class I or Class II |
| Dimming | 1-10V, resistance, Timer, Dali | 1-5V, 1-10V, PWM, Dali | 1-10V, Dali |
| Timer | Timer(standard) | Timer(standard or virtual midnight) | Timer(standard or virtual midnight) |
| OLC | No | Yes for some series | Yes for some series |
| NTC | No | Yes for some series | Yes for some series |
| Auxiliary output | No | Yes for some series (motion sensor or Zhaga) | Yes for some series (motion sensor or Zhaga) |
LED chips
LED chips play a big role in determining the quality of LED light. For ZGSM LED lights street, it matters the stability and brightness. For the importance of stability, you can find the details in our article 《What are the common problems of LED street lights?》 And LED chips are a master factor for the brightness of LED street lights. We have 3030 and 5050 for your options. 3030 LED chips are an option with higher cost performance. As to 5050 chips, it's a good option for an energy management contract.
Lens/optics
ZGSM LED Streetlight provides a wide variety of optical light distributions suitable for all architectural, roadway, and area lighting applications to get better light uniformity. For example, in our Rifle series, we have T2S53001, T3S53002, T3S53003, T2M53007, T3M53009, T2S55004, T3M55005, T3S55006, T2M55008, T3M55010 optics. And if you have any other special requirements on the lighting distribution, you can check with us as it can be customized.
CCT
CCT (Correlated Color Temperature) is the measure used to describe the relative color appearance of the LED light source. CCT indicates whether a light source appears more yellow, white, or bluer. CCT is given in kelvins (unit of absolute temperature). 2700K is "Warm", 4000K is "Neutral" and 5700K is "Cool". Below is the typical light color.

CRI
CRI represents the quality of light and its ability to reproduce the colors of objects faithfully. The ideal CRI is 100, but for LED street lights normally 70 is enough. And we also provide the option CRI80, which makes object colors "realistically" or "naturally". While for indoor lighting, CRI 80 is a basic requirement, and the higher the better.

How to install LED street lights?
Take the ZGSM Rifle series as an example. Before installation, please read our instruction manual carefully and keep it for future use.
Step 1, Open the outer packaging, remove the packing materials on the lamp body, take out the lamp.
Step 2, We firstly need to fasten the fitter at desired tilt angle onto the street light with screws.
Step 3, Loosen the buckle, open the upper cover of a street light.
Step 4, Make the wire pass into the street light carefully. Tighten the external power cable with an M16 connector. Connect wires to the knife switch or terminal block and be sure that connections are correct (Brown to Line, Blue to Natural, Yellow/Green to Ground).
Step 5, Insert the lamp into the pole, Fasten the 2pcs M10X25 screws with Allen Wrench. Close the cover and clips. Switch the voltage on and check to see that the street light works properly. Recommended torque: 17Nm ± 1Nm

Rifle street light installation steps
Price reference of ZGSM 35W or 40W street light
| Model No. | ZGSM-LD35KS | ZGSM-ST17-40S | ZGSM-ST18-40S |
| --- | --- | --- | --- |
| LED driver | EUM-050S150DG | EUM-050S150DG | EUM-050S150DG |
| Wattage | 40W | 40W | 40W |
| LED chips | Lumileds 3030 | Lumileds 3030 | Lumileds 3030 |
| Weight | 5.9KG | 4.6KG | 2.0KG |
| Unit Price | USD93.33 | USD70.63 | USD47.14 |
The price composition ratio of the above street light
| Model No. | ZGSM-LD35KS | ZGSM-ST17-40S | ZGSM-ST18-40S |
| --- | --- | --- | --- |
| LED driver | USD20.00 | USD20.00 | USD20.00 |
| LED module(LEDs, PCB, lens) | USD10.00 | USD8.00 | USD5.00 |
| Surge protection device | USD6.00 | USD6.00 | USD6.00 |
| Lamp housing | USD45.00 | USD30.00 | USD14.00 |
| Others | USD12.33 | USD6.63 | USD2.14 |
PS: above is just a reference for you to better understand the price composition of street lamps (More LED street light cost problem, please contact our sales).
As you can see, the street lights price is mainly made up of LED drivers, LED modules, SPD, and lamp housing. The main functions of the above street light are almost the same. But when you look into the datasheet of our K series, Rifle series, and Nova series, you will find the differences.
Firstly, the weight of lamps differs from each other dramatically. K series is with maximum weight, while Nova series is with minimum weight. This is the main reason why there are so big differences in price.
Secondly, the K series is with Knife switches, while the Rifle series are not. And LED module and LED driver of the K series can be easily removed for replacement.
Lastly, the Nova series is without adjustable sleeves, which means it can only be horizontally installed. However, both the K series and Rifle series can either be vertically or horizontally installed. Btw, the efficiency of Rifles is the highest.
In a word, you will get what you pay off. For the K series, the design of street lighting is what I personally like most. For the Rifle series, I think it's with the best cost performance. And for Nova, if your budget is not sufficient, the Nova series is an ideal option. If you have any led street lights problems, please contact our sales or technical staff. If more information regarding street light costs includes led street lights cost and maintenance cost, please refer to How much do the street lights cost.
ZGSM also offers a smart street lighting control solution which is a remote management solution that ensures that the right amount of light is provided where and when needed. It allows the city to turn on or off, set the dimming level, check the status of lamps and monitor the data system of their street lights. Through these functions, street lighting control systems can improve energy efficiency, detect lighting failures and solve other maintenance issues in real-time.
Below is a schematic diagram for you to quickly understand how street lights are controlled by the Zigbee system.
Hardware: Street light, Zigbee single lamp controller, gateway
Software: Street lighting management platform/app, cloud
Firstly, we need a street light with a 5pin or 7pin NEMA socket. And we have to install the Zigbee single lamp controller on the NEMA socket.
Secondly, we have to install the gateway at the desired position which can make a connection with these Zigbee single lamp controllers. And the gateway should be with GPRS/3G/4G/WIFI/Ethernet connection.
At last, you should get web access to the whole street lighting system, which will allow you to automatically or manually monitor and control lighting performance
After these steps, you can change the setting on the platform, then the gateway will send a signal to Zigbee single lamp controller, and the street light will receive the signal from Zigbee single lamp controller to act(dimming, turn on/off, or others). Through the above description, I hope you have understood how street light works with the smart control system.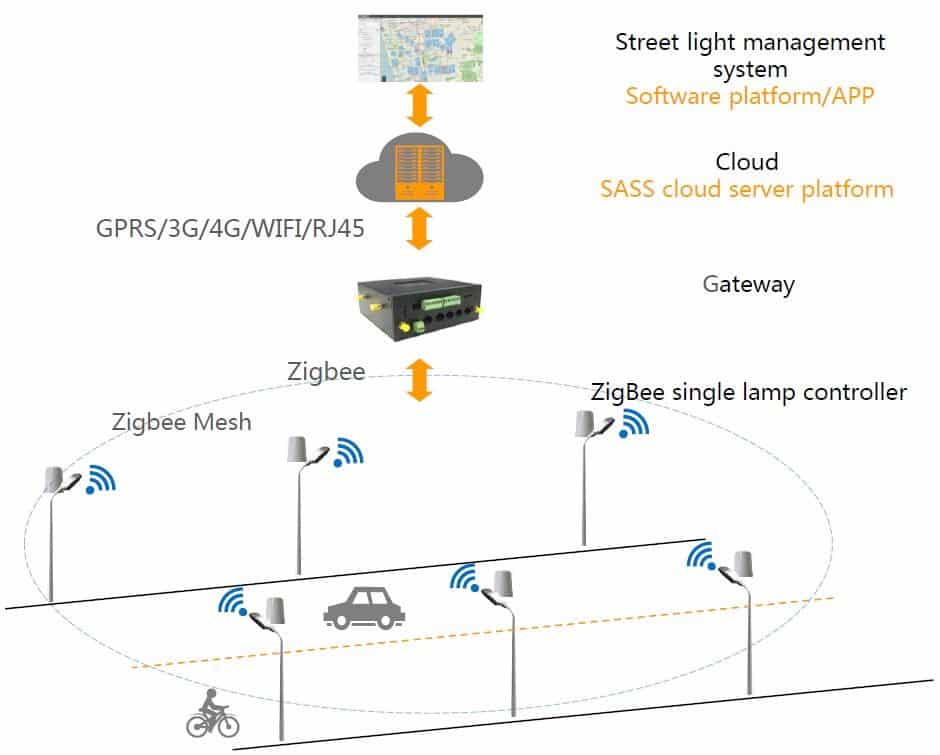 For the Zigbee lighting control system, the cost and the complexity will keep away one who is new to this system. It seems not very complicated, but there are lots of things we need to learn for the smart lighting control system. If you want to get more details or other street light problems with the smart system, please contact us. Btw the combination of timer dimming and daylight dimming will also make your light smart and energy-efficient, if you are interested please contact with ZGSM Team for details.
Rated Products
Related Blogs
Related Cases
People also ask
Author introduction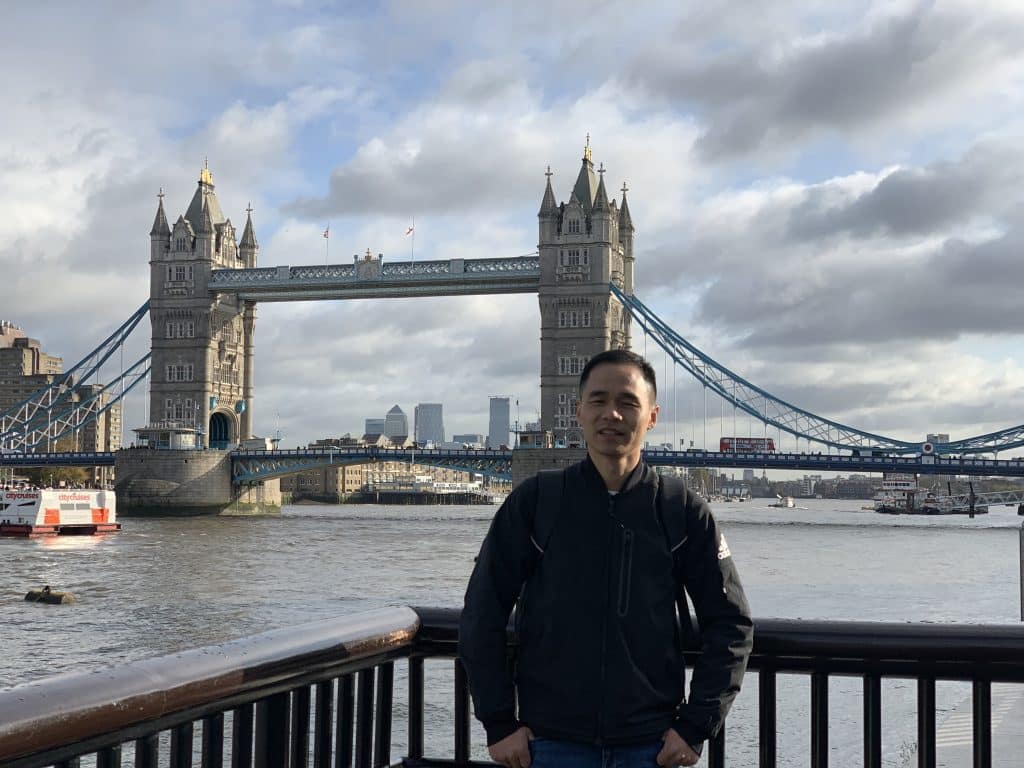 Hello Customers,
My name is Taylor Gong, I'm the product manager of ZGSM Tech. I have been in the LED lights industry for more than 13 years. Good at lighting design, street light system configuration, and bidding technology support. Feel free to contact us. I'm happy to provide you with the best service and products.
Email: [email protected] | WhatsApp: +8615068758483