Some Things about Street Light Control System
Some Things about Street Light Control System
What we can get from the street light control system
Street lighting controls reduce energy consumption and carbon dioxide emissions. Unnecessary over-lighting can be prevented by the targeted dimming of urban areas, roads, or individual lighting fixtures. Therefore, the ZGSM smart street lighting control system can be used to achieve effective and sustained energy savings – up to 70% per year!
With the advancement of technology, street light control systems are becoming more and more common. Under the premise of understanding how street lights work, through the street lights control system, we can realize the functions such as turning on/off-street lights automatically, setting dimming levels of street lights, and monitoring the data of street lights. Among many control systems for street lamps, the smart control system is the most powerful one. With this, we can realize the below functions and know how the street lights are controlled。
Street light control: remote switching and dimming control of street lamps by means of the whole project, street light group, or single street light. This saves energy as much as possible under the requirement of ensuring basic illumination and achieving maximum energy conservation.
Situation control: you can set the working situation and control strategy of street lights to realize unattended work.
Data collection: collect and upload the working record including working voltage, current, accumulated electricity consumption, and alarm information to the server. Conduct statistical analysis on street lamp feedback data, generate maintenance alarm and data reports, and inform relevant maintenance personnel of the alarm information in time.
Others: Extended camera for monitoring road conditions, traffic management, and security, extended probe for urban environment detection, or others
ZGSM believes that the most important of all these functions is energy saving. We here introduce several other street light control systems for your reference.For Street Lighting Design Guide, you can read our related article "Key Factors to Consider in the Street Lighting Design".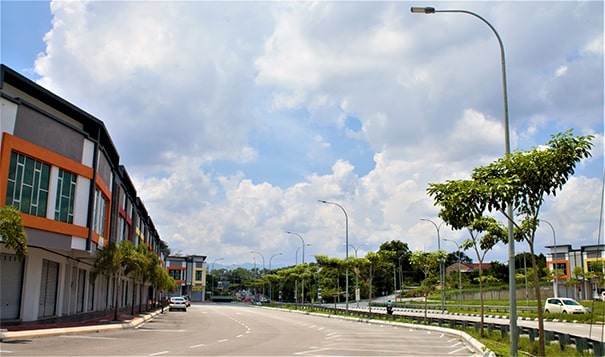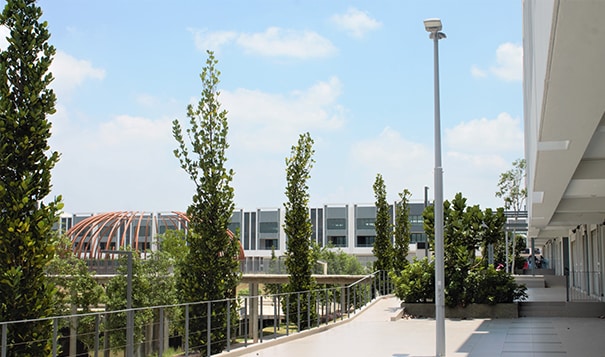 Photocell switch control system
Standard photocell switch
Photocell switch consists of a photocell and a bimetallic relay. The unit automatically turns on or off the roadway lighting according to the light intensity changes.
When the light shines on the photosensitive resistance inside the light control, its resistance becomes smaller. Then the whole circuit is closed, and the street light is turned off.
When the ambient light is insufficient, the resistance value of the photosensitive resistance becomes larger. Then the whole circuit turns on, and the street light is turned on.
By using a photocell switch, the energy consumption of street lamps can be greatly and accurately reduced. But it has its own disadvantages. For example, occasional lightning, car irradiation, and other light will give the wrong signal to the photocell sensor, which will result in turning off the lamp. Leaves or buildings that obscure photocell switches can also make the lamp be turned on during the daytime.

Photocell switch with timing dimming
With the development of the photocell switch, the timing dimming function can be built-in now. With this solution, the LED street light can be turned on/off according to the ambient light. Besides, the brightness of LED streetlights can be automatically changed to 50%(for example) after 24:00(for example). For details about timing dimming, please check section-timing dimming.

Timing dimming control system
Classical timing dimming
This is a diming function that can change the output of LED street lights during the night.
Traditionally the LED driver is with a preset program. For example, we set the LED driver as follows, 100% working for 6 hours, 50% working for the next 6 hours, then back to 100% for the next 2 hours. When the light is turned on on 18:00 and turned off on 6:00, it will be with 100% brightness from 18:00 to 24:00, and 50% brightness from 24:00 to 6:00. The lighting curve is as below.
When it's turned on on 16:00 and off on 7:00, it will be with 100% brightness from 16:00 to 22:00, and 50% brightness from 22:00 to 6:00, 100% brightness from 6:00 to 7:00
We think you have seen the disadvantage of this traditional timing street light dimming. Because we need enough brightness from 22:00 to 24:00 when the traffic volume is still large. How to solve this issue? LED driver suppliers come up with two options for us.
Self Adapting-Percentage timing dimming
By this method, the lighting curve will be as follows if the setting is 100% holding for 50% the whole time, 50% holding for 50% the whole time.
When it's turned on 18:00 and working period is from 18:00 to 6:00
100% brightness from 18:00 to 24:00
50% brightness from 24:00 to 6:00
When it's turned on 16:00 and working period is from 16:00 to 7:00
100% brightness from 16:00 to 23:30
50% brightness from 23:30 to 7:00
As you can see, the result (lighting curve) is now much better. The time shift is about 30 minutes.
Self Adapting-Midnight timing dimming
Self Adapting-Midnight (virtual midnight dimming), which is similar to Philips's autonomous dimming or Osram's Astro dimming. LED driver will adjust the dimming curve based on the on-time of the past two days (if the difference is <15 minutes), assuming that the center point of the dimming curve is midnight local time.
Normally the lights are with the lowest brightness from 0:00 to 4:00 when there is less traffic on road. This can save energy consumption which is eco-friendly. Virtual midnight dimming will make the output of LED light become less from 24:00.
By this dimming curve, we can save up to 30% to 50% energy. So please contact us if you want to learn more about this. For example, the client wants to realize the dimming as below table.
| | | | |
| --- | --- | --- | --- |
| Brightness level | 100% | 50% | 100% |
| Period of time | Sunset-24:00 | 24:00-04:00 | 04:00-sunrise |
Then the lighting curve(table below) will be as follows. This is according to our street light project in Czech.
| | | | | |
| --- | --- | --- | --- | --- |
| Date | Sunset (turn on) | Lighting Curve | | |
| | | 100% | 50% | 100% |
| 1st Jan | 17:05 | 17:05-23:56 | 23:56-03:56 | 03:56-sunrise |
| 1st Apr | 19:24 | 19:24-23:58 | 23:58-03:58 | 03:58-sunrise |
| 1st Jul | 21:02 | 21:02-23:57 | 23:57-03:57 | 03:57-sunrise |
| 1st Oct | 18:33 | 18:33-23:43 | 23:43-03:43 | 03:43-sunrise |
And below is the setting of the LED driver for your reference. As you can see above, the time shift for this timing dimming(virtual midnight) is less than 30 minutes. So ZGSM suggests LED street lights with this solution which makes your street light project smart.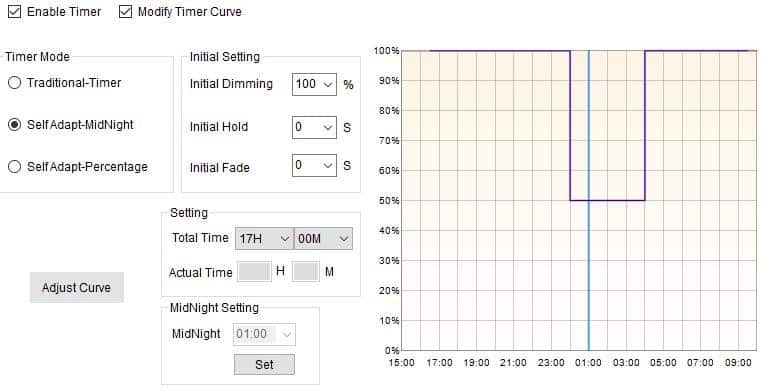 Summary
Below is a table that includes the advantage and disadvantages of the different control systems.
| | | | | |
| --- | --- | --- | --- | --- |
| Control | Time switch | Photocell switch | Timing dimming | Smart control system |
| Advantage | Commonly used | Plug and play | Energy-saving without extra cost | Smart |
| Disadvantage | Manually, the setting can't be 100% accordingly to season changes | The extra cost (photocell switch + NEMA socket) | Not smarter, however cheaper than the smart control system | High cost and its operation is complex |
when do streetlights turn on? Street light photocell switch and timing dimming (Self Adapting-Midnight) can be used together. So when it's sunset, the photocell will turn on the lamps automatically. After this, the lighting curve of the street light will according to the program of the LED driver. And then when the sun is raised up, the photocell switch will turn off the street light.
Based on the above information, we have the conclusion as below.
Photocell switch + timing dimming is an ideal solution. It can basically realize the main functions of the smart street light control system, but the functions of monitoring and real-time alarm cannot be realized. But with lower LED street light cost both in lamps cost and maintenance cost, it's very worth to go with this solution. Because we think we should pay more attention to energy-saving and cost performance although it is not as smarter as a smart control system.
Rated Products
Related Blogs
Related Cases
People also ask
Author introduction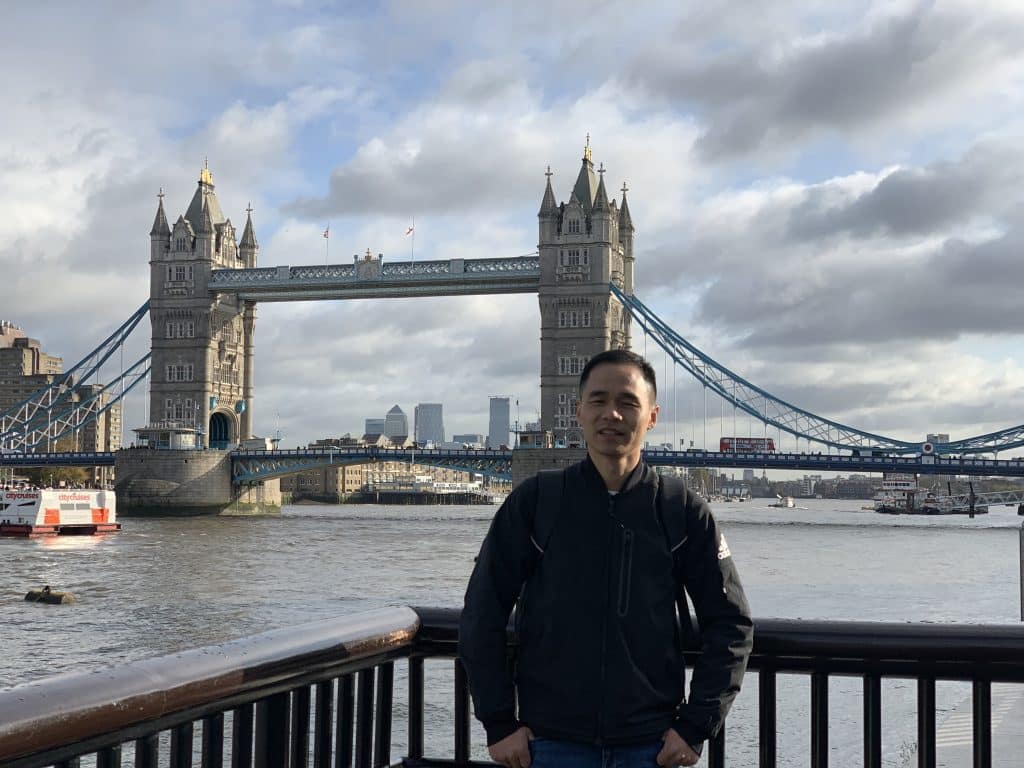 Hello Customers,
My name is Taylor Gong, I'm the product manager of ZGSM Tech. I have been in the LED lights industry for more than 13 years. Good at lighting design, street light system configuration, and bidding technology support. Feel free to contact us. I'm happy to provide you with the best service and products.
Email: [email protected] | WhatsApp: +8615068758483