Series Kmini2 Eco But Quality Ensured Led Light Street
Series Kmini2 Led Light Street has almost full TUV approved certificates and test reports. Such as CE EMC, LVD, CB, ENEC, IP66, IK10, Salt Spray Test, and 3G vibration test. From 40W to 150W, the regular wattages can well fulfill the clients' needs and requirements of the tender. Standard 10KV Surge Protection Device. It is easy for maintenance because its back cover can be opened without any tool. Most importantly, the pricing of Series Kmini2 is competitive and the performance is excellent.
Nominal power: 60-150W
Small and compact design
IP66 and IK10
Good-quality and energy-efficient
10 /20KV surge protection
130lm/w and 160lm/w for optional
Smooth body, self-cleaning
ENEC, CE, CB certified.
Smart Control: 1-10V/ DALI dimming, NEMA, Zhaga, Photocell, Motion sensor, Zigbee /Lora control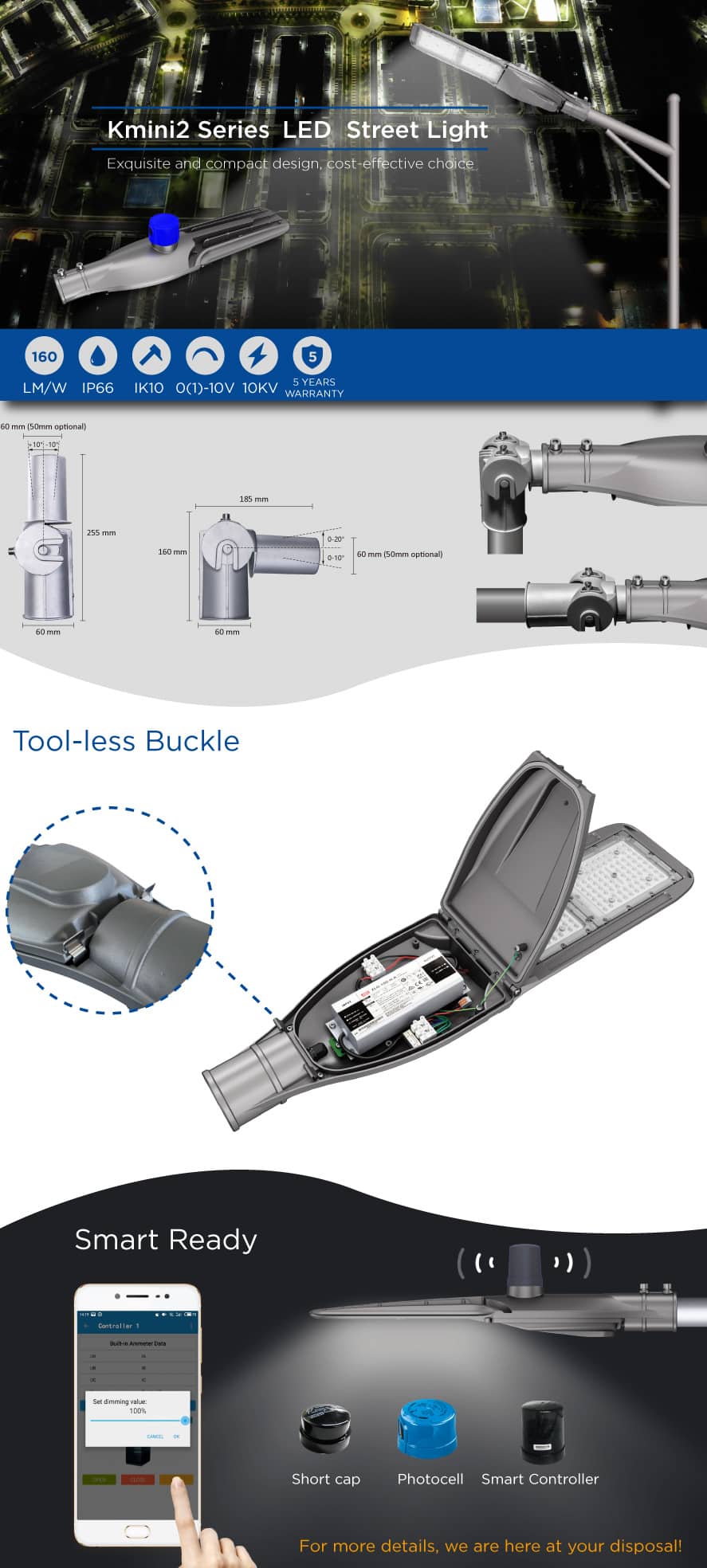 | | |
| --- | --- |
| Series No | Series Kmini2 |
| Power | 60W, 70W, 80W,90W, 100W, 110W, 120W, 130W, 150W |
| Efficacy | 130-160lm/W |
| Input Voltage | 100-240/277 VAC, 50 / 60 Hz |
| Power Factor | >0.95 |
| Surge Protection | 10KV (Default) / 20KV (available on request) |
| IP Rating | IP66 |
| IK Rating | IK10 |
| CCT | 3000K, 4000K, 5000K, 5700K |
| CRI | Ra>70 (Default) / Ra>80 |
| Operating Temperature | -40°C to + 50°C |
| Beam Angle | Type II, Medium; |
| Mounting Option | Side entry or Vertical pole mounted ( with extra adapter) |
| Warranty | 5 Years |
| Certification | ENEC, CE, CB, ROHS, LM79, LM80, LM82, LM84, TM-21, ISTMT, IEC62471/62788 |
| Control | Photocell, DALI Dimmable, NEMA / Zhaga Socket, Motion Sensor, 1-10V Dimmable, Zigbee or LORA control |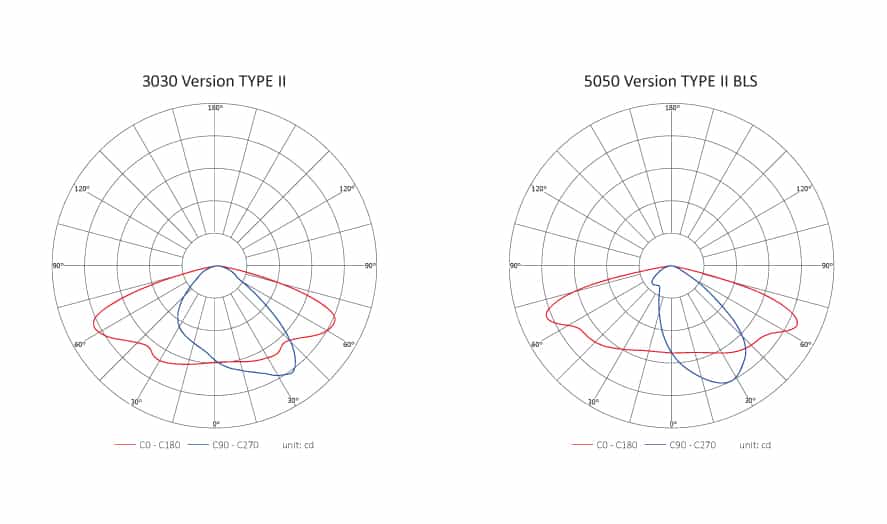 Can Kmini2 led light street be used as an intelligent control system? Or just "Smart Ready"?
It is becoming a trend that traditional street lights have been replaced with LED street lights, and also a trend to add intelligent functions to LED street lights. Intelligent function, shortly we call it "smart control". Combined with LCU(Light Control Unit) and DCU (Data Communication Unit, also daily so called "Gateway"), all of the LED street lights are given permanent ID addresses and all LCUs will collect the dynamic information of the lamps, and DCU will collect this useful information and send it to the cloud server. Customer or administrator check all status of lamps on a website platform from a computer or just mobile phone. This is a fine solution. We support this system and give options to customers. But it is a high-end service because the gateway and LCU are a bit expensive. It is good for the main street roads of a city or that governments take it as important areas. For usual roads in towns or countryside, it will be no need to use this system. Photocell is enough.
"Smart Ready", means that we provide the NEMA 5/7 pin socket "receptacle" on the lamp before delivery. But it will need an extra device short cap, which keeps the connection of the wiring and confirm the lamp will not get power off. This is the simple concept of Smart Ready because in the future the client wants to install the smart systems then they just replace the short cap with their own LCU devices. The important thing is that the LED driver must be strictly selected because the smart system normally requires 0(1)-10v dimming.
What is a photocell and what are its functions? Can Kmini2 led light street to add photocell?
Photocell is also called a "Daylight sensor" or "Photosensor". It is actually an optional small device that is available to be installed on the luminaire to control the lamp automatically ON/OFF. When the photocell gets a lighting level at around 15 lux or that of a customized, the lamp can get power right on in a short time. On the other hand, when the lighting level gets less than 15 lux, the lamp will get power off itself immediately after 5 seconds. This is a total, eco-friendly, cost-saving way to save energy and in the end, it will save customers' bills.
Kmini2 can be installed with photocell, but the prerequisite for using photocell is to install a 3, 5, or 7pin NEMA socket, When a 3, 5, or 7pin NEMA socket is installed and the photocell is inserted into the NEMA socket, the street light will automatically turn on when the external environment illuminance is lower than a certain illuminance value. When the external environment illuminance is higher than a certain value, The road lamp will automatically turn off.
What is the diameter of the fitter on Kmini2 led light street? The existing pole top is 76mm, can you solve this problem?
The standard diameter of the fitter on the Kmini2 road lamp is 60mm. Please don't worry about that. We have customized adapters that can help connect the lamp onto the pole top properly. we use adapters sizes like 76-60 mm or even your pole top is other types. It is no issue. The adapters need extra cost but are affordable. Refer to the specification of adapters.
How long is your delivery time in general?
We generally prepare a certain amount of materials for the main promote lamps, so the delivery time for small batch orders is about 3-5 days, and the delivery time for large batch orders is  10-15 days if materials stocks are enough.