Series H EVO Modular Design Road Lamp
H EVO is an updated version of the H series road lamp. It has inherited the modular design of the H series which is easy to replace. And our engineer also added the tool-less open design for the LED driver box which makes it can be installed more convenient and easy for future maintenance. It also includes designs like knife switch, level bubble, vent, etc. These small modifications make our Hevo series more comply with the municipal project requirement. It also has the certificates required by tender like ENEC, CE, CB, RoHS, TM21, ISTMT, LM79, LM82, LM84, IEC62722, IEC62717, etc. So H EVO series road lamp is an excellent street light for Public lighting projects.
Product Features
Wide wattage range from 40W to 300W
Tool-free with modular design
Light Efficiency up to 165lm/w
Standard class I, Class II is optional.
10 /20KV surge protection, IP66&IK10
Wide choice of optics for different applications
Vertical and horizontal installation with ±15°in both directions
With majority certificates like ENEC, CB, LM79, and TM21
Smart Control: 1-10V dimming, DALI control, Photocell, Motion sensor, Timer, Zigbee /Lora socket for smart control system or future updating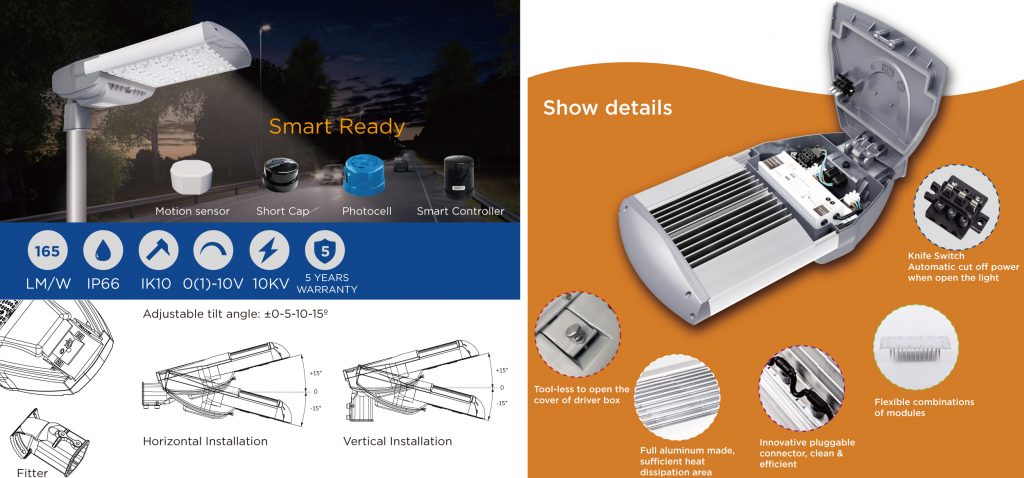 | | |
| --- | --- |
| Series No | Series H EVO |
| Power | 40W, 50W, 60W, 80W, 100W,120W, 150W, 160W, 180W, 200W, 240W, 300W |
| Efficacy | 125-165lm/W |
| Input Voltage | 100-240/277 VAC, 50 / 60 Hz |
| Power Factor | >0.95 |
| Surge Protection | 10KV (Default) / 20KV (available on request) |
| IP Rating | IP66 |
| IK Rating | IK10 |
| CCT | 3000K, 4000K, 5000K, 5700K |
| CRI | Ra>70 (Default) / Ra>80 |
| Operating Temperature | -40°C to + 50°C |
| Beam Angle | Type I, Medium; Type II, Medium; Type III, Medium; Type V, Short; |
| Mounting Option | Side entry or Vertical pole mounted |
| Warrantys | 5 Years |
| Certification | ENEC, CE, CB, ROHS, SAA, UL, LM79, LM80, LM82, LM84, TM-21, ISTMT, IEC62471/62788 |
| Control | Photocell, DALI Dimmable, Zhaga Socket, Motion Sensor, Non-Dimmable, 1-10V Dimmable, Zigbee or LORA control |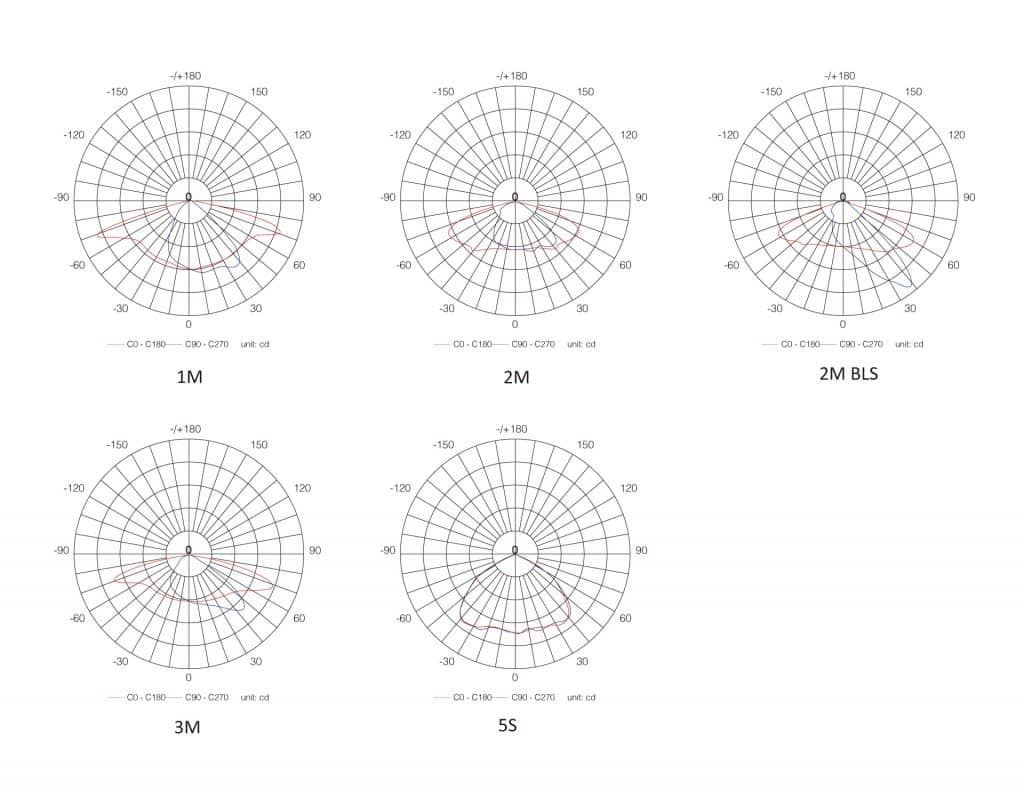 Does your road lamp have CLO function?
Usually, the led street light will have light attenuation overtime after use, and output lumen compensation (OLC) means that the road lamp maintains a constant luminous flux during use until the end of the luminaire's life. This function is mainly realized by the LED driver, LED driver can be set to gradually increase the current output with time, the current increases, the power will increase accordingly, the luminous flux will also naturally increase when the increased luminous flux is consistent with the attenuated luminous flux, it is equivalent to constant, H EVO street light with Infineon EUM series LED driver can achieve this function. Contact us for details if you are interested.
How can quickly find a suitable lens for my project?
To quickly find the right lens for your project, please refer to the following standards. But the accurate way is to calculate the most suitable spectral lens through lighting design. You can tell us the layout of the pole, lux requirements, road width, pole height, and pole spacing, and our engineers will provide you with a professional lighting simulation report.
MH1=Road width/Height, if 0< MH1 <1 suggest Type I.
MH1=Road width/Height, if 1< MH1 <1.75 suggest Type II.
MH1=Road width/Height, if 1.75< MH1 <2.75 suggest Type III.
MH1=Road width/Height, if 2.75< MH1 suggest Type IV.
MH2=Pole distance/2 Height, if 1< MH2 <2.25 suggest Type XS.
MH2=Pole distance/2 Height, if 2.25< MH2 < 3.75 suggest Type XM.
MH2=Pole distance/2 Height, if 3.75< MH2 <6 suggest Type XM or XL
What is the standard warranty period for your street lights? If we want a longer warranty period, like 10 years, what should we do?
Our standard warranty period is 5 or 7 years, depending on the LED driver we use. The warranty time is calculated from the time the road lamp leaves the factory. If there is any quality problem with the street light within 5 or 7 years, after you provide the corresponding video or photo to prove that the led street light is indeed faulty, we will analyze the cause of the failure and send you the corresponding accessories for replacement, such as send the PCB board or LED driver, you can replace it after you receive it. ZGSM will bear the transportation cost of the replacement part. However, we are not responsible for the warranty for lamp failure caused by man-made or force majeure.
For the 10-year warranty, we will adjust the accessories according to the situation. The most important thing is to replace the LED driver, but the price may be higher than the normal warranty price.
How long is your delivery time in general?
We generally prepare a certain amount of materials for the main promote lamps, so the delivery time for small batch orders is about 3-5 days, and the delivery time for large batch orders is 10-15 days if materials stocks are enough.
Related Products
Related Blogs
Best LED Street Light Manufacturer, Factory, and Supplier In China
We are a Led street light manufacturer, factory, and supplier in China since 2005. The factory is ISO9001, ISO14001, ISO45001, and ISO50001 certified. We are very good at designing, producing, and developing various high-quality road lights.
OEM/ODM/SKD is acceptable for us. All the led street light is made of good materials for up to 100,000hrs, ENEC, CB, and CE RoHS certificates. The Photocell, NEMA/ZHAGA socket, smart control, 0-10V, DALI, DALI2, and DC12V-48V low voltage can be available.
Please feel free to consult all questions about street lighting projects. We will provide free road lighting design, the best products, the best service, and the price you like.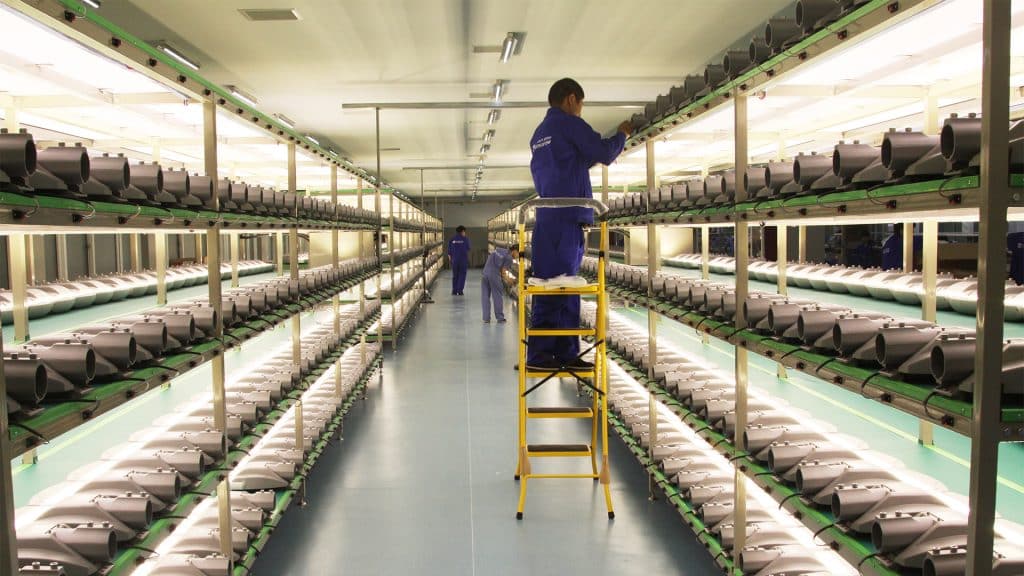 Why Choose us as your LED Street Lamps Supplier in China?
Certification Show
COMPONENT
STANDARDS
TEST REPORT
CERTIFICATIONS
LED
LM80
√
LUMINAIRES
EN/IEC 60598-1 y 60598-2-3
√
√
IEC 62471
√
EN/IEC 60529
√
EN/IEC 62262
√
EN/IEC 60068-2-75
√
EN/IEC 55015
√
√
EN/IEC 61000-3-2
√
√
EN 61547
√
√
EN 61000-3-3
√
√
LM79
√
ISTMT
√
TM-21
√
LM82
√
LM84
√
ISO9007 /ASTM B117
√
IEC 60068-2-6/ANSI C136.31
√
LED MODULE
EN/IEC 62031
√
LED DRIVER
IEC 62384,IEC 61347-1,IEC 61347-2-13
√
√
SPD
EN/IEC 61643-11
√
√
FACTORY
ISO9001,ISO14001,ISO50001,ISO45001
√
R & D Team
Product Testing
In order to ensure the high quality of each product, we will conduct more than 30 different aspects of testing in our own laboratory before the product goes on the market. After all the tests are passed, the product can be approved for marketing. In mass production, for some basic safety and performance tests, we will conduct 100% testing to ensure that every product delivered to the customer is perfect.
Production Process