Series H Modular Design LED Street Light
Series H LED Street Light is the first generation modular design Street Lamp. So far, it has sold more than 500,000 pieces, exported to more than 100 countries and regions, and has been widely praised. As the earliest modular design street lamp, Series H LED Street Light has the advantages of convenient maintenance and upgrade, the ultra-high luminous efficiency of up to 165lm/w is also far ahead of the market level. Starting from the H street lamp, ZGSM has a standard 10KV SPD for all street lights. Surge, greatly reducing the failure rate caused by outdoor lightning strikes and surges. Meanwhile, starting from the H series street lamps, the main promotion of high-quality LUMILEDS LEDs and Inventronics programmable LED Driver greatly extends the service life of the streetlight.
Watts: 30-320w
Modular design, easy for maintenance
Light Efficiency up to 165lm/w
Protection class I or II.
Wide choice of optics for different applications
Side entry or Vertical pole mounted
ENEC, CE, CB, SAA, UL certified.
Smart Control: 1-10V dimming, DALI control, Photocell, Motion sensor, Zigbee /Lora control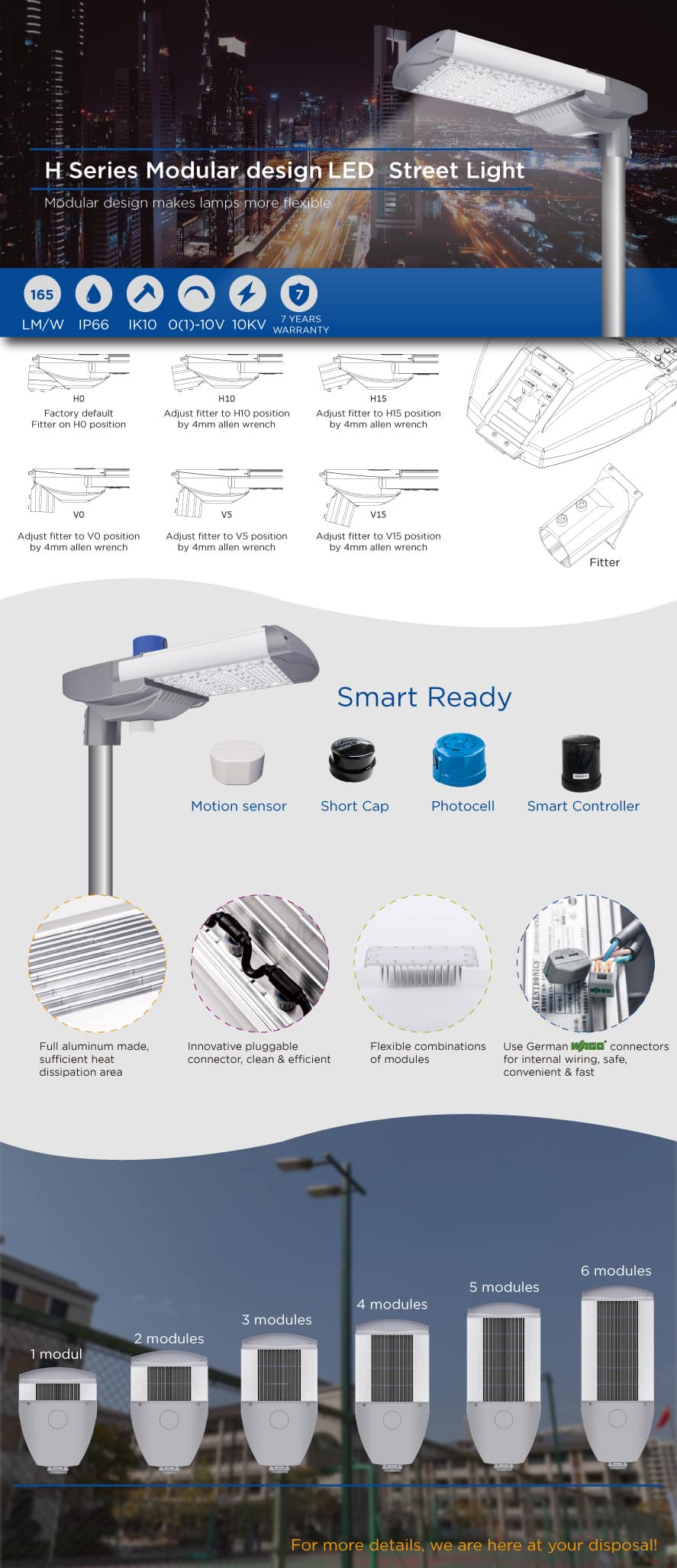 | | |
| --- | --- |
| Series No | Series H |
| Power | 40W, 50W, 60W, 80W, 100W,120W, 150W, 160W, 180W, 200W, 240W, 300W |
| Efficacy | 125-165lm/W |
| Input Voltage | 100-240/277 VAC, 50 / 60 Hz |
| Power Factor | >0.95 |
| Surge Protection | 10KV (Default) / 20KV (available on request) |
| IP Rating | IP66 |
| IK Rating | IK10 |
| CCT | 3000K, 4000K, 5000K, 5700K |
| CRI | Ra>70 (Default) / Ra>80 |
| Operating Temperature | -40°C to + 50°C |
| Beam Angle | Type I, Medium; Type II, Medium; Type III, Medium; Type V, Short; |
| Mounting Option | Side entry or Vertical pole mounted |
| Warranty | 5 Years |
| Certification | ENEC, CE, CB, ROHS, SAA, UL, LM79, LM80, LM82, LM84, TM-21, ISTMT, IEC62471/62788 |
| Control | Photocell, DALI Dimmable, NEMA /Zhaga Socket, Motion Sensor, Non-Dimmable, 1-10V Dimmable, Zigbee or LORA control |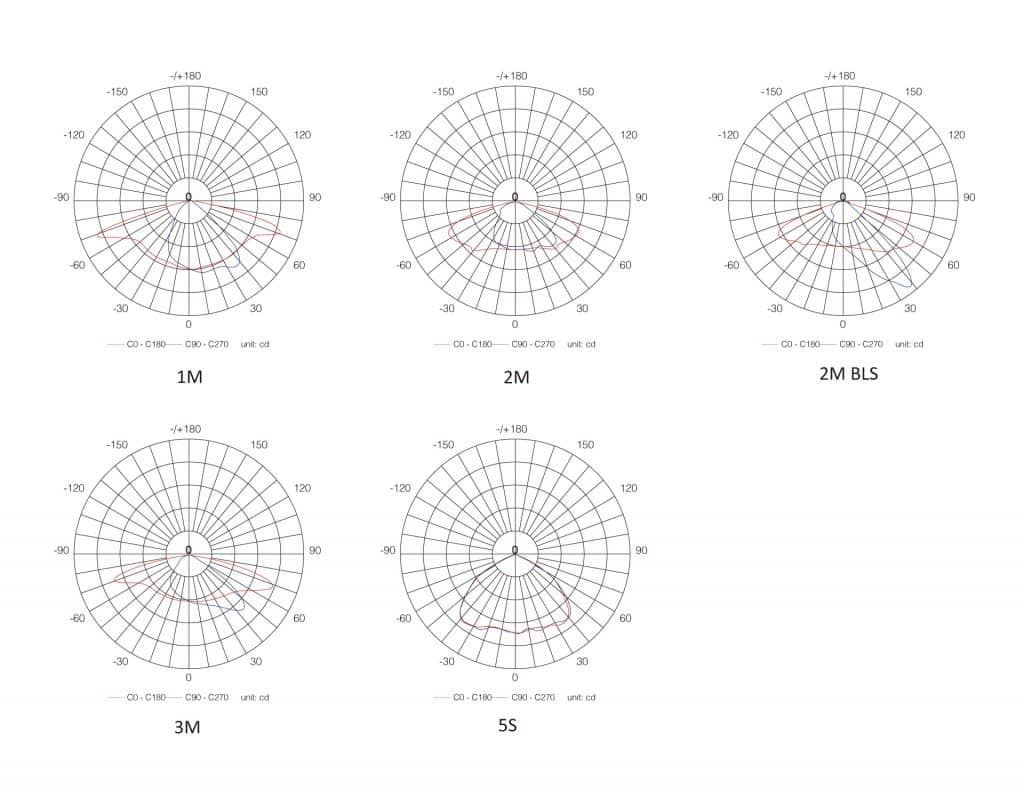 Why choose series H LED street lights for your project?
More than 500,000 sets of H series street lights have been successfully installed, with an extremely low failure rate and very good customer satisfaction.
What are the advantages of Series H LED streetlights?
1. Modular design, convenient for future maintenance and replacement.
2. The maximum light efficiency is up to 165 lm/W.
3. Impact resistance rating is IK10, the waterproof rating is IP66
4. The certificates are complete, most of the certificates and reports required by the bidding are available, such as CE, ROHS, ENEC, UL, SAA, CB, IEC 62471, LM79, etc.
What should I pay attention to when buying Series H street lights?
Please confirm the below requirements with sales before purchase.
1. Which color temperature do you want? We have 3000K, 4000K, 5000K, and 5700K for optional.
2. Which color of the fixture body? We have silver and black.
3. Do you have a preferred LED drive brand? Usually, we use INVENTRONICS EUM series LED driver
4. How is your request on efficiency? We have 3030 and 5050 chips for optional, with 3030 chips, price is better but efficiency is 125-140lm/w, with 5050 chips, price is higher but efficiency can reach 165 lm/w.
5. We have 5 kinds of optics lenses to choose from. In order to find the most suitable one for your road condition, you can tell us the road width, lamp post spacing, lamp layout, lamp pole height, and illumination requirements you will install. We have a professional design team to make lighting simulations for you, and then recommend the most suitable lens model to you
How long is your delivery time in general?
We generally prepare a certain amount of materials for the main promote lamps, so the delivery time for small batch orders is about 3-5 days, and the delivery time for large batch orders is  10-15 days if materials stocks are enough.