Background
As a manufacturer of LED lamps including streetlights, floodlights, high bay lights and canopy lights, our goal is to create better lighting for commercial, public and private lighting environments. We believe that better lighting includes flexibility of LED modules replacement, high quality LED drivers, and smarter lighting. With the Internet of Things and the continuous upgrading of LED lighting, the huge potential of the smart lighting market is constantly emerging, and the global smart lighting market has entered a stage of rapid development.
As more cities and utilities start to upgrade their lighting infrastructure to LED lights, a key decision that is easily overlooked is what lighting control sockets(communication modules between LED modules and LED drivers) they should use, as it relates to whether they can apply new function to their LED lamps. Lighting manufacturers offer countless options, and today, both Zhaga and NEMA sockets can be used with IoT technology. Both sockets offer the opportunity to adapt existing luminaires to future technologies. With standardized solutions, we can further expand the opportunities to benefit our customers. Because this standardization makes it possible to modify the control unit specifically, without having to modify the entire LED luminaire. This article will help explain some key differences between two common sockets from two global standards bodies: the ANSI C136.41 socket (NEMA) and the Zhaga Book 18 socket (Zhaga).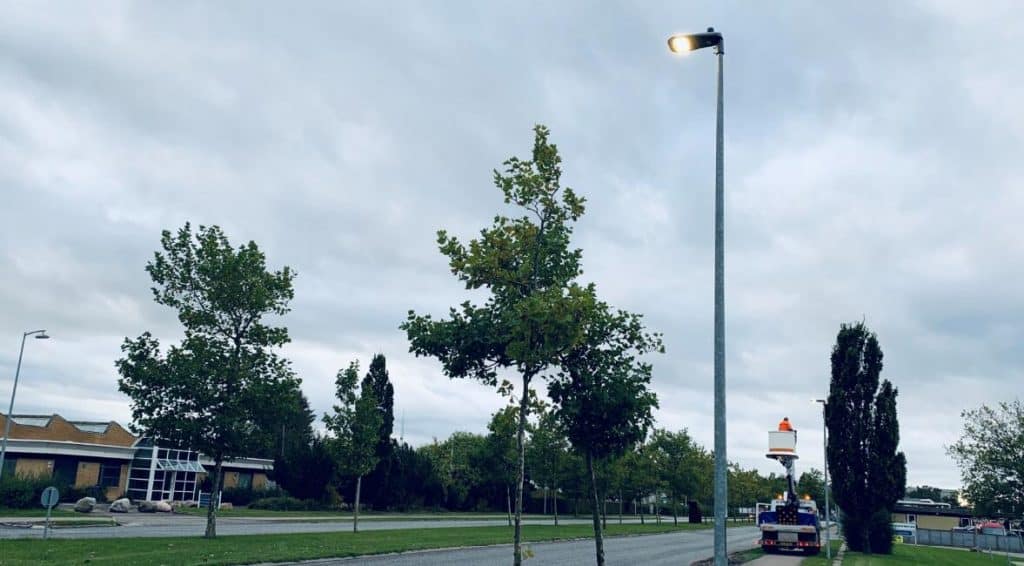 What's NEMA and Zhaga?
In generally, NEMA receptacle is the American standard connector for the lighting industry, which enables electrical and mechanical connections between nodes and light fixtures. NEMA sockets are often used in outdoor lighting, especially street lighting. Today in Europe, Zhaga sockets is raised by Zhaga Consortium, and they are more and more common and may be more favored in the future.
NEMA standard
Nema is short for National Electrical Manufacturers Association. NEMA provides a forum for the standardization of electrical equipment, thereby ensuring the safety, efficacy and compatibility of electrical equipments. This also includes the standardization of connectors in lighting systems. The NEMA sockets we usually refer to include 3pin NEMA, 5pin NEMA and 7 pin NEMA. They are all lighting controller installation interfaces powered by high voltage AC, and most of the technology is RF Mesh. The 5pin and 7pin socket terminals can be connected to dimming mode 0 ~ 10V, PWM or DALI. This standard is also widely adopted in South America.
In 1979, the ANSI C136.10 standard was first proposed. This standard specifies a three-pin physical interface for twist-lock control of light controls applied in public and private lighting installations. In 2013, NEMA added a new standard, standard number ANSI C136.41, whose physical interface includes four new (low voltage) pins for dimming control and future service. The industry refers to the ANSI C136.41 receptacle as the "seven-pin NEMA receptacle" because of NEMA's role in the standards organization. Dimming is the main new use case and assigns pins 4 and 5; future services that may use pins 6 and 7 are currently under development in the standard revision.
ZHAGA standard
Zhaga is a lighting industry-wide consortium that aims to standardize the interface specification between LED luminaires and LED light engines, including LED modules and LED drivers. The organization aims to realize interchangeability between products made by different manufacturers. As a forward-looking international standardization organization, ZHAGA's mission is to provide lighting manufacturers with a better and more efficient light source solution platform. By standardizing the interface of the light engine, ZHAGA defines a stable design platform for lighting manufacturers; avoids a large number of incompatible light engine products circulating in the market; makes the market have a second light engine to choose from, so as to reduce the light source application development costs and foster market growth by fostering competition. The following figure is the relevant standard specified by Zhaga.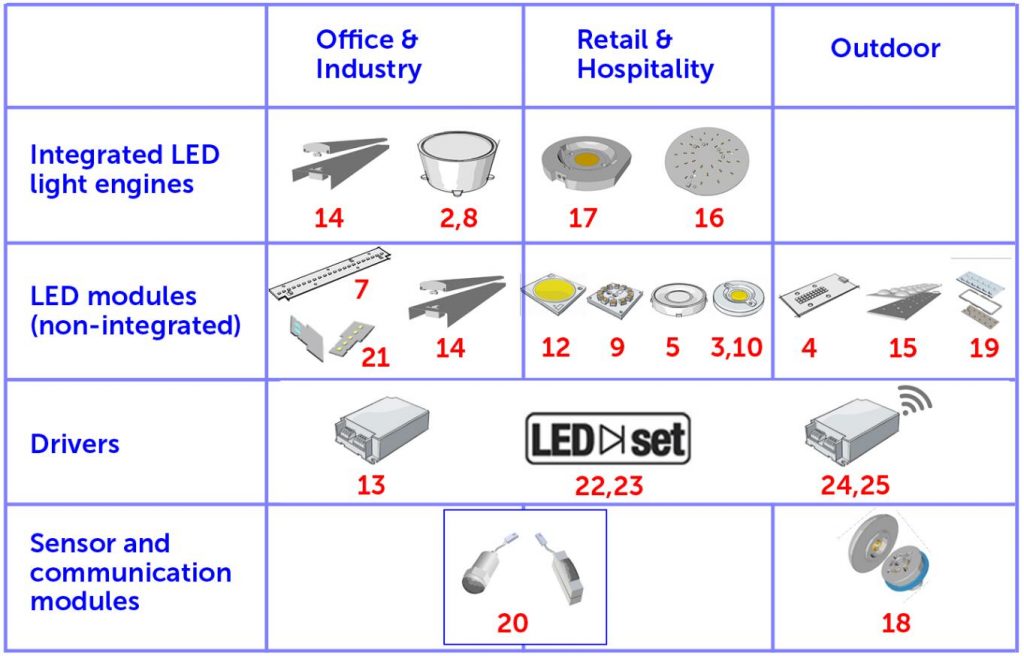 We can see that the Zhaga standard involves LED modules, LED drivers, sensor and communication modules. Here we only discuss communication modules or receptacles. In 2019, the Zhaga Consortium expanded on Book 18, "creating an interoperable system of outdoor luminaires and sensing/communication modules". Our goal is to create an ecosystem of interoperable products from luminaire suppliers and sensor suppliers. Unlike the ANSI standard, this specification is based on four low-voltage connections and a DC power source. This new standard interface is designed for sensors that implement lighting control, but also takes into account sensors connected to cities. The lighting controller installation interface adopts low-voltage DC power supply and is compatible with Dali2.0 communication interface. This interface standard is currently widely used in Europe and is likely to become the mainstream standard for European lighting control in the future. In terms of communication technology, LoRa is mainly used.
Mechanical specifications of NEMA and Zhaga
NEMA (ANSI C136.41)
There are three pins for mains power and four pins are for low-voltage signaling. Note: ANSI C136.41 is currently under revision and includes a table of multiple use cases.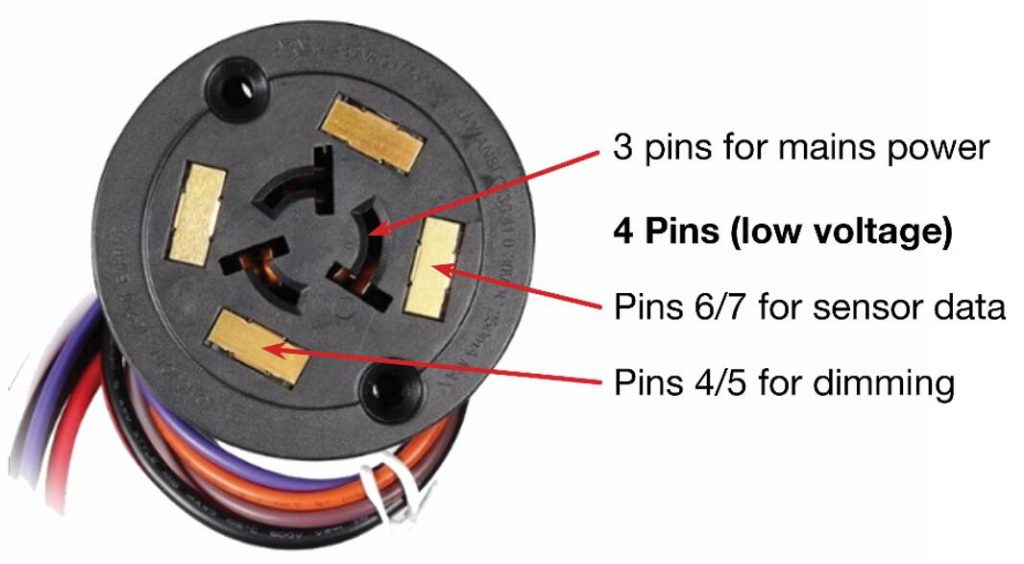 ZHAGA BOOK 18
There are four pins for low-voltage signaling.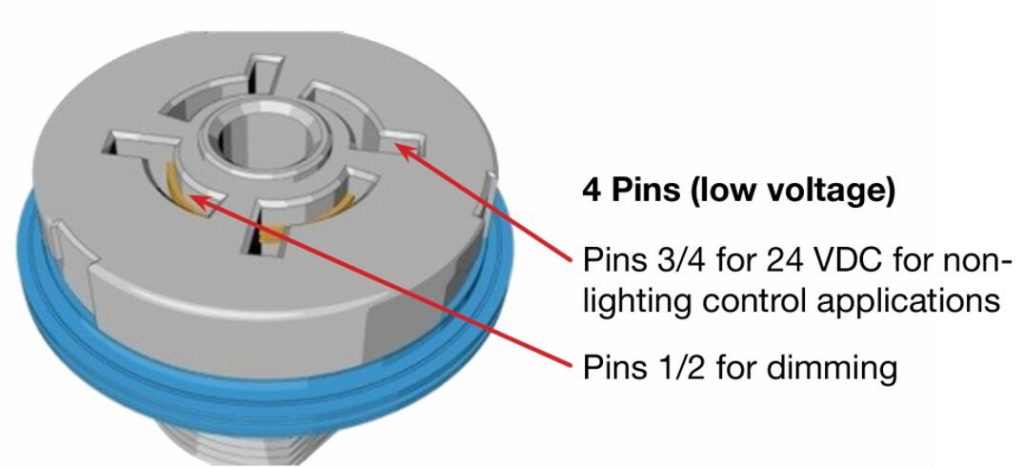 Why we need them?
NEMA (ANSI C136.41)
The main purpose of the ANSI C136.41 socket is to control the turning on and off of outdoor lamps (mainly street lamps). This started with the original three-pin version (ANSI C136.10), when a simple photocell sensor was connected to the 3pin NEMA socket, the photocell would use an internal optical sensor to measure the ambient lighting level around the luminaire. At dusk/sunset the ambient light drops below the "dark" threshold, the photocell turns off the onboard relay which finally turn on LED street light. Likewise, at dawn/sunrise when the ambient light exceeds the threshold, the photocell turns on the relay, causing the light to turn off.
With the increasing cost-effectiveness of dimmable LED fixtures, this type of fixture has driven the introduction and adoption of five-pin and seven-pin socket versions (ANSI C136.41). When combined with a "smart photocell" that receives and responds to the signal, the LED light fixture (and internal LED driver) will support dimming the light to less than 100% brightness. For example, street lights usually don't need much lighting after midnight. At this time, the controller will send a signal to the smart photocell to reduce the output of the streetlight and finally achieve energy saving.
Currently, in most cases, three pins of the 7pin base are used, and the remaining four pins are for future updating when customers are going to use the dimming function or connect sensors or other devices in the future. In a few cases, five pins are used, of which three pins are used for the mains and two pins are used for the dimming signal of the LED fixture. In rare cases, pins 6 and 7 are used. With the growing interest in smart city and IoT sensors, these two extra pins (6 and 7) are now seen as a direct way to connect sensors such as air quality sensors, traffic monitoring sensors.
Since the advent of the seven-pin NEMA socket, it has been installed in tens of millions of LED fixtures. This large installed base presents an opportunity for cities, utilities or other owners to install sensors and devices that can collect specific data that is valuable to customers. By designing the sensor interface to meet customer needs, utilizing pins 6 and 7 of the NEMA receptacle is one way to extend connectivity to urban applications. The ANSI C136 committee is working on standardizing the interface and communication protocols supported on pins 6 and 7. However, many manufacturers have implemented solutions available on the market today.
ZHAGA BOOK 18
Europe traditionally does not use external controls for individual lamps (lighting fixtures). Of course, there are also projects that will require the installation of an ANSI standard NEMA base for future use of smart controls. More and more smart street lighting projects in Europe now specify Zhaga sockets on top of the lamps. The Zhaga-based controller derives from the low-voltage power supply of the LED driver, which reduces cost, reduces size, and provides reliability because there are fewer electronic components in the controller. Additionally, sensors can be deployed by adding a second Zhaga socket to the bottom of the luminaire. However, in some cases these sensors must consume very little power because the auxiliary power used to drive the controller's LED driver is limited.
In addition to the above functions, we believe that the biggest advantage of Zhaga is that it standardizes the relevant standards. The Zhaga specification defines the interface requirements between the LED light engine and the LED luminaire. A good interface specification will only define the interaction part between the luminaire and the light engine, while it should not unnecessarily limit the design of the light engine or luminaire. A good interface specification should allow innovation in the internal design of the light engine, and at same time it will ensure the stability of the part connected to the luminaire. Meanwhile, Zhaga also provides standards for the unification of light engines, LED driver design and sensor design. Its important purpose is to facilitate the interchange and compatibility of products from different manufacturers within the alliance. This can promote innovation and competition in LED lighting applications, and the ultimate beneficiary will be consumers.
Finally, Zhaga has defined a certification process to accompany its standards in order to build trust in interoperability. Implemented by an independent testing agency, the certification status of products can be verified against publicly accessible databases and trademarks to prevent abuse.
What's the benefits of each?
NEMA (ANSI C136.41)
Advantages:
Millions of LED fixtures are already equipped with this receptacle.
The sensor can be added to any street light with limited changes to the luminaire wiring.
Many city-connected applications (monitoring traffic, air quality, dynamic lighting) can be deployed to increase flexibility of usage, including those with higher power demands.
Disadvantages:
Big devices on top of lamps may not be aesthetically appealing to some.
Zhaga Book 18
Advantage:
In some cases, the cost of ownership is lower because the controller is powered by the LED driver in the luminaire.
Provide signals and power for low-power sensors.
The small size controllers may improve the appearance.
Disadvantages:
Increases the complexity of connected urban sensor use cases with high power requirements.
May include higher upfront costs for equipment dependent on DALI cabling schemes.
Which one you should go with for your projects?
Now there are two major standards in the lighting industry, NEMA and ZHAGA. They are still in a period of melee, and there is no unified standard. There may be the problem of repeated construction after three or five years.
NEMA is a standard interface in North America. Based on the original light control of NEMA, it can be used as a single-lamp controller. Technically, more RF Mesh is used, and South America also uses more NEMA and RF Mesh. ZHAGA was proposed by several European companies such as Philips, so ZHAGA will be the lighting control standard in Europe in the future. Technically, LoRa communication technology is mostly used, and NB technology is also used.
From the current trend, Zhaga is more likely to win we assume based on the following points
Uniform standards
Powerful functions
Recommended by lighting industry giants
As a client, we feel that you can make decisions based on your own projects. For example, in the Americas, NEMA can be prioritized, while in Europe, Zhaga can be selected if the project requires intelligent control.
PS: at present, the industry is also introducing equipment that replaces NEMA socket with a receptacles which support the Zhaga standard controllers. It is similar to an adapter, which can convert the NEMA interface into a Zhaga interface. It has a built-in AC-DC switching power supply, an output 24VDC power supply with a maximum output power of 5W. And the cost is much lower than replacing a dimming driver with auxiliary voltage output. By this, it can solve the application scenario when the customer's driver doesn't have auxiliary voltage output supporting the ZHAGA lamp controller. At the same time, NEMA also announced the introduction of similar standards.

Conclusion
Through this article we hope you have gained some understanding of NEMA and Zhaga. They are all organizations involved in the lighting industry, aiming to specify relevant standards for the lighting industry, and they all hope that the lighting industry can move on the road of innovation. Both NEMA Socket and Zhaga Socket provide interfaces for intelligent control of outdoor lighting. They are two different devices. But their purpose is the same, serving the industry and intelligent control of lamps. If you are interested in streetlight LED with NEMA or Zhaga interface, you can also contact us.
Rated Products
Related Blogs
Related Cases
People also ask
Author introduction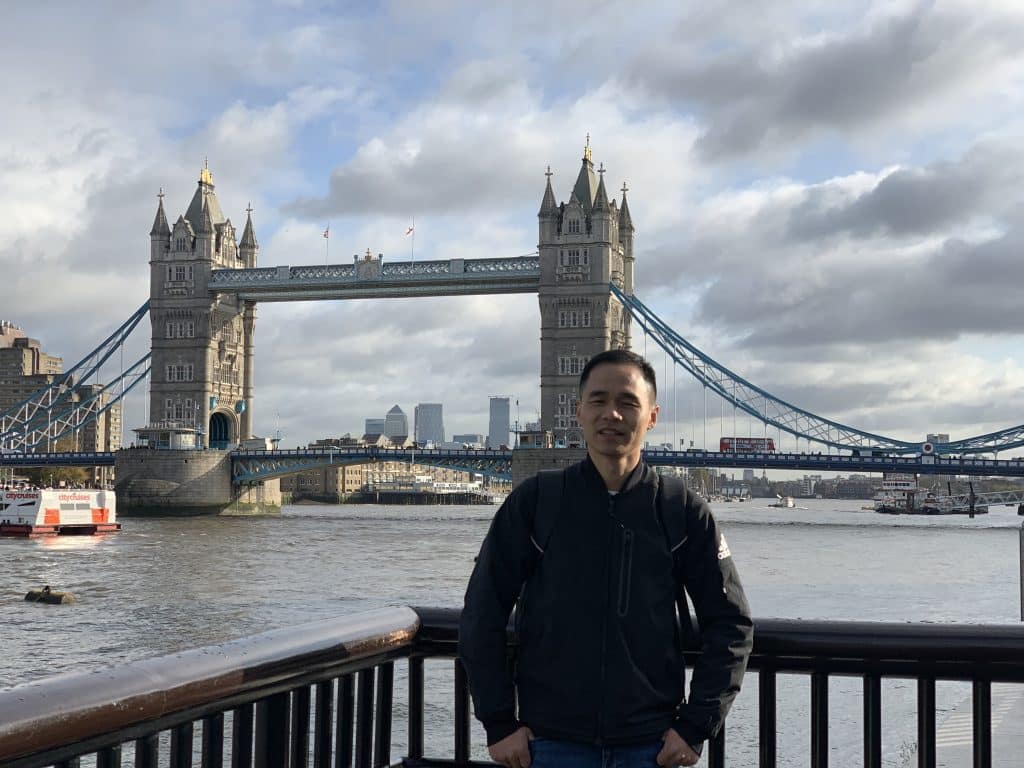 Hello Customers,
My name is Taylor Gong, I'm the product manager of ZGSM Tech. I have been in the LED lights industry for more than 13 years. Good at lighting design, street light system configuration, and bidding technology support. Feel free to contact us. I'm happy to provide you with the best service and products.
Email: [email protected] | WhatsApp: +8615068758483