How to choose the right LED driver for your LED light?
How to choose the right LED driver for your LED light?
Introduction
The LED power supply can convert the 220v AC power into low-voltage power with positive and negative poles, and then supply power to low-voltage equipment. The electronic devices used with the LED power supply are mainly light-emitting diodes (LED). Because it regulates the power which can drive an LED or array of LEDs which requires, it's normally called an LED driver.
LED driver is the most important part of the LED street light. An LED driver is an electrical device that regulates the power supply of an LED or a string of LEDs. It is a key component of the LED circuit. The LED driver provides the appropriate current and voltage for the LED chips to work properly. LED driver ensures that the voltage and current of the LED chips of LED light remain within its operating range, without being affected by power supply(main supply) fluctuations. After 17 years of street light operation, we found that the most easily damaged part is the LED driver. When it breaks, the light will not work at all, or some of the LEDs will not work, or sometimes the LEDs will flicker. Therefore, it is very important to choose an LED driver.
Video from Youtube about How To Choose The Correct LED Driver For Your LED Lights
What function do you need?
Before choosing a suitable LED driver, I think you know which kind of function you need for your LED light. We here listed several functions for LED street lights that are frequently asked by our customers, such as timing dimming, OLC, NTC, 0-10V, Dali, D4i, and auxiliary power supply.
Timing dimming
This is a diming function that can change the output of LED street lights at the night.
Normally the lights are with the lowest brightness from 0:00 to 4:00 when there is less traffic on road. This can save energy consumption which is eco-friendly. Virtual midnight timing dimming will make the output of LED light become less from 24:00.
When the LED driver is with a preset program. For example, we set the LED driver as follows, 100% working for 6 hours, 50% working for the next 6 hours, then back to 100% for the next 2 hours
If the light is turned on at 18:00 and turned off at 6:00, it will be with 100% brightness from 18:00 to 24:00, and 50% brightness from 24:00 to 4:00. And from 4:00 to 6:00 it's 100% working.
By this dimming curve, we can save up to 30% to 50% of energy. If you want to learn more about this, you can check Some things about the street light control system.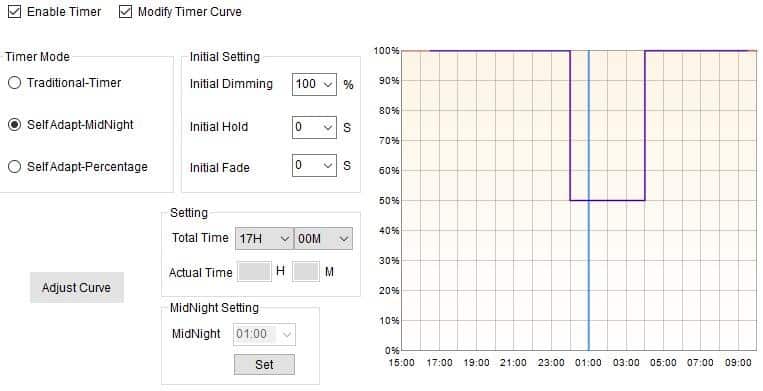 Timer dimming curve
Output Lumen Compensation (OLC)
Output Lumen Compensation (OLC) is used to maintain constant light output over the life of the LEDs by driving them at a reduced current when new, then gradually increasing the drive current overtime to counteract LED lumen degradation. With the Inventronics EUM series driver, our LED light maintains its output as initial and it can prolong the lifespan of LED chips.

OLC curve
Thermistor (NTC)
A thermistor (NTC) is a type of resistor whose resistance is strongly dependent on temperature, more so than in standard resistors. So it can be used as a temperature sensor. LED light with NTC can detect the temperature of the PCB board. If it's over-temperature, the LED driver can change the output which makes the LED light less bright than before so the LED chips' temperature can decrease which protects them from damage.
0-10V dimming, Dali
0-10V dimming and Dali are common dimming methods, so we won't go into details here. If you are interested, please check 0-10V and DALI on Wikipedia.
D4i
D4i is an extension of DALI-2, and D4i products are DALI-2 products with some new specific feature sets including Zhaga sockets. D4i certification applies to those DALI-2 products that meet the functions of auxiliary power, diagnostics, and electricity metering required for DALI in lamps. All D4i certified products are also DALI-2 certified, and these products can optionally carry the D4i logo or the DALI-2 logo, or both. Of course, conversely, DALI-2 certified products do not necessarily have D4i certification.
Auxiliary power supply
All LED drivers provide an output for the LED circuit. However, the auxiliary power supply is an additional output to help support other devices that require power. Auxiliary power can be used to power microwaves, cameras, Zhaga sockets, etc. Therefore, when your LED fixtures need to install on these devices, an LED power supply with an auxiliary power supply is a good choice.
We have listed the functions of different series of Inventronics LED drivers in the below table. For example, if you prefer timing dimming, 0-10V dimming, and auxiliary power supply for your Led driver solution, EUM-100S105MG is a good option.
| LED driver model number | EUM-100S105DG | EUM-100S105MG/LG | EUM-100S105BG | EBS-120S105BTE | EBS-120S105BT2 |
| --- | --- | --- | --- | --- | --- |
| Timing dimming | Yes | Yes | Yes | Yes | Yes |
| OLC | Yes | Yes | Yes | Yes | Yes |
| 0-10V dimming | Yes | Yes | No | No | No |
| Dali | No | No | Yes | Yes | Yes |
| D4i | No | No | Yes | No | Yes |
| NTC | No | No | No | Yes | No |
| Auxiliary power supply | No | Yes | Yes | Yes | Yes |
Normally projects or tenders have a requirement on the protection class of lamps. They will ask for either Class I or Class II for AC input LED street lights. Below is a description of class 1 vs class 2 power supply.
Class I LED lamps have basic insulation and must include a protective earth connection to reduce the risk of electric shock. Their safety is achieved through the use of basic insulation, and also provides a means of connecting to a protective earth conductor in the building, where, if the basic insulation fails, route those conductive parts to earth that would otherwise produce dangerous voltage.
What's Class II?
Class II LED lamps not only rely on basic insulation for protection against electric shock but must also provide additional safety protection measures such as double insulation or reinforced insulation. It is neither dependent on the protective ground wire nor on the installation conditions. This means that Class II LED lights have no terminal/pin for ground connection. At present, ZGSM has the H series, K series, Rifle series, and many other series of street lamps that have passed the Class II certification. How to get a Class II LED street light? Firstly you have to make sure your LED street lights are equipped with a Class II LED driver. See the below table regarding different Classes and corresponding driver model numbers. For more information regarding Class I or Class II, please check Class I vs Class II.
| Classify | Class I | Class II | Class III |
| --- | --- | --- | --- |
| Insulation | Basic insulation | Double Insulated | / |
| Symbol | / | | |
| Characteristic | three-wire power cord | two-wire power cord | Solar or others with extra-low voltage |
| Driver model reference | EUM-050S150DG | EUM-050S150DE | Epsolar DC driver |
IP rating of LED driver
IP (ingress protection) rating is the protection degree of mechanical and electrical enclosures against intrusion, dust, accidental contact, and water.
Everyone knows that it's extremely dangerous if water and electricity are together. Because the LED driver is directly connected to electricity, so LED lamps generally have requirements on the IP rating of their power supply, especially for outdoor lamps. For indoor lighting, IP20 is generally sufficient. For outdoor lamps, the IP rating of their power supply is generally required to be IP65, IP66, or IP67. Of course, if your power supply cavity itself is waterproof, an IP20 LED driver is also accepted. But you have to make sure that the light IP rating of the whole lamp is IP65, otherwise, the lamp is not suitable for outdoor applications.
For more information about IP rating, you can check IP rating-important factor of LED lights.
Input voltage and wattage
Input voltage of the LED driver. AC or DC? There are two main types of drivers, those that use low voltage DC input power (generally 5-36VDC) and those that use high voltage AC input power (generally 90-277VAC).
For the AC input LED driver, the voltage can be 90-277VAC or 249-528VAC.
For the DC input driver, it's normally either 12VDC or 24VDC.
Take LED floodlights as an example, 90-277VAC is basically ok for most projects all over the world. While 249-528VAC is for projects in America or Canada where the input voltage includes both 120VAC and 380VAC. 12VDC or 24VDC input LED drivers are mainly for solar street lights.
Output Power of LED driver
This value is given in watts (W). Use an LED driver with at least the same value as the rated output of your LED light.
LED driver must have higher output power than the requirement of your light for safety reasons. If the output power is equivalent to the power requirement of the LED source, then the LED driver is running at full power, which may result in a shortened life span of the LED driver. This finally increases the maintenace cost of LED street lights.
For example, if you are designing a LED street light wattage of 100W total. Then the output wattage (power consumption of LED source) is about 90W, it's ok for you to use EUM-100S105DG LED driver whose max output power is 100W.
However, it's not ok for you to make a 120W LED street light with EUM-100S105DG. Because for a 120W LED street light, the output wattage is about 108W which is much higher than 100W. Then the driver will not work at all, or it will turn off after a period since it's overloaded.
PS: Wattage of LED street light=Output wattage (power consumption of LED sources) + power consumption of LED driver.
For Street Lighting Design Guide, you can read our related article "Key Factors to Consider in the Street Lighting Design".
Output voltage and output current
As we can see in the below datasheet of Inventronics EUM-100S105DG, the output voltage range is 48-143VDC, and the output current range is 70-1050mA. This means the load's voltage range should be in the range from 48VDC to 143VDC.
If we are designing a 100W LED street light with this LED driver, what's your idea?

ZGSM thinks we can go with the below steps.
Determine the number of LEDs.
We get the information on the LED drive current in the LM80 report or its datasheet. It suggest four currents 65mA, 100mA, 120mA and 150mA. Normally we prefer the 100mA (relatively high efficiency and good heat dissipation). For 65mA, the efficiency and heat dissipation is the best, but we need to use more LED chips, so it's not cost-performance. For 120mA or 150mA, although the price of whole lamps is good, the efficiency and heat dissipation are not as good as 100mA.
LED quantity=Lamp wattage * driver efficiency / forward voltage / drive current=100*0.9/5.9/0.1=152 pieces LED chips. This means we need at least 152 pieces of LEDs to get 100W street light. In order to facilitate PCB design, we select 160 pieces of LEDs as our final LED quantity.
PS: when the driving current of LEDs is 100mA, its forward current is 5.9V. See the below chart.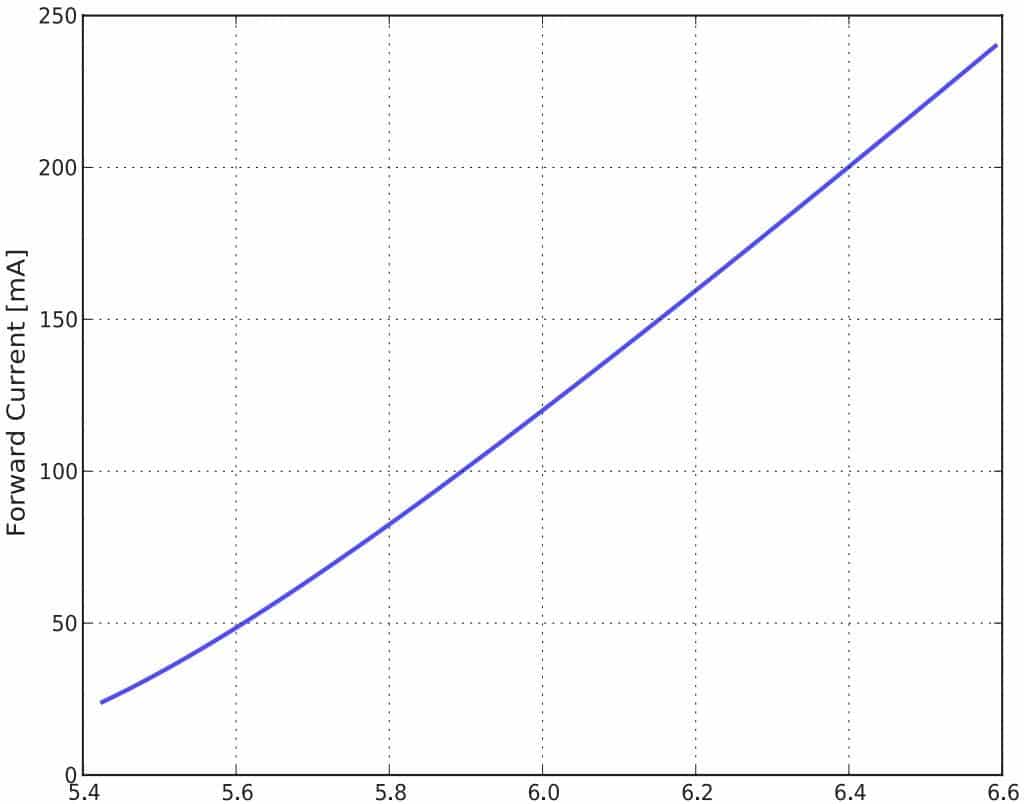 What do we need to Power LEDs?
This leads us to find what the input voltage of LED chips is. The input voltage, after all, must be in the range of the LED driver's output voltage after we take into account the driver circuit overhead voltage. Make sure you know the minimum and maximum output voltages for your LED drivers. For example, we will stick with EUM-100S105DG whose output voltages are from 48VDC to 143VDC DC. Below you will find a way to get what the input voltage of LEDs PCB should be for an application.
PS: Input voltage of LEDs PCB equals the output voltage of LED driver.
Here is a simple formula.
Vf x LEDn/Pn=Vo
Where:
Vf = Forward voltage of LEDs you want to power
LEDn = The number of LEDs you want to power in series
Pn=Number of parallel (143VDC isn't enough voltage to run all 160 LEDs in series (160*5.9= 944VDC), so we can have brought into the number of parallel in design).
Vo =Output voltage of the LED driver
So LEDn/Pn=143/5.9=24.23, which means LEDn/Pn can be 24, 23, 22, 21, 20 or …
Because 160 is divisible by 20, and it's not divisible by 24, 23, 22, and 21, we will design the PCB with 20 in series 8 in parallel. So the input voltage of LEDs is 20*5.9=118VDC which is in the range of the LED driver's output voltage of 48-143VDC.
Double-check whether the PCB design is OK
LED drive current=100*0.9/160/5.9=0.0953A
Output current=LED drive current x Pn=0.0953A*8=0.762A. And this is in LED driver's current output range from 70mA to 1050mA.
So this makes that the selected LED driver can power our PCB with 160 pieces of Lumileds 3030 LEDs (20 in series 8 in parallel).
Top 10 LED driver suppliers
Below we listed the top 10 LED driver manufacturers, you can check to see if any of them is your suitable suppliers.
OSRAM: https://www.osram.com/
Osram's customers are located in nearly 150 countries and regions around the world. With innovative lighting technologies and solutions, OSRAM's products are widely used in public places, offices, factories, homes, and automotive lighting.
PHILIPS:https://www.lighting.philips.com/
Philips has led the lighting industry with innovation, serving professional and consumer markets for over 127 years. Philips Lighting officially changed its name to Signify on May 16, 2018, but continued to use Philips, the world's most trusted lighting brand.
TRIDONIC:https://www.tridonic.com/
Tridonic is the world's leading supplier of lighting technology. As a leading global supplier of intelligent and efficient lighting solutions, Tridonic provides its customers and business partners with professional lighting solutions that produce intelligent, excellent, and eco-friendly.
MEAN WELL:https://www.meanwell.com/
Established in 1982, and headquartered in Taiwan China, MEAN WELL is a standard power supply manufacturer that has been committed to developing professional industrial power supply solutions. Products include AC/DC switching power supplies, DC/DC converters, DC/AC converters, and battery chargers.
INVENTRONICS:https://www.inventronics-co.com/
Established in 2007, Inventronics is one of the world-class LED driver manufacturers, focusing on LED drive power research and development, production, sales, and technical services of high-tech enterprises, has grown into the world's leading LED drive solutions supplier. Inventronics is located in Hangzhou China, the same city where ZGSM is located in.
Since 2002, HEP Group has been focusing on the innovation and manufacture of environmental protection, energy-saving, and precision electronic lighting control equipment in the industrial and commercial fields, with major innovations in dimming lighting. HEP Gmbh is located in Germany with the best equipment to perform innovative and advanced development.
TCI is a world-renowned Italian manufacturer of lighting electronic components. Our passion for Light dates back more than 30 years, and over time we have maintained the values ​​typical of Italian heritage: quality and reliability. At TCI, we believe that initiative is the driver of change and improvement.
MOSO: https://www.mosoleddriver.com/
MOSO Power Technology Co., Ltd. is a national high-tech enterprise in China. It is a global advanced power solution provider and a symbolic enterprise in the domestic power industry. It is also a well-known brand in Shenzhen who is aim to be a world-class efficient intelligent power supply solution provider.
SOSEN:https://en.sosen.com/
Shenzhen SOSEN Electronics Co., Ltd., established in 2011, is a national high-tech enterprise integrating R&D, production, sales, and service of high-power LED drive power, the most competitive high-power LED drive power in China One of the brands, its products are widely used in mainstream market applications such as outdoor lighting, plant lighting, industrial lighting, landscape lighting, and smart lighting at home and abroad.
LIFUD http://www.lifud.com/
Since its establishment in 2007, Lifud has been adhering to and practicing the value concept of " integrity, responsibility, and dedication ". Lifud is committed to providing high-performance, high-reliability LED drivers and intelligent lighting systems for commercial, residential, industrial, road, and other environments that require lighting, contributing to the world's green lighting and people-oriented lighting.
Summary
Through the above knowledge, I hope you have a certain understanding of the choice of LED drivers. All these factors ZGSM thinks are relatively important. Of course, in addition to these, dimension, over-voltage protection, over current protection, NFC, LED driver efficacy, THD, PF are also factors that need to be considered in the selection of LED power supplies. If you are still worried about the choice of power supply for LED lamps, or you are still thinking about what functions your LED lamps should achieve, you can contact us. We will answer your questions to the best of our knowledge.
Rated Products
Related Blogs
Related Cases
People also ask
Author introduction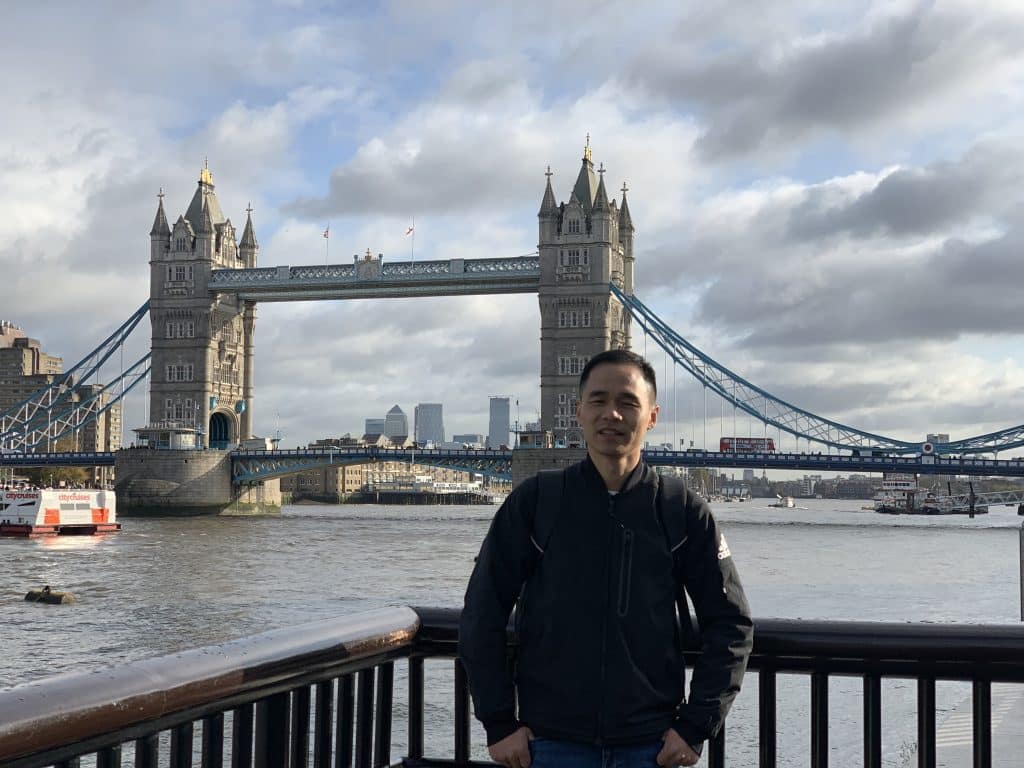 Hello Customers,
My name is Taylor Gong, I'm the product manager of ZGSM Tech. I have been in the LED lights industry for more than 13 years. Good at lighting design, street light system configuration, and bidding technology support. Feel free to contact us. I'm happy to provide you with the best service and products.
Email: info@zgsm-china.com | WhatsApp: +8615068758483