Guide to Choose Proper Outdoor LED Parking Lot Lights
Guide to Choose Proper Outdoor LED Parking Lot Lights
Introduction
With the development of the economy, cars have become a common means of transportation for people. The urban parking lot makes the cars in the city run normally and smoothly. The parking lot is developing into an indispensable element of a city, and its illumination should also be paid attention to. Targeted lighting in the parking lot is not only a requirement to ensure use, but also a need to ensure property and personal safety.
Most parking lot lights use one of three types of lamps: high-intensity discharge (HID) lamps, such as metal halide lamps, high-pressure sodium lamps, and - if they're very old - mercury vapor lamps. However, with the development of LED technology, LED parking lot lights are gradually replacing traditional parking lot lights.
If you have a plan to upgrade your old car park, start by taking a full inventory of the car park and adjoining areas. The list should state the total number of lamps, type of lamps, number of poles, and location of poles. We can determine the wattage of LED lamps according to the wattage of the original lamps and the type of lamps. At the same time, add lamps to places that require additional lighting, and reduce the use of lamps in places that do not require much lighting.
If your parking lot is new, we believe you must have drawings of this parking lot (approximate square feet of the parking lot), including the dimensions of the parking lot, the location of the light fixtures, and the height of the light poles. Which areas need to be illuminated and which areas should not be illuminated by lamps temporarily. Then we can quickly start working on lighting simulations and give you the right LED solution.
ZGSM is also a professional expert in Street Lighting, more information visit street lighting design guide.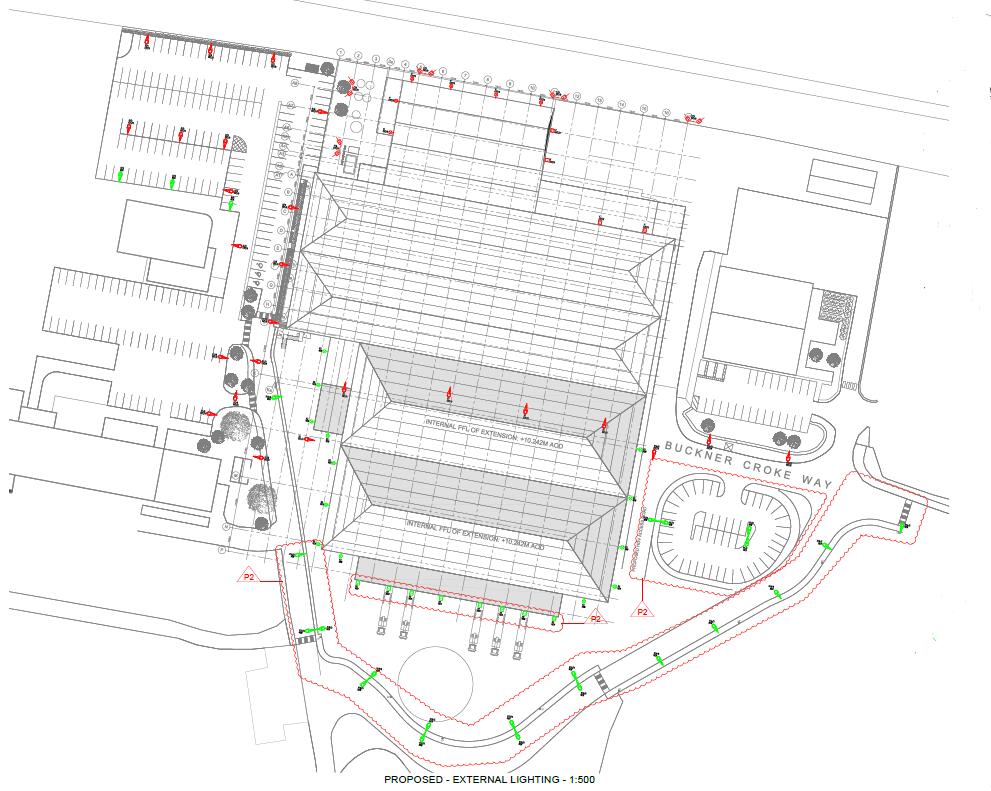 Design considerations
When you calculate lights, be sure to pay attention to which type of lights are used in different places (Lights near parking lot entrances and doors may differ from lights installed further away in parking lots). Remember that lighting distribution is key when considering a good design. To get a good result, lighting should be fairly even for a parking lot. Of course, better lighting doesn't mean more lighting, too much light or uneven light distribution can cause light pollution or glare problems.
General requirements for outdoor parking lot lighting
Outdoor parking lot lighting shall be designed to provide adequate vision, comfort, and safety.
Outdoor parking lot lighting shall be designed to provide uniform lighting throughout the facility with no dark patches or pockets.
Outdoor parking lot lighting shall be designed to provide a minimum value of lighting necessary for the safety and identification of features.
Outdoor parking lot lighting shall not cause direct illumination on adjacent and nearby properties or streets. Fixtures should be of a type or adequately shielded so as to prevent glare from normal viewing angles.
In order to direct light downward and minimize the amount of light spilled into the dark night sky, all lighting fixtures serving outdoor parking lots, except as allowed in a subsection of this section, shall be full cutoff fixtures as defined by the Illuminating Engineering Society of North America (IESNA).
The maximum allowable installation height for lighting fixtures in open parking lots shall be 15 feet within 50 feet of low and medium-density residential areas and on rooftops. Other outdoor parking lot lighting fixtures can be 25 feet.
Relative standards-Lux and light uniformity
Below is the US standard
| | Basic1 | Enhanced Security2 |
| --- | --- | --- |
| Minimum Footcandles on Pavement | 0.2 FC1 | 0.5 FC |
| Maximum Footcandles on Pavement | 4.0 FC | 7.5 FC |
| Uniformity Ratio Maximum: Minimum | 20:1 | 15:1 |
| Minimum Footcandles at five feet Above Pavement | 0.1 FC | 0.25 FC |
1: 1 FC equals 10.7 lux
2: Enhanced security is needed where special security needs exist, or where vandalism or crime is possible.
Below is the China Standard.
Parking lot classification
Average lux on ground
Uniformity
(minimum lux/ average lux)
GR
Ra
Class I: > 400 vehicles
30
0.25
50
20
Class II: 251- 400 vehicles
20
0.25
50
20
Class III: > 101-250 vehicles
10
0.25
50
20
Class IV: ≤100 vehicles
5
0.25
55
20
Lighting distribution
The important thing you must consider is to perform a photometric analysis. Lighting design and simulation will help to have the best possible lighting design so that the area is properly lit. According to Luminaire Classification System, the light should have a BUG value: backlight, upplight, and glare. The luminaire cannot have any upplight which will spill light into the dark night sky. Meanwhile, if the parking lot is near a residential area, it's better that there is less backlight to make sure that we will not get many complaints from the residents.
Lighting distribution is the main feature of LED lights. With the help of a lens, the light that comes from the luminaire can project onto an object or a surface evenly. It is determined by the point at which 50% of the fixture's luminous intensity is met. The lighting industry has created a classification system and recognized five distinct LED distribution types – Type I, Type II, Type III, Type IV, and Type V light distribution. Generally, Type III, Type IV, and Type V are suitable for parking lot lighting, but roads entering parking areas and roads inside of parking lot often require spectrums like Type I and Type II. For example, in the below solution, we used Type I for the road in this industry area. But we used Type III for its parking lot area.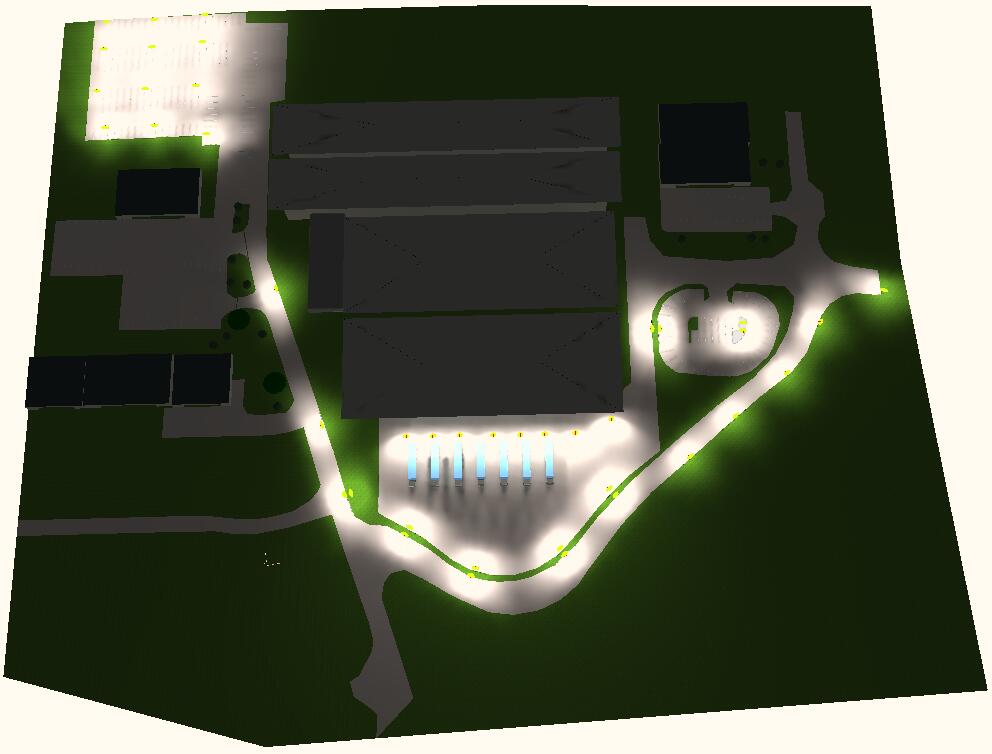 CCT
Correlated Color Temperature (CCT) is used to describe the color appearance of a light source. The value is expressed in Kelvin (K). The CCT of a warm light source is less than 3500k. The CCT of neutral light sources is in the 3500 to 4500k range. The CCT of the cold light source is greater than 4500k (see Figure 6). CCT is not a performance metric: higher numbers are not better. Rather, it is a metric that describes the temperature or temperature of the light. Now more and more customers want the color temperature to be less than 3000K because they think that such a light source is closer to traditional lamps and does not look so dazzling which is not harmful to the eyes.
CRI
Color Rendering Index (CRI) is used to describe the color rendering accuracy of a light source. It is important to note that CRI only describes one aspect of color. CRI≤60 indicates poor color rendering, 60 - 70 medium, 70-80 good, 80-90 very good, 90+ excellent. CRI is a performance indicator, and the higher the value, the better. In parking lots, color recognition is necessary to identify clothes, faces, license plates, and vehicles. Generally speaking, a CRI greater than 70 is sufficient for parking lot lighting.
Height of Poles
Parking lot lights can be installed from 12 feet to 20 feet in height, but in some cases can be as high as 25 inches or 35 feet. The size of your parking lot will be used to determine the recommended height for your poles; larger areas are better for higher poles for better uniformity and vice versa.
Another aspect to consider is whether your area is urban (more concentrated in housing) or rural (more scattered). If your parking lot is adjacent to a lot of other houses, it is necessary to use shorter poles to ensure that the light does not interfere with the residential area. Conversely, in rural areas, you can have higher poles.
Space of Poles
Once the installation height is confirmed, you can then determine the spacing between your lamp poles. A rule of thumb: The higher your installation height, the fewer poles you'll need.
Continuing the previous example, in more densely populated areas you should have more and closer light poles, while in rural areas you will have fewer lamp poles.
Type of mounting
There are different types of mounting for parking lot lights, including the Pole Mount and the Surface Mount. Pole mounted parking lot light is mounted on a pole, which has an arm that extends into the ground. Surface mount lights are with U-brackets or trunnion brackets that mount directly to an existing wall. ZGSM LED parking lot lights have different kinds of brackets which can fulfill your installation requirements. Below is the diagram of brackets and their application. We are also providing parking lot light pole for your lighting system, so if you are interested in poles and bracket, please feel free to get in touch with us.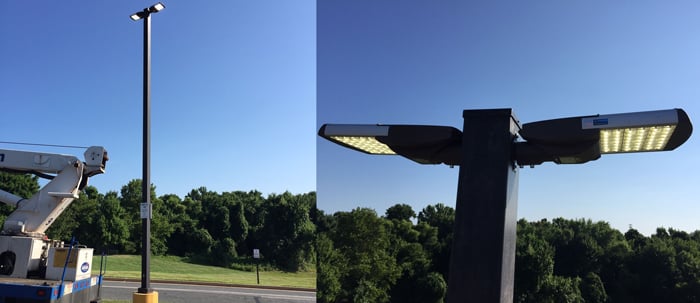 Lighting controls to save energy
The parking lot is lit for long periods of time every day. During certain hours of the night, the parking lot is with few vehicles and pedestrians. Installing energy-efficient equipment is a step toward an energy-efficient design, and lighting controls are a great addition. Ideally, it is best to install the controls at the same time as any new or replacement equipment is installed, as the electrician is already on site. Controls are appearing in car parks due to new technologies capable of producing significant energy savings based on high-efficiency lighting. Lighting control includes a Timer switch, Photocell switch, Timing dimming, Motion sensor, and Smart control. Here we give a brief introduction, if you are interested, you can refer to our article about street light control system.
Timer switch control system
Because parking lot lamps must be turned on and off on a regular basis, they are typically controlled by a time switch, also known as a street lamp time switch control system. In the long run, a street lamp with a time switch management system will improve energy efficiency and service life, providing people with an outstanding user experience.
Photocell switch control system
A photocell switch is made up of two components: a photocell and a bimetallic relay. When the light intensity varies, the machine automatically switches on or off the illumination. The photosensitive resistance inside the light control gets less resistant as light shines on it. The parking lot light is then turned off and the circuit is closed.
When the ambient light is insufficient, the photosensitive resistance has a higher resistance value. The circuit is then turned on, and the parking lot light is switched on.
Timing dimming control system
Timing dimming is a technique that has been used for a long time. This is a dimmer function that allows you to modify the output of your LED parking lot light at night.
Traditionally, LED drivers have a pre-programmed program. For example, we set the LED driver to run at 100% for 6 hours, 50% for the next 6 hours, and then 100% for the next 2 hours.
When the light is switched on at 18:00 and turned off at 6:00, the brightness is 100 percent from 18:00 to 24:00, and 50 percent from 24:00 to 6:00. In this way, we can save lots of energy at night when it's not necessary to provide much light on parking lots.
Motion sensor
Motion detectors are triggered by the motion of vehicles and pedestrians. When a person enters the sensing range, the high output will continue to be maintained, while after the person leaves, the switch delay will automatically turn off the load. In this way, the utility of energy can be effectively saved without affecting the functional use of the parking lot.
Smart control system
ZGSM also provides a smart street lighting control solution, which is a remote management solution that guarantees the appropriate quantity of light is given where and when it is required. It allows users to turn on or off their parking lot lights, adjust the dimming level, verify lamp status, and monitor the data system. Street lighting control systems can use these features to increase energy efficiency, identify lighting outages, and resolve other maintenance concerns in real-time.
ZGSM parking lot lighting solutions
Your parking lot is an important part of the first and lasting impression you make on the public. A dimly lit, the potholed parking lot is often a bad experience. What's more, a poorly lit parking lot often leads to accidents and crime.
But a clean, well-lit, and well-maintained parking facility is a community asset. Investing in making your property stand out for security and attractiveness makes good business sense. LED street light, LED post top light, LED area light, and LED flood light can all be used for parking lot lighting. And we have all these kinds of LED lights for your options. Btw, our LED light can be with different lighting distributions, different wattage, and different installation brackets. We believe that you can find a suitable solution at ZGSM.
Project reference
This project is at Art Museum In Italy. We have installed the below lamps for the parking area outside the museum.
56W post top light fixture, Model: ZGSM-LD56LMA with ClassII Inventronics Driver, 2MBLS lens, 3030, 4000K, virtual midnight dimming, 42 pieces
56W post top light fixture, Model: ZGSM-LD56LMA with ClassII Inventronics Driver,1MS lens, 3030, 4000K, virtual midnight dimming, 32 pieces
ZGSM L series post top light and the museum look in harmony. With the midnight timer dimming, we saved about 50% energy at night. At the same time, the Type 2MBLS and Type 1MS are very suitable for lighting the different areas of the parking lot. The client told us L series post top light is an artistic, practical, and energy-efficient all-in-one solution.
Project picture reference
Cost-effectiveness
In addition to the cost of purchasing lamps, the payment of energy consumption, installation, replacement, and maintenance are also key to cost management. To give you a more in-depth look at the total cost, let's take the above project as an example to see how many potential savings an LED solution can help you with.
We list the corresponding costs in the table below.
Certification bodies
Standard
Details refer to the standards
Comment
EN
LVD standards
EN 60598-1
Luminaires. General requirements and tests in accordance with this standard
In particular, thermal endurance tests in accordance with this standard
EN 60598-2-3
Luminaires. Particular requirements.
Standards of road and street lighting
EN 60598-2-5
Luminaires. Particular requirements.
Standards of floodlights
EN 62262
Degrees of protection provided by enclosures for electrical equipment against external mechanical impacts.
Mechanical impact tests - IK code
EN 60529
Degrees of protection provided by enclosures
Ingress protection - IP code
EN 60068
Environmental testing. Tests. Test Fc. Vibration(sinusoidal).
EN 60068-2-27
Environmental testing. Tests. Test Ea and guidance: Shock
EN 62321
Technical documentation for the assessment of electrical and electronic products with respect to the restriction of hazardous substances
EMC standards
EN 55015
Limits and methods of measurement of radio disturbance characteristics of electrical lighting and similar equipment
EMC Emissions
EN 61547
Equipment for general lighting purposes. EMC immunity requirements.
EMC Immunity
EN 61000-3-2
Electromagnetic compatibility (EMC). Limits. Limits for harmonic current emissions (equipment input current ≤ 16 A per phase)
EMC Limits for harmonic current emissions
EN 61000-3-3
Electromagnetic compatibility (EMC). Limits. Limitation of voltage changes, voltage fluctuations and flicker in public low-voltage supply systems, for equipment with rated current ≤ 16 A per phase and not subject to conditional connection
EMC Limits for voltage fluctuations and flicker
Standards associated with LED drivers
EN 61347-1
Lamp control gear. General and safety requirements
EN 61347-2-13
Lamp control gear. Particular requirements for DC or AC supplied electronic control gear for LED modules
EN 62493
Assessment of lighting equipment related to human exposure to electromagnetic field
Electro Magnetic Fields Safety – Lighting Equipment
EN 62384
DC or AC supplied electronic control gear for LED modules. Performance requirements
0-10V,1-10V or Dali
EN 62031
LED modules for general lighting. Safety specifications
IEC
IEC 62722-1:2014
Luminaire performance - Part 1: General requirements
IEC 62722-2-1
Luminaire performance - Part 2-1: Particular requirements for LED luminaires
IEC/EN 62471
Photobiological safety of lamps and lamp systems
IEC TR 62778
Application of IEC 62471 for the assessment of blue light hazard to light sources and luminaires
EN(Road lighting design)
EN 13201-1
Road lighting. Guidelines on selection of lighting classes
EN 13201-2
Road lighting. Performance requirements
EN 13201-3
Road lighting. Calculation of performance
EN 13201-4
Road lighting. Methods of measuring lighting performance
EN 13201-5
Road lighting. Energy performance indicators
EN and IESNA
EN 13032-1
Light and lighting. Measurement and presentation of photometric data of lamps and luminaires. Measurement and file format.
IES-LM-80
Measuring Lumen Maintenance of LED Light Sources
LM-80
IES-TM-21
Projecting Long Term Lumen Maintenance of LED Light Sources
TM-21
ANSI
ANSI C136.31
Luminaire Vibration
Vibration
ANSI C136.41
Electrical and mechanical standards for Dimming Receptacles
5 pin or 7 pin NEMA socket
ANSI C136.10
Physical and Electrical standards for Locking-Type Photocontrol Devices and Mating Receptacles
3 pin NEMA socket
UL
UL 1598 Luminaires
Safety standards for luminaires
Certificate for luminaires
UL 8750
Light Emitting Diode (LED) Equipment for Use in Lighting Products
Certificate for LED chips
IESNA
LM-79-08
Electrical & Photometric Measurement of LED light
LM-82-12
Characterizations of LED Light Engines and LED Lamps for Electrical and Photometric Properties as a Function of Temperature
LM-80
LM-84-14
Measuring Luminous Flux and Color Maintenance of. LED Lamps, Light Engines, and Luminaires
TM-21
IESNA LM-80-08
Measuring Lumen and color Maintenance of LED light sources and
TM-21
IESNA
Book 13 Zhaga
Zhaga standards for LED driver
D4i LED driver
Book 18 Zhaga
Zhaga standards for Zhaga socket
Zhaga socket
Book 20 Zhaga
Zhaga standards for sensor
ISO
ISO9001
Quality management system of factory
ISO14001
Environmental management system of factory
ISO45001
Occupational health and safety management system of factory
ISO50001
Energy management system of factory
ISO9227
Corrosion tests in artificial atmospheres – Salt spray tests
PS: What we introduce here is relatively simple. If you are interested in the installation and maintenance costs of lamps, as well as the cost of electricity, you can refer to our article about street light costs.
Summary
Hope this article can give you a better understanding of most aspects of outdoor parking lot lighting, including lighting requirements, performance requirements of lamps, pole of street light arrangement, lamp installation, how to achieve energy saving, etc. If you have plans to install LED lighting for your parking lot, you can contact us to provide you with a detailed solution. If you are still hesitant to reform your parking lot, then you can calculate the cost of replacing traditional lighting with LED lighting and the payback period, maybe it can help you make up your mind to choose a green LED solution.
Rated Products
Related Blogs
Related Cases
People also ask
Author introduction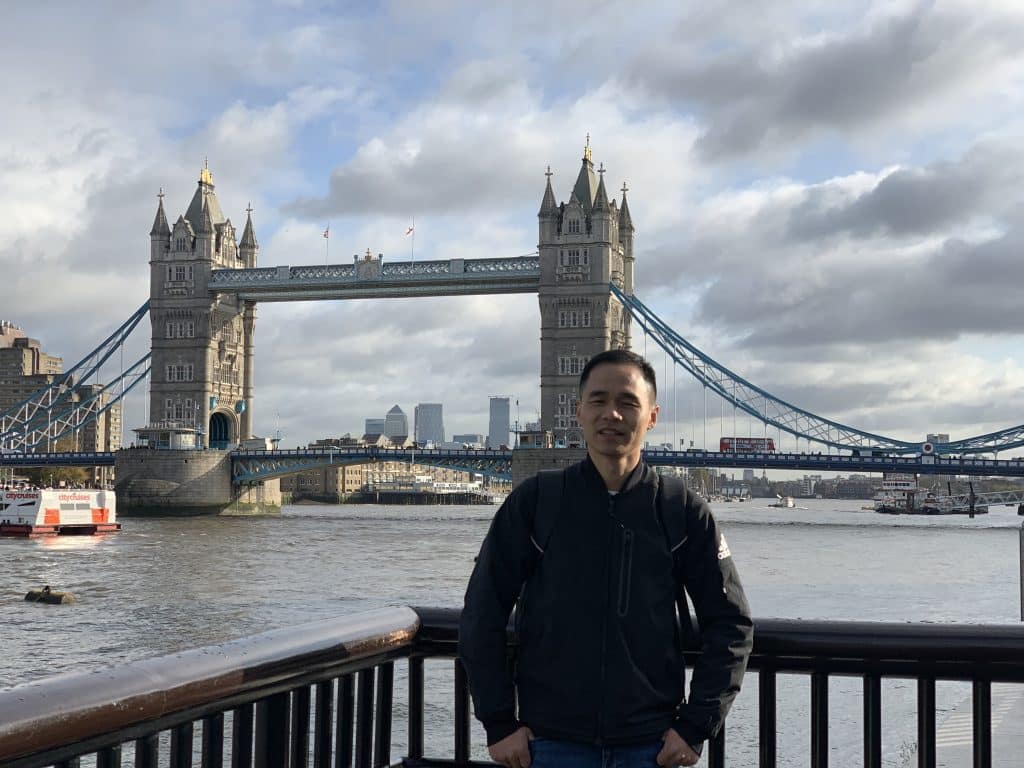 Hello Customers,
My name is Taylor Gong, I'm the product manager of ZGSM Tech. I have been in the LED lights industry for more than 13 years. Good at lighting design, street light system configuration, and bidding technology support. Feel free to contact us. I'm happy to provide you with the best service and products.
Email: info@zgsm-china.com | WhatsApp: +8615068758483