Series K Toolless Open Street Led Light
K series street led light adopts a full die-casting aluminum design, which makes it elegant and modern. Many of our client's projects will give priority to this street light. K series has three different sizes, with wattages ranging from 25 to 200W to meet different project requirements. The buckle design allows the lamp to be opened without tools, which facilitates the replacement of the LED driver. Its circuit breaker is a convenient design for installers which also protects their safety. With respirators whose function is protecting the lamp from the damage of moisture to its components and prolonging the service life of the lamp. It also has some other small detailed designs, such as terminal block and level bubble. All of these make the K street led light an ideal road lighting fixture.
Wide power range: 25W~200W
Elegant design with smooth body
Tool-less open for easy maintenance
Equipped with level bubble and knife switch, convenient for installer
Cut-off, Dark Sky Friendly Lighting
1000 hours salt spray test report
Side entry or Post top mounted are both available with ±15°
More than 5 lighting distributions are optional
L70>100000hrs, TM80, LxxByy report are available
Smart Control: 1-10V dimming, DALI, daylight sensor, motion sensor, timer, Zigbee

| | |
| --- | --- |
| Series No | Series K |
| Power | 25W, 35W, 55W, 60W, 90W,120W, 150W, 180W, 200W |
| Efficacy | 125-150lm/W |
| Input Voltage | 100-240/277 VAC, 50 / 60 Hz |
| Power Factor | >0.95 |
| Surge Protection | 10KV (Default) / 20KV (available on request) |
| IP Rating | IP66 |
| IK Rating | IK08 |
| CCT | 3000K, 4000K, 5000K, 5700K |
| CRI | Ra>70 (Default) / Ra>80 |
| Operating Temperature | -40°C to + 50°C |
| Beam Angle | Type I, Medium; Type II, Medium; Type III, Medium; |
| Mounting Option | Side entry or Vertical pole mounted |
| Warrantys | 5 Years |
| Certification | ENEC, CE, CB, ROHS, LM79, LM80, LM82, LM84, TM-21, ISTMT, IEC62471/62788 |
| Control | Photocell, DALI Dimmable, NEMA / Zhaga Socket, Motion Sensor, 1-10V Dimmable, Zigbee or LORA control |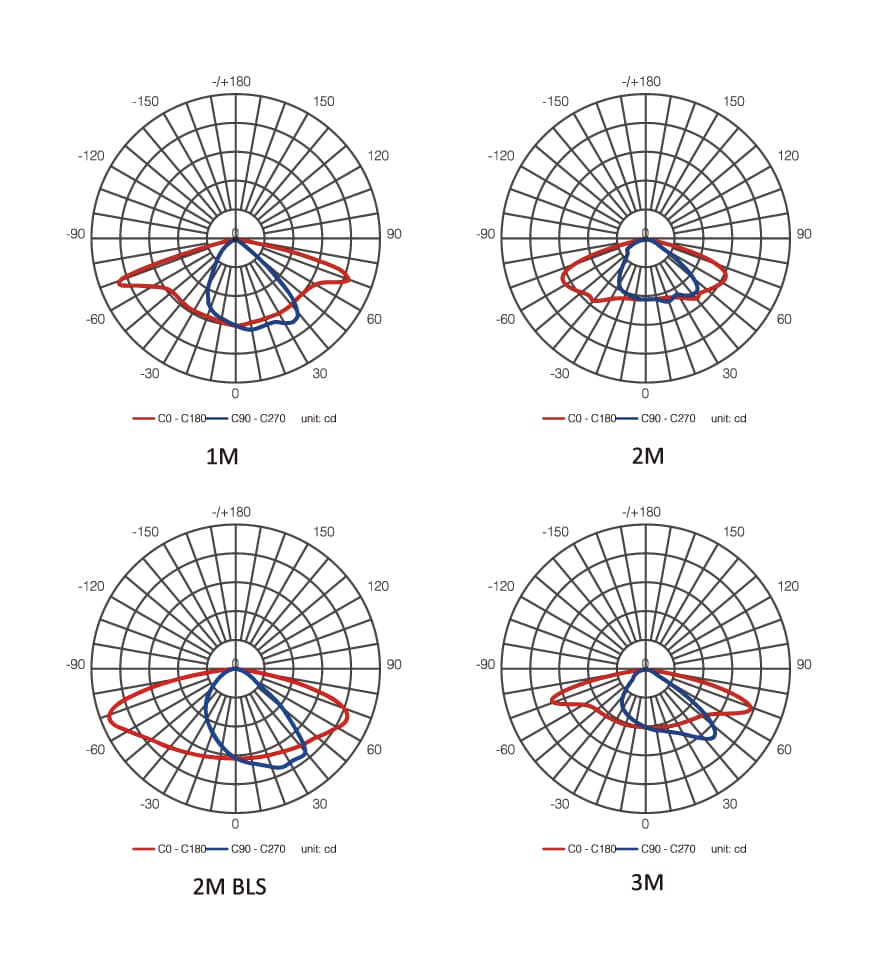 Does K series street led light have LED chip over-temperature protection?
Yes, it is an optional function. An NTC thermistor will be placed on our K series street lamp PCB board, and an LED driver with an external temperature protection function is selected. The thermistor and LED driver output heat conduction are connected, then the LED driver can detect the temperature of the PCB board. If the temperature is too high, the LED driver can change the output to make the LED lights darker than before, thereby lowering the temperature of the LED chips and thus protecting them from damage.
How to choose the protection class of K series?
Our K series street lights can be produced in accordance with CLASS I standards, and can also be produced in accordance with CLASS II standards. For your project, it mainly depends on the requirements of your customers. For example, our customers from some European countries require more CLASS II, especially most customers in Italy require Class II because this is a common requirement for Italian street lighting projects.
Difference between CLASSI and CLASS II:
1. CLASS I luminaires: These luminaires refer to protection against electric shock through the use of basic insulation, and also provide protective grounding impedance connected to the building. When the basic insulation fails, this ground impedance will withstand dangerous voltages to the ground. In other words, the CLASS I switching power supply will provide a pair of ground connection terminals.
2. CLASS II luminaires: Such lamps not only rely on basic insulation to prevent electric shock protection, but also must provide additional safety protection measures such as double insulation or reinforced insulation, and they do not rely on grounding protection. That is to say, the CLASS II switching power supply does not provide a pair of ground connection terminals.
What's virtual midnight and how to realize this function?
Some of our clients ask for streetlights with virtual midnight dimming.
1. Virtual midnight dimming is a dimming function that can change the output of LED light during the night. Normally the lights are with the lowest brightness from 0:00 to 2:00 when there is less traffic on road. This can save energy consumption which is eco-friendly.
2. With the special LED driver, the K series automatically adjusts the dimming curve based on the on-time of the past two days (if the difference is <15 minutes), assuming that the center point of the dimming curve is midnight local time. By this dimming curve, we can save up to 30% to 50% energy.
How to choose the right wattage and optics lens for the K series?
Please let us know below so we can do the lighting design and help you choose the right wattage and optic lens.
1. What type of road do you need to light up? Or what's your lux request?
2. What's the layout of the poles?
3. Distance of each pole, the height of poles, and width of the road?
How many watts should a street led light be?
With the continuous improvement of LED efficiency, it is obviously not suitable to confirm the product model based on watts anymore.
more and more road lighting bids have no longer required how many watts must be reached, but limit the maximum wattage while putting forward the minimum requirements for luminous flux, so the efficiency is higher, the watts will lower, this will make the cost of lamps lower and the energy-saving rate is higher. so now power is not the most important parameter.
How many lumens is a street led light?
If you're still used to measuring light output in watts, don't worry, because there are still plenty of people doing so. So, to help you get used to specifying the lumens needed for LED outdoor lighting, here's a memo list for your reference.
1. Post Top Light: 2,600-7,800 lm
2. Floodlights: 6,000-40,000 lm
3. Street Lights for residential areas: 3,000-5,000 lm
4. Street Lights for roadways: 5,000-15,000 lm
5. High mast for highways: 40,000-150,000 lm
WHAT LED is equivalent to a 250 watt HPS?
Metal Halide / High-Pressure Sodium to LED Wattages Conversion
Original Lamp→LED Lamp
70 Watt Metal Halide→30 Watt LED
100 Watt Metal Halide→40-50 Watt LED
150 Watt Metal Halide→60-70 Watt LED
175 Watt Metal Halide→80-90 Watt LED
70 Watt High-Pressure Sodium→40 Watt LED
100 Watt High-Pressure Sodium→50-60 Watt LED
150 Watt High-Pressure Sodium→80-90 Watt LED
250 Watt High-Pressure Sodium→90-125 Watt LED