Series L Flexible Mounted Hanging Street Lights
The L series hanging street lights are specially developed for the European market. By replacing the accessories, the L street lamp can realize 4 installation methods, Side entry, Post top, Pendant, and hanging mounted, among which hanging mounted is a common installation method in Europe. Beautiful appearance, mixed with European style design, L street lamp has been loved by European customers since its launch. At the same time, the L street light has ENEC certification and meets most European project tender requirements.
Wattage: 25W~120W
Light efficiency up to 150lm/w
Tool-less open for easy replacement
Knife switch makes installer safer
Smooth back does not collect dust
Highly translucent tempered glass
Multiple installation methods are applicable
More than 6 lighting distributions are optional
Lifetime more than 100000hrs
Smart Control: 1-10V/ DALI dimming, daylight sensor, motion sensor, timer, NEMA/Zhaga, Zigbee, Lora

| | |
| --- | --- |
| Series No | Series L |
| Power | 27W, 37W, 56W, 70W, 90W,120W |
| Efficacy | 125-150lm/W |
| Input Voltage | 100-240/277 VAC, 50 / 60 Hz |
| Power Factor | >0.95 |
| Surge Protection | 10KV (Default) / 20KV (available on request) |
| IP Rating | IP66 |
| IK Rating | IK08 |
| CCT | 3000K, 4000K, 5000K, 5700K |
| CRI | Ra>70 (Default) / Ra>80 |
| Operating Temperature | -40°C to + 50°C |
| Beam Angle | Type I, Medium; Type II, Medium; Type III, Medium; Type V, Short |
| Mounting Option | Side entry, Post top, Pendant, and Suspended mounted |
| Warranty | 5 Years |
| Certification | ENEC, CE, CB, ROHS, LM79, LM80, LM82, LM84, TM-21, ISTMT, IEC62471/62788 |
| Control | Photocell, DALI Dimmable, NEMA / Zhaga Socket, Motion Sensor, 1-10V Dimmable, Zigbee or LORA control |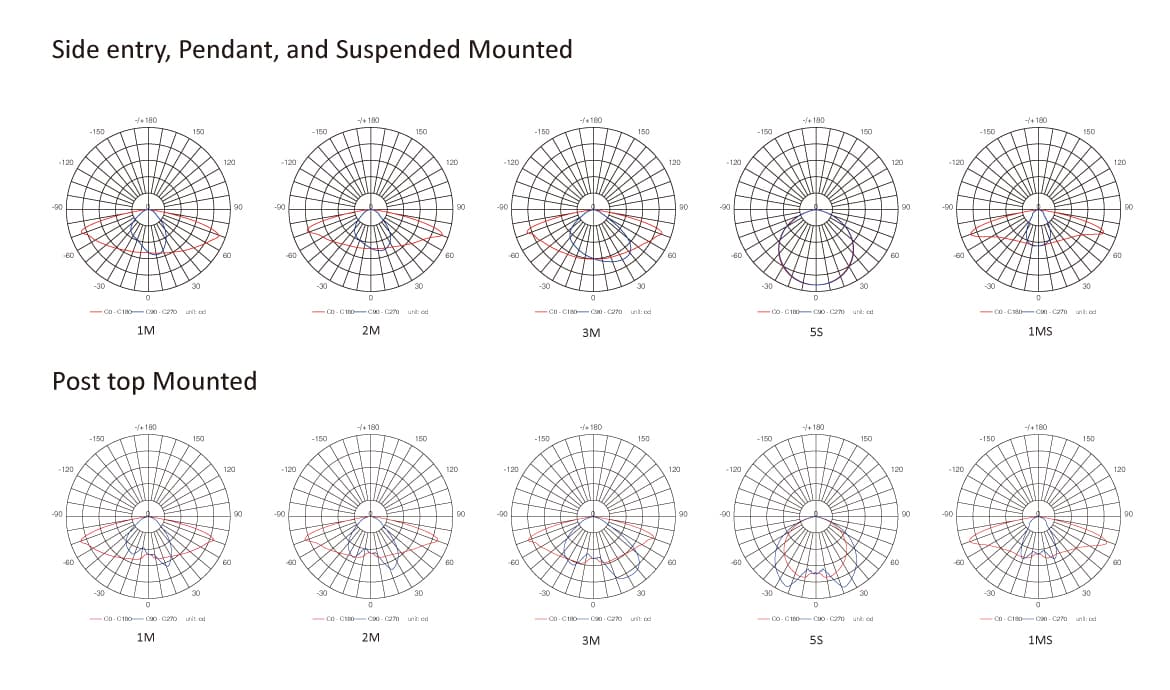 How surge protection devices (SPD) work for led street lights?
What is surge?
Before we get to the concept of surge protection gadgets we first want to understand what surge is. Surge is a temporary overvoltage beyond the everyday operating voltage. Essentially, the surge is an extreme pulse that occurs for only a few millionths of a second.
Dangers of Surges. The hazards of surges are particularly divided into two kinds: catastrophic risks and cumulative risks. Catastrophic chance refers to a surge voltage exceeding the capability of the system, the gadget might be absolutely destroyed or greatly decreased service life. And accumulative danger refers back to the cumulative effect of a couple of small energy surges that lead to the deterioration of semiconductor device performance, device failure, and shortened existence, and subsequently cause the shutdown or productivity decline. Without surge protection gadgets, lots of digital devices, devices, verbal exchange traces might be under attack by both of the risks cited above and sooner or later grow to be ineffective, so is the outside led road lighting. So it is essential to have surge protection devices for outdoor luminaires like street lighting fixtures, floodlights, landscape lighting, lawn lighting, courtyard lighting, car parking zone lighting, and many others.
What is SPD?
A surge protection tool is a kind of electronic tool to provide protection safety for all styles of digital equipment, units, and meters, communication traces. When the electric circuit or communication line because of external interference abruptly produces a height current or overvoltage, a surge safety tool can be in a very brief time to behavior and shunt that extreme pulse, in an effort to save you the surge from negative other gadgets in the digital circuit. A great surge safety tool has to be able to repeat these features as special to attain authentic safety
Why SPD is required for led street lights?
Given that lighting fixtures accounted for approximately 25 percent of global power intake in the past, the groundswell for using greater strength-efficient lighting fixtures is growing. LED lights, as an extra strength-efficient lights device, occupies an increasing proportion in outdoor lighting applications.
1) outdoor LED street lighting fixtures are commonly powered via a led driver that converts alternating current to direct current. The electricity supply voltage required by using LED semiconductors is fairly small. This is exclusive from the instant excessive voltage withstanding capability that the traditional excessive voltage road lamp owns. The led street lights themselves don't have the capability to face up to the height current and overvoltage from outside, so it is necessary to configure the surge protection device for led street lights.
2) As a regular outdoor LED lights – led street lights, its preliminary value is excessive. The payoff is constructed in lower wattage requirements, lower maintenance prices, and longer life. Streetlights installed outdoors should have high durability and reliability in order to prevent failures during the investment recovery period of about 5 years. Transient surges in AC lines are a major threat to streetlights. So it is necessary to take some effective measures to prevent it from damaging street lights.
3) In fact, not only do lightning strikes can cause inductive surges, the on/off of inductive loads or capacitive loads, short circuits such as ground electrodes or power supplies can also generate pulses in the power line, causing damage similar to lightning strikes. Therefore, it is very important to consider the circuit protection unit in the troubleshooting of field faults caused by the electrical environment.
How does SPD work for led street lights?
The way to defend the street light from the harm of the inductive surge is to dam the high voltage/current transient interference into the lighting fixture. Consequently, a surge protection device (SPD) can be used in outdoor LED street lighting to suppress surge electricity and limit surge effect on lighting fixtures devices.
When there is an abnormal increase in the voltage inside the electricity line, the resistance of the surge protection device will drop sharply to guide the surge to depart the energy line of blanketed device, and whilst the surge is over, it will automatically reset to the high impedance state. You could think of the SPD as a sluice gate and the surge as a flood. Under regular situations, the gates are closed, however, whilst a flood is visible coming, the gates open fast in order that the water can be diverted. Whilst there may be an ordinary increase in the voltage inside the power line, the resistance of the surge safety tool will drop sharply to manual the surge to leave the power line of included device, and when the surge is over, it will automatically reset to the high impedance state.
Right here are two primary forms of SPD module configurations. Let's take a look.
1) Parallel connection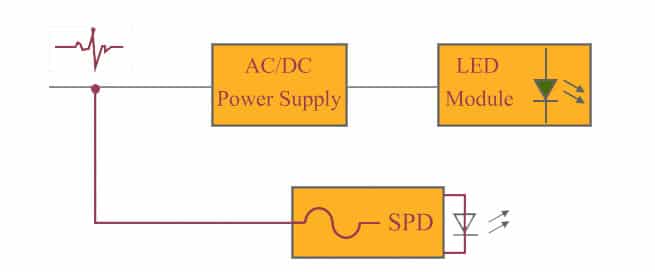 2) Series connection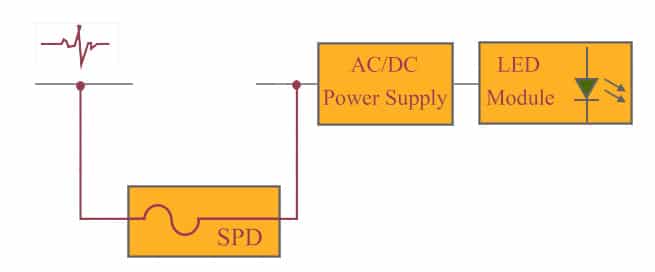 The ultimate fate of an SPD is sacrifice; the SPD is subjected to surges so that the protected equipment can survive. Over time, the SPD will end its life due to the many surges it endures. It sacrifices itself so that the protected equipment can survive.