High Mast Light
We carry both high mast Light and LED Sports Lighting that is great for indoor and outdoor sports arenas and stadiums. LEDs offer a number of advantages over traditional metal halide and HID fixtures. LEDs are sure to save you money on energy and maintenance costs as they consume less power and last 4-5 times longer than traditional lights. LEDs also run much cooler than HID and metal halide bulbs, reducing the strain on air conditioning systems. Another great advantage of football stadium lighting is they do not buzz or flicker like traditional lighting systems.
Series M High Lumen Output High Mast Light
Series M high mast light is a high-power floodlight designed for large stadiums, airports, docks, and other large areas, the luminous flux is up to 126000 lm, and 4 different luminous angles are available, suitable for different heights and places. ZGSM, as a professional manufacturer of outdoor floodlighting products, has many years of experience in manufacturing high-power lamps. The beautiful appearance design and excellent cooling effect of the Series M high pole light make it one of the best products for professional golf courses and large-scale lighting like tennis court lighting.
Series Glomax Professional LED Sports Field Lights
Glomax series sports field lights are high-power floodlights specially designed for large-area lighting needs such as large stadiums, airports, ports, and larger outdoor parking lots. These luminaires provide exceptional luminous flux of up to 279,000 lumens and support five different light distributions, including symmetrical and asymmetrical. In addition, Glomax series stadium lights also provide a variety of accessories to meet the needs of different projects. ZGSM provides one-stop lighting simulation and stadium lighting solution services. According to the venue size, light pole distribution and illumination requirements, combined with product features, our products can meet the lighting needs of different venues, such as football fields, tennis courts and baseball fields.
Best High Mast Light Manufacturer & Factory & Supplier in China
ZGSM is the best commercial, industrial high mast flood light manufacturer, factory, supplier, and exporter in China since 2005, The factory is ISO9001, ISO14001, ISO45001, and ISO50001 certified. We have rich experience in manufacturing stadium flood lights with the following advantages and services: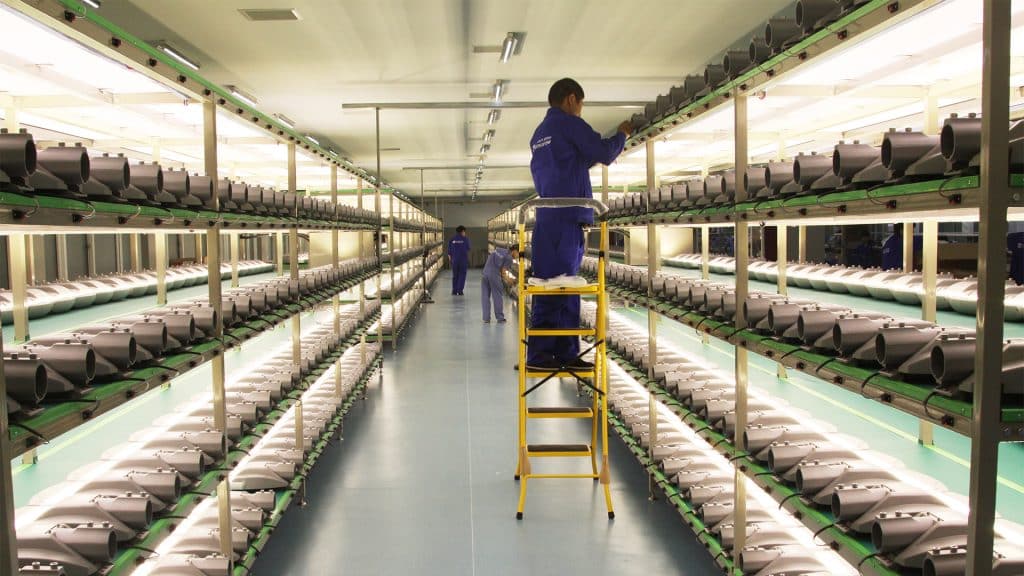 Why Choose us as your LED Stadium Light Supplier in China?
OEM/ODM/SKD
Available to do OEM/ODM/SKD for all high mast lights. No MOQ limits for stadium lights retailers, wholesalers, and engineering companies.
FAST DELIVERY TIME
As a reliable high mast light supplier, we have stocks of raw materials for football field lights, regular delivery time is 3 days for samples and 2 weeks for bulk.
BEST QUALITY&PRICE
We use top stable quality led driver and chips like Philips driver and chips for all mast lights. Providing 5/7 Years warranty at the cheapest price.
CERTIFICATES
Our led stadium flood lamps are CB, CE, RoHS, SAA approved, and our factory ISO9001, ISO14001, ISO45001, and ISO50001 certified.
R & D Team
Product Testing
In order to ensure the high quality of each product, we will conduct more than 30 different aspects of testing in our own laboratory before the product goes on the market. After all the tests are passed, the product can be approved for marketing. In mass production, for some basic safety and performance tests, we will conduct 100% testing to ensure that every product delivered to the customer is perfect.
Production Process
Frequently Asked Questions
Related Projects
Related Blogs
Types of LED Lights