Guide for LED football pitch lighting - Stadium lights
Guide for LED football pitch lighting - Stadium lights
Introduction
Stadium lights are very strong sports field lights set at great heights with narrow beam angles, often between 12 and 60 degrees. With these narrower beam angles, the light intensity inside that angle is greater, allowing brilliant light to reach the ground from greater heights.
The lighting of football fields plays a vital role in night games. For the audience, their experience depends heavily on the lighting system settings. For players, the lights must provide enough coverage so that they can use their skills to the fullest.
Football field lighting is a design with strong functionality, high technology, and a relatively high degree of difficulty. Football stadium lights not only must they meet the standards of various levels of football events, but also pay great attention to the actual effect of the real-time color TV broadcast. In order to ensure that the broadcast images are vivid and clear, and the colors are true, there are corresponding regulations on the vertical illuminance, uniformity of light intensity, spatial three-dimensionality, color temperature, and color rendering index of the light source, and the lighting standards of different levels of football fields are different. In this article, we will share this information with you.
Football Stadium Lighting Standards
Football stadium lighting must meet the needs of the audiovisual media, spectators, professional football players, and officials. Its lighting requirements depend on whether the venue is used for competition or training, whether the competition is domestic or international, whether it is televised, etc.
According to these, there are many different levels and different parameters. Let's take a look at the main types of football pitch lighting and the characteristics they need to have.
The table below lists the requirements for E horizontal, uniformity, flick factor, reference grid, color temperature, color rendering, glare rating, maintenance factor, etc. In addition, the football pitch used in the world competition has also made requirements for E vertical. If you need to know this knowledge, you can contact ZGSM or visit FIFA.
Illuminance requirements
FIFA lighting standard A
FIFA lighting standard B
FIFA lighting standard C
FIFA lighting standard D
Grade 1
Grade 2
Grade 3
Competition or training
World cup
Club or U-20 world cup, Olympic
U-20 women's world cup
U-17 world cup
FIFA World Cup training
Match practice
Standard training
Eh ave
(average horizontal illuminance)
Minimum > 1500 lux
Average > 2000 lux
Minimum > 1200 lux
Average > 2000 lux
Minimum > 800 lux
Average > 1250 lux
Average > 1000 lux
Average > 750 lux
Average > 500 lux
Average > 300 lux
Uniformity U1h
> 0.50
> 0.50
> 0.50
> 0.40
> 0.40
> 0.40
> 0.40
Uniformity U2h
> 0.70
> 0.70
> 0.70
> 0.60
> 0.60
> 0.60
> 0.60
Flicker factor (FF)
Average< 1%
Maximum < 1%
Average< 12%
Maximum < 15%
Average< 20%
Maximum < 30%
not applicable
< 1%
not applicable
not applicable
Reference grid
96 pionts
96 pionts
96 pionts
96 pionts
96 pionts
40 pionts
40 pionts
Colour temperature (Tc)
5,000–6,200K
5,000–6,200K
4,200–6,200K
4,200–6,200K
5,000–6,200K
5,000–6,200K
4,200–6,200K
Colour rendering (Ra)
≥ 80Ra
≥ 80Ra
≥ 70Ra
≥ 70Ra
≥ 80Ra
≥ 70Ra
≥ 70Ra
Glare rating (RG)
< 50
< 50
< 50
< 50
< 50
< 50
< 50
Maintenance factor (MF)
0.9 LED or 0.8 HID
0.9 LED or 0.8 HID
0.9 LED or 0.8 HID
0.9 LED or 0.8 HID
0.9 LED or 0.8 HID
0.9 LED or 0.8 HID
0.9 LED or 0.8 HID
Power supply
Pending
Pending
Pending
Pending
FPS D
FPS D
FPS D
Ev 0° 90° 180° 270°
(lux, U1, or U2)
Find more details on FIFA
Find more details on FIFA
Find more details on FIFA
Find more details on FIFA
not applicable
not applicable
not applicable
Design guideline
Dimension of the football pitch
Mostly, the football pitch is 105 meters long and 68 meters wide. However, the dimensions can be slightly different for different applications. And its length ranges from 90 meters to 120 meters, while its width can be 45 meters to 90 meters. If your football pitch isn't of standard size, please let us know.
Normally LED floodlights are installed around the stadium roof rim structure. However, for some football pitches, the lights are installed on the poles/towers around the pitch perimeter. FIFA made detailed requirements on this which include room rim light, lamps behind the goal line, luminaires focus point, column position, etc.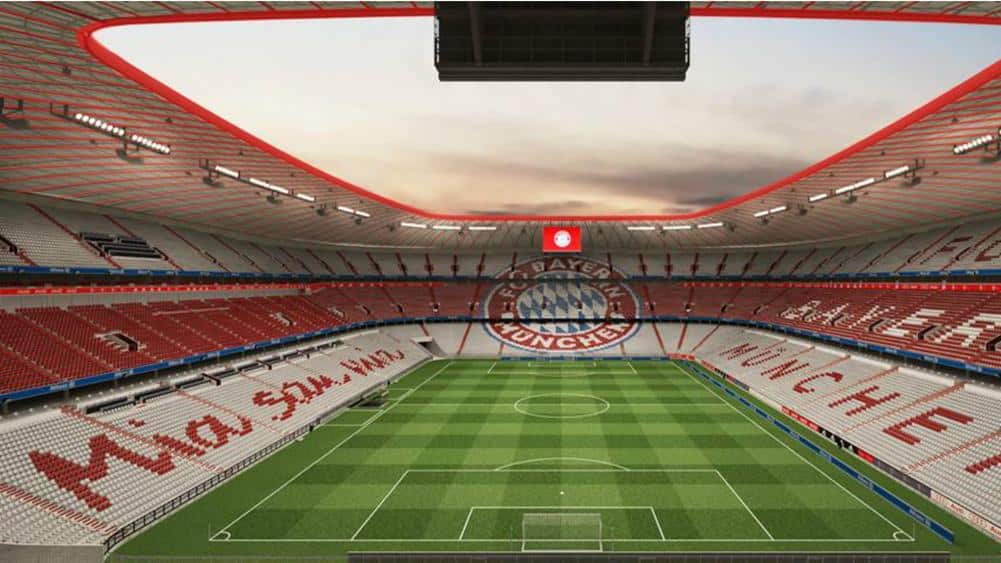 | Arrangement | Picture for reference | Remark |
| --- | --- | --- |
| Linear - roof rim lighting | | Normally the floodlights are installed around the stadium roof rim structure. But there are requirements for the lateral distance (X) from the football pitch perimeter to ensure the required vertical illuminance levels and illuminance uniformity can be achieved |
| Behind goal line – luminaire mounting zone | | For the lights behind the goal line, the floodlights should be installed at the room rim more than 60 degrees from the goal line. Because less degree (lower installation height) will cause discomfort glare for players in the penalty area. |
| Luminaires focus point | | In order to make a less comfortable glare, there is a requirement for the luminaires' focus point. For LED flood lights, the angle should be less than 60 degrees. |
| Column position | | The corner column should be located in a zone marked yellow in the picture (120˚ from the goal line and 120˚ from the pitch side). And the column should be located more than 12m from the pitch corner. |
| Corners - column/tower floodlight array | | If corner columns or high masts with multiple luminaires should be installed, it's better not to install them in the area as marked in yellow. |
| Corners – linear floodlight array | | If the lights must be installed in the yellow area shown in the picture, their aiming points should not be in the penalty box. Because this will cause discomportable glare as well. |
Layout and height of poles
Normally the poles are needed for grade 1, 2, and 3 football pitches. Below are the suggested poles quantity, luminaires quantity, pole height, and total lumen output of lamps for different grade foot pitches. However, this final input can be slightly changed according to the lighting Dialux because the lighting distribution and lumen output of single stadium lights are different from time to time. But we can go with these suggestions to start the lighting Dialux and do small changes if needed.
| FIFA training standard | Number of poles | Luminaires per pole | Pole height | Total system lumens | Eh average (Lux) |
| --- | --- | --- | --- | --- | --- |
| Grade 1 | 6 | 6 x 10 | 22-25m | 11,500klm | > 750 lux |
| Grade 1 | 8 | 8 x 8 | 18-22m | 11,500klm | > 750 lux |
| Grade 2 | 4 | 4 x 10 | 22-25m | 6,200klm | > 500 lux |
| Grade 2 | 8 | 8 x 5 | 16-18m | 6,200klm | > 500 lux |
| Grade 3 | 4 | 4 x 7 | 22-25m | 4,500klm | > 300 lux |
| Grade 3 | 8 | 4 x 4 or 4 x 3 | 16-18m | 4,500klm | > 300 lux |
Below are the layouts
| Requirement | Poles quantity | Layout (3D) | Layout (2D) |
| --- | --- | --- | --- |
| Grade 1 | 6 poles | | |
| Grade 1 | 8 poles | | |
| Grade 2 | 4 poles | | |
| Grade 2 | 8 poles | | |
| Grade 3 | 4 poles | | |
| Grade 3 | 8 poles | | |
As we can see, with more poles, we usually can get better uniformity. However, we have to pay more cost for the columns or high mast. So if your budget is limited, we can go with fewer poles, however, the height of the pole will be a little higher than solutions with more poles to get better uniformity.
Uniformity
A key element of the pitch illumination system is the uniformity of illumination across the pitch in all FIFA reference planes. Illuminance uniformity can be defined as the uniformity of the distribution of light on a given reference plane. Uniformity requirements for different classes of courts can be found in the section on lighting requirements standards.
Illumination uniformity refers to the ratio of the minimum illuminance to the average illuminance on a specified surface. The larger the value, the more uniform the light distribution and the more comfortable the visual experience. Experience has shown that uniformity values calculated during the design process are a good guide, but are often higher than the measured values after the actual lighting system is installed. Therefore, FIFA recommends that the illuminance uniformity value calculated during the design process should be higher than the minimum requirement to take into account the possible drop when measuring the actual value.
Glare
Glare refers to the visual conditions that cause visual discomfort and reduce the visibility of objects due to unsuitable brightness distribution or extreme brightness contrast in space or time. A feeling of light in the visual field that the human eye cannot adapt to, may cause disgust, discomfort, or even loss of vision. At the same time, glare is one of the important causes of visual fatigue.
Discomfort glare on a football pitch is caused by too bright from a point (luminaire). That's why we should pay more attention to the arrangement of the luminaire.
Methods for determining the glare effect of a light source or group of light sources are complex.
The glare value has a certain relationship with the number of lamps, the wattage of the lamps, and the position of the lamps. Glare is a subjective factor, and the International Commission on Illumination (CIE) designed a practical rating system for outdoor sports based on extensive field testing. For example, FIFA A standard requires to test glare rating at 96 points, and each point is evaluated every 15° Which means a point (360°) should be tested in 24 directions. The position of the observer should be 1.75 meters above the ground. And the final result (glare value) is the maximum glare value of each observer in a specific direction.
Dimming
The illuminance of the football should be dimmed to fulfill different applications like competition, training, or maintenance purposes. The list below provides a few examples:
Mode 1: Full match mode
This involves the pitch illuminance system operating in a manner that satisfies the requirements specified for the relevant FIFA Lighting Standard.
Mode 2: Training mode
This involves the pitch illuminance system operating with an average horizontal illuminance of 500 lux.
Mode 3: Maintenance mode
This involves the pitch illuminance system operating with an average horizontal illuminance of 250 lux.
Flicker
Flicker is the change in brightness of a directly visible light source, which can be due to fluctuations in the light source itself, or due to external causes such as due to a rapidly fluctuating voltage supply (power supply flicker) or incompatibility with external dimmers. The key to causing flicker is the fluctuation of the output current from the LED driver.
If the output of the LED power supply has less ripple and noise, then the flicker will be less. Because any fluctuation in the current wave can cause flicker, especially at low output dimming levels (E average). For your reference, FF% = 0.5 x (Emax – Emin) / E average x 100%.
CCT
Color temperature is a characteristic of visible light and is stated in units of absolute temperature, known as Kelvin (K). It describes the feeling or appearance of how warm (red) or cool (blue). The image below provides a guide to the desired color temperature range for FIFA stadiums.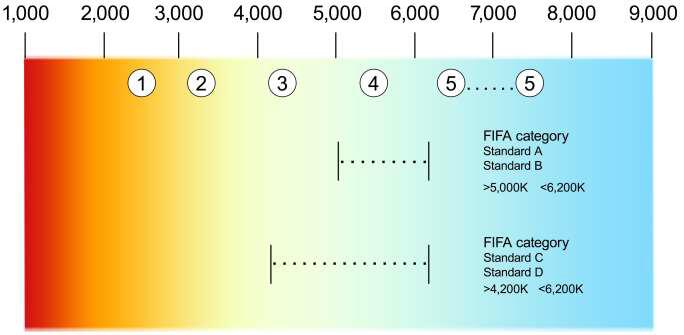 CRI
CRI represents the quality of light and its ability to reproduce the colors of objects faithfully. Color rendering is expressed as a score from 0 to 100 Ra on the Color Rendering Index (CRI). The higher the CRI value, the better the light source's ability to accurately reproduce the color of the objects it illuminates.
FIFA requirements stipulate that the lighting system must have good color, the CRI value of FIFA standards A and B is greater than Ra80, and the CRI value of FIFA standards C and D is greater than Ra70.
Advantages of ZGSM stadium lighting solution?
Free lighting design
ZGSM provides free lighting designs. If your course is competition level, for training, or for amateur competition, we can provide detailed planning. Including the arrangement of lamps, the choice of lamps, the installation direction of lamps, and so on.
High light efficiency
Under the same conditions, the higher the light efficiency, the more energy saving. ZGSM stadium lights use high-quality LED chips and high-efficiency LED drivers. And its light efficiency is up to 160lm/W, which minimizes the power consumption of the stadium and achieves environmental protection and energy saving.
High-end LED driver
ZGSM's stadium lights use high-efficiency LED power supplies from Inventronics. It has a long service time to meet the use of the stadium. At the same time, its RIPPLE & NOISE are low, and it will not produce any visible stroboscopic effect, so it can be viewed clearly without flickering in a high-definition broadcast environment.
Optics design
ZGSM LED stadium lights provide a wide optical distribution and are suitable for most stadium lighting needs. For example, the ZGSM Zoom series floodlights are available in 10 spectrums, including symmetrical and asymmetrical light distributions. I believe there is always a lens that fits your project requirements, of course, if you have any other special requirements for light distribution, we can also customize it for you.
Higher IP and IK rating
ZGSM's LED floodlights have high IP and IK ratings. IP66 makes our lamps suitable for most outdoor lighting locations. IK10 enables the product to be safely used in places of intense sports such as football, tennis, and basketball.
Focus point (Laser pen)
Our lighting designers can help you plan your football pitch. During the project implementation, the installation and aiming of the lights became very important. The laser pen will assist in the precise alignment of the light with the green laser's aiming point with a projection capability of up to 300 meters away. All to make your work more convenient and efficient.

Heat dissipation
Heat dissipation is a point that buyers must pay attention to when choosing LED floodlights. Both the LED chip and the LED driver need the right temperature to work properly. If the heat dissipation design of the lamps is not very good, it will affect the service life of the LED lamps, or more seriously, the LED lamps will stop working.
ZGSM will strictly control the heat dissipation when designing LED lamps. Among them, M series stadium lamps are with good heatsink design and their heat dissipation (ISTMT temperature) meets the requirements, which is an ideal lighting choice for football stadiums,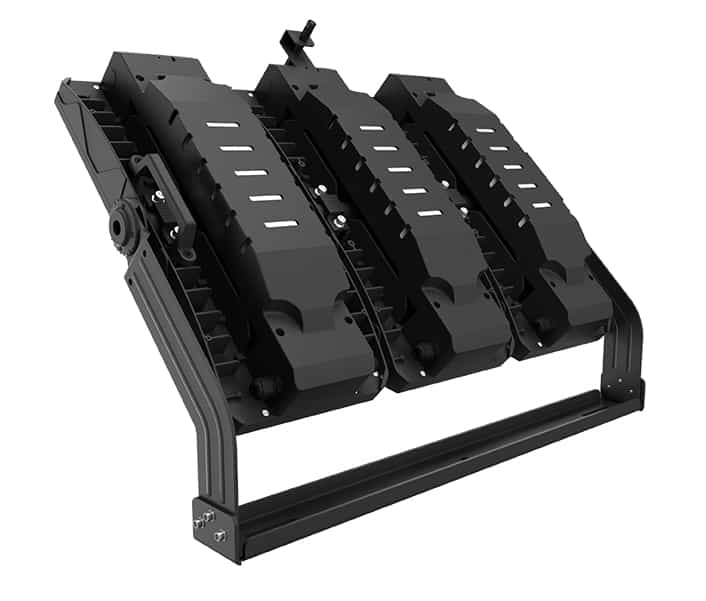 Warranty
ZGSM provides 5 years warranty for all led football stadium lights. If you choose ZGSM football stadium lights, you can get quick support at any time. We will send you either new whole lamps or parts of LED lamps for your replacement.
Summary
When it comes to professional pitch lighting, it is important to follow the appropriate standards and guidelines. This article mainly introduces the lighting standards of football fields, and also gives guidance on the arrangement of lamps used in the stadium and the placement of light poles. Also tell us the importance of Uniformity, Glare, Dimming, Flicker, CCT, CRI. Hopefully these will serve as a little hint for your pitch lighting. In addition, if you have considerations about the floodlights required for football field lighting, you can also refer to the characteristics of ZGSM floodlights introduced in the article. Finally, I hope you can make a breakthrough in your project design and find your favorite LED stadium lights. Finally if you want to enjoy the free lighting design of ZGSM, please send an email to info@zgsm-china.com.
Rated Products
Related Blogs
Related Cases
People also ask
Author introduction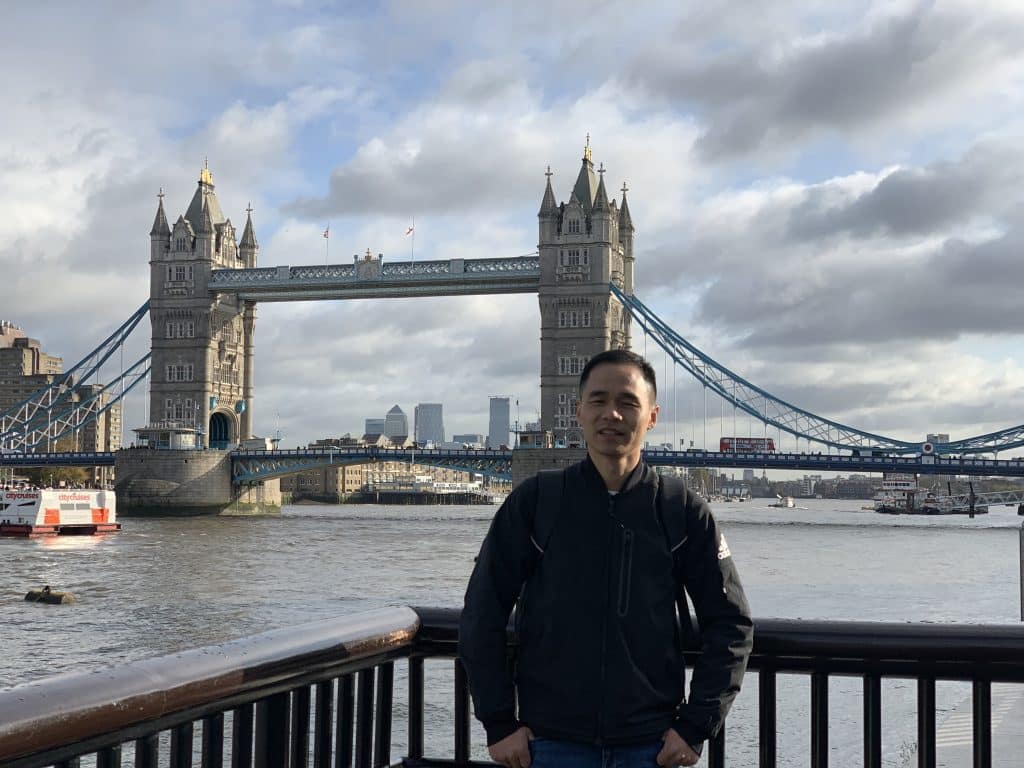 Hello Customers,
My name is Taylor Gong, I'm the product manager of ZGSM Tech. I have been in the LED lights industry for more than 13 years. Good at lighting design, street light system configuration, and bidding technology support. Feel free to contact us. I'm happy to provide you with the best service and products.
Email: info@zgsm-china.com | WhatsApp: +8615068758483