Series Primo ATEX approved Flood Light
Primo flood light is an extension product of Primo LED canopy Light, The flood light fixture is equipped with LUMILEDS LEDs and INVENTRONICS/MEANWELL LED drivers which lead to a long lifespan of 100,000 hours and 5 years warranty. With the ATEX explosion-proof certification, Primo flood lamps can be used in flammable and explosive areas. By replacing optional installation accessories, Primo flood light can be installed in gas station lighting, small stadium lighting, billboard lighting, architectural lighting, and other area lighting places.
Watts: 80-150w
Luminaire efficacy: Up to 165 lm /w
IP66&IK10
Die-casting housing and Tempered glass
Wide choice of optics, 25,30,60,90,120° or Asymmetry
Tempered glass cover, easy for cleaning
Optional installations accessories for recessed, surface, and bracket mounting
Atex certification

| | |
| --- | --- |
| Series No | Series Primo |
| Power | 80W, 100W,120W,150W |
| Efficacy | 155-165lm/W |
| Input Voltage | 100-240/277 VAC, 50 / 60 Hz |
| Power Factor | >0.95 |
| Surge Protection | 10KV (Build-in Driver) /Extra 10KV SPD (Available on request) |
| IP Rating | IP66 |
| IK Rating | IK10 |
| CCT | 3000K, 4000K, 5000K, 5700K |
| CRI | Ra>70 (Default) / Ra>80 |
| Operating Temperature | -40°C to + 50°C |
| Beam Angle | 25°, 60°, 90°, 120° or Asymmetrical |
| Mounting Option | Recessed, surface and bracket mounted |
| Warranty | 5 Years |
| Certification | CE, CB, ROHS, LM79, LM80, LM82, LM84, TM-21, ISTMT, IEC62471/62788 |
| Control | Photocell, DALI Dimmable, Motion Sensor, Non-Dimmable, 1-10V Dimmable |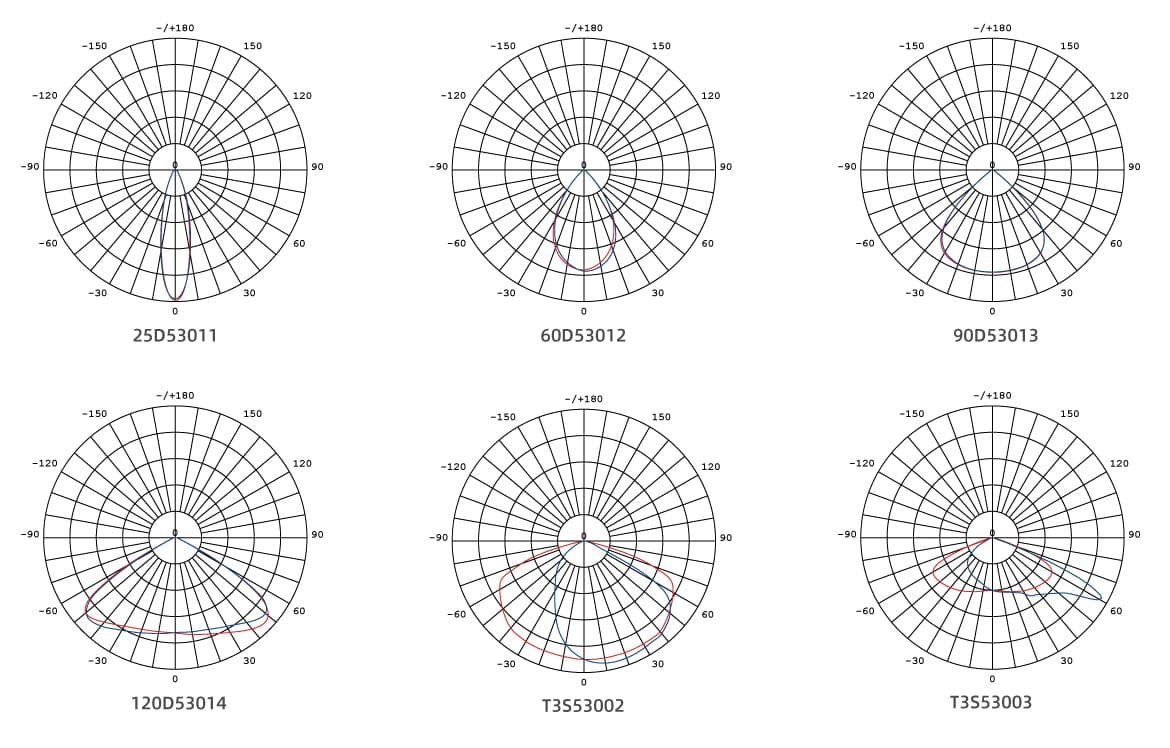 What is Light Uniformity?
We can measure the brightness lux level with a lux meter. If we divide an area with 10 meters x10 meters into A grid of calculation points, then we can get a table for lux level by checking every point for an area.
In general, the lighting uniformity equations are as below.
U= EMin ÷ EAverage
But we can get this Light Uniformity by doing the lighting design. By changing the layout of the lighting fixture(wattage, installation height, installation position)and choosing the proper optics, we can get a better lighting result(desired lux level and better light uniformity). So please contact us to get a free lighting design with high uniformity.
Why Light Uniformity is important in lighting?
It is important to get sufficient brightness (lux level), however, many users pay less attention to the light uniformity. Whether it is for a stadium, an industrial area, a commercial parking lot, or a city road, we need to have proper light uniformity to improve users' perception.
If the uniformity of indoor or outdoor lighting is very low, customers, workers, sportsmen, or citizens, may feel uncomfortable, thereby affecting their vision.
For indoor applications, good light uniformity helps improve the end user's productivity and overall experience. In an environment like a shopping mall, uniform lighting without any gaps and shadows helps to improve eye comfort which encourages more sales. In the factory, high uniformity means high productivity, which also ensures the safety of workers.
For outdoor applications, uniformity is also an important factor, especially for improving safety and curbing crime. For urban roads, without uniform lighting from pole to pole, you are unable to see ahead for you to act in advance which finally leads to tragic consequences. In parking lots, uniform lighting makes end-users feel safe because they don't need to worry about the dangers in the shadows.
What is an ATEX light?
ATEX lighting devices provide a solution for lighting in potentially explosive environments. They must be able to live in environments that frequently contain flammable gases and combustible dust, among other things.
What is the IK rating of the luminaire?
Nowadays, LED lamps are widely used in daily life and work. Inroads, factories, warehouses, shopping malls, parking lots, tennis courts, and other places, LED lamps are chosen for lighting because they have very high cost-effectiveness and energy-saving rate. In addition to these advantages, we also pay attention to the quality of LED lamps and their impact resistance. The lamps should meet the different requirements in various application places to ensure the safety of the environment and personnel. For stadiums, streets, roadsides, stadiums, and other places, even if they are damaged or damaged by a certain degree of impact from objects such as balls or stones, it is necessary to ensure that the lamps work normally and will not cause harm to people. Otherwise, people will be injured or plunged into darkness. Therefore, there is an IK code to indicate protection against mechanical wear.
What is the IK standard?
The IK specification applies to the external mechanical shock protection level of electrical equipment enclosures. It is only suitable for enclosures that have special requirements for the protection level of external mechanical shocks.
The IK specification was originally defined in the European standard BS EN 50102. It was adopted as an international standard in 2002. The standard was renumbered as EN 62262. Before the IK code appeared, occasionally a third number was added to the closely related intrusion protection IP code to indicate the level of impact protection-such as IP66(9). But this system is not standard, so a development standard has emerged that uses separate two numeric codes to classify the impact resistance of the enclosure.
The requirements for IK grade mechanical shock resistance test are as follows:
The test must be carried out at the specified temperature and pressure
The degree of protection refers to the entire enclosure. Unless specified in the relevant product standard, all tested enclosures should be clean, new, and complete.
The test requires that the lamp is fully assembled and installed
The lamp must not be energized during the test, and there is no surface treatment required for the test sample
If the different installation of the lamps may affect the test results, the test needs to be carried out at the predetermined installation position of the lamps
If the impact test cannot be performed due to the structure of the lamp, a special lamp can be used to complete the test.
The mechanical strength characteristics of the bulb should not be weakened when replacing the bulb.
IK rating
The IK level consists of two numbers, namely IK01, IK02, IK03, IK04, IK05, IK06, IK07, IK08, IK09, and IK10. The higher the number, the better the protection. Joule is a unit of energy used to measure the energy of a test.
The IK code uses three different hammers for testing-pendulum, the spring hammer, and the free-fall hammer. The type of hammerhead must be selected according to the type of force. The spring hammer tests the impact from IK01 to IK06, and the free-fall hammer tests the impact from IK07 to IK10. The pendulum is suitable for full-range testing. If it reaches a higher protection level than IK10, the code is IK 10+. Regardless of the additional energy effect, the recommended value is 50 J (joules).
The IK code number represents the value of anti-collision energy. The following table shows the relationship between IK codes and impact protection classification.
| | | |
| --- | --- | --- |
| IK Code | Impact Energy (J) | Impact Protection Classifications |
| IK01 | 0.14 | Protected against the impact of a 0.25kg mass dropped from 56mm above the impacted surface |
| IK02 | 0.2 | Protected against the impact of a 0.25kg mass dropped from 80mm above the impacted surface |
| IK03 | 0.35 | Protected against the impact of a 0.25kg mass dropped from 150mm above the impacted surface |
| IK04 | 0.5 | Protected against the impact of a 0.25kg mass dropped from 200mm above the impacted surface |
| IK05 | 0.7 | Protected against the impact of a 0.25kg mass dropped from 280mm above the impacted surface |
| IK06 | 1 | Protected against the impact of a 0.25kg mass dropped from 400mm above the impacted surface |
| IK07 | 2 | Protected against the impact of a 0.5kg mass dropped from 400mm above the impacted surface |
| IK08 | 5 | Protected against the impact of a 1.7kg mass dropped from 300mm above the impacted surface |
| IK09 | 10 | Protected against the impact of a 5kg mass dropped from 200mm above the impacted surface |
| IK10 | 20 | Protected against the impact of a 5kg mass dropped from 400mm above the impacted surface |
Note: IK00 means the tested lights have no protection under this standard.
Application of IK Code
We must know what the IK code represents and the test method about it, and then let's talk about how to choose a lamp with the appropriate IK code for your application. First of all, the choice of lamps depends on the place. The same is true for IK levels. You may not need a high-IK device in the bedroom because it is unlikely to have a strong impact. But for streets, football, tennis courts, parking lots, shopping malls, and other places, high IK code lights are necessary to protect the lights from unforeseen influences. Outdoor luminaires are faced with problems such as dust, water, extremely high or extremely low temperatures, collisions, etc., and should maintain normal operation even in the harshest environment. Therefore, it is important to choose a device with the appropriate IK rating for your site.
Generally speaking, lamps with an IK code higher than IK08 can withstand most mechanical shocks, while lamps with IK10 grade are equipped with the highest protection. ZGSM provides IK10 grade lamps to meet your demand for harsh environments-Zoom series LED floodlights, Primo series floodlights and petrol station lights, Rifle series street lights, and so on. They can protect the lamp from 20 joules of mass shock. If you need lights for roads, warehouses, petrol stations, tennis courts, football fields, etc., we believe they can add value.