Guide to LED Baseball Field Lighting
Guide to LED Baseball Field Lighting
Background
Baseball is a ball game played by 9 players using a bat and a ball on an outdoor field. The pitch is shaped like a pie with a square at the corner. The baseball field is divided into an infield and an outfield. There is a base on each of the four corners of the infield. The infield is also called a "diamond". So the baseball field is also called a baseball diamond. And the object of the game is for a team to score points by executing successful Plays that result in Runs.
Every baseball field follows a precise lighting design. Whether it's a stadium, high school, or college facility, there must be enough light. Today, stadiums use LED lighting according to current association specifications. In this article, we'll cover what you need to know about sports field lighting in order to get your baseball diamond compliant with the appropriate lighting requirements. They include the size of the baseball diamond, the layout, and height of the light poles, the corresponding lighting requirements, the cost of installing these lights, etc.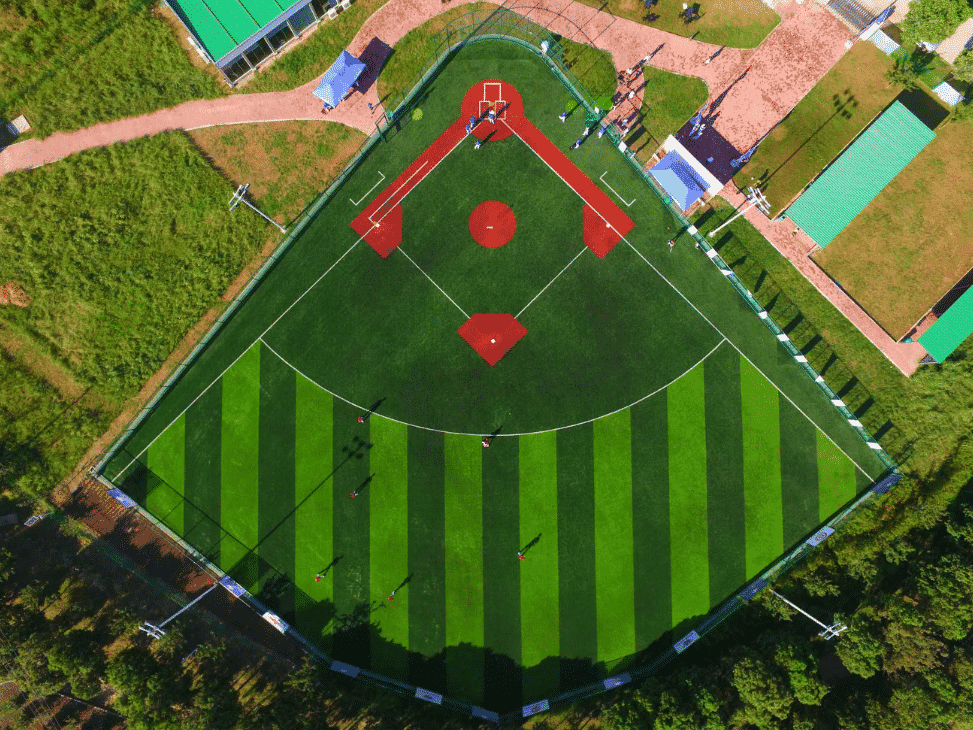 Baseball field lighting standards and requirements
Baseball fields have different lighting requirements. Minor league games don't need as much light as the World Series. It is very important to stick to the recommended lighting requirements as it can lead to very poor lighting if you decide to focus on reducing costs. Baseball fields often require a higher level of lighting than other sports because game objects are small and move quickly. When it comes to sports lighting like baseball field lighting or tennis court lighting, the motion of small and fast-moving objects must be better lit than large and closely-moving objects such as basketball or footballs. Of course, professional football matches must have very high illumination requirements. If you are interested, you can refer to football pitch lighting.

Classification of Play
As we mentioned before, higher-level games require higher lighting. A professional baseball diamond needs a uniform of 1,000 lumens anywhere on the field, or 1,000 lumens per square meter. 300 to 500 lux is generally sufficient for baseball fields in secondary schools, while this requirement is gradually reduced to 200 lux for training facilities and elementary schools. We listed the four classifications of lighting requirements in the below table, please check.
Baseball Lighting: Classification of Play
| | | | | |
| --- | --- | --- | --- | --- |
| Sports Facility | Class I | Class II | Class III | Class IV |
| Illuminance | 100 FC. / 1,000 lux. | 50 FC. / 500 lux. | 30 FC. / 300 lux. | 20 FC. / 200 lux. |
| Professional Sports | √ | | | |
| College Sports | √ | √ | | |
| Semi-Professional | √ | √ | | |
| Sports Clubs | √ | √ | √ | |
| Amateur Leagues | | √ | √ | √ |
| High School | | √ | √ | √ |
| Training Facilities | | | √ | √ |
| Elementary School | | | | √ |
League and association requirements must be considered when using LED floodlights to illuminate baseball diamonds. For example, in stadiums where matches are televised or streamed, the location of cameras must be considered to ensure that all areas are evenly lit. This is to avoid shadows and black spots on the pitch. For 4K and 8K TV formats, vertical and horizontal brightness must be increased.
Infield and outfield lighting requirements
Most of the action, and the fastest-paced ones, happen in the infield. This is where every shot has its maximum speed, with players' reaction times barely a tenth of a second, and umpires and batsmen needing to think about how to handle one ball after another going over 90 mph.
Therefore, the infield needs to be brighter than the outfield. If you've ever watched a baseball game at night, you've probably noticed this. If you sit in the outfield, the infield looks like a stage play, it's so bright. Conversely, if you're sitting behind home plate, the outfielder might look like he's in the shadows. This is not an optical illusion as the minimum lighting requirements for infield and outfield are different, which explains why a much smaller infield would be surrounded by more light poles and a much larger outfield would be surrounded by fewer light poles surrounded. The table below lists the lighting requirements for the infield and outfield for different levels of baseball.
Recommended Illumination for Baseball infields and outfield
Baseball Class of Play
Lighted area
Lux
Foot candles
I
Infield
1500
150
Outfield
1000
100
II
Infield
1000
100
Outfield
700
70
III
Infield
500
50
Outfield
300
30
IV
Infield
300
30
Outfield
200
30
Uniformity, CCT, CRI, and Glare
In addition to illuminance, baseball field lights also have requirements for uniformity, correlated color temperature, Color Rendering Index, and glare, just like football, tennis, and basketball courts. However, we checked MLB and other related websites and found no relevant standards or the standards were not detailed enough, so we extracted the Chinese standards, as shown below.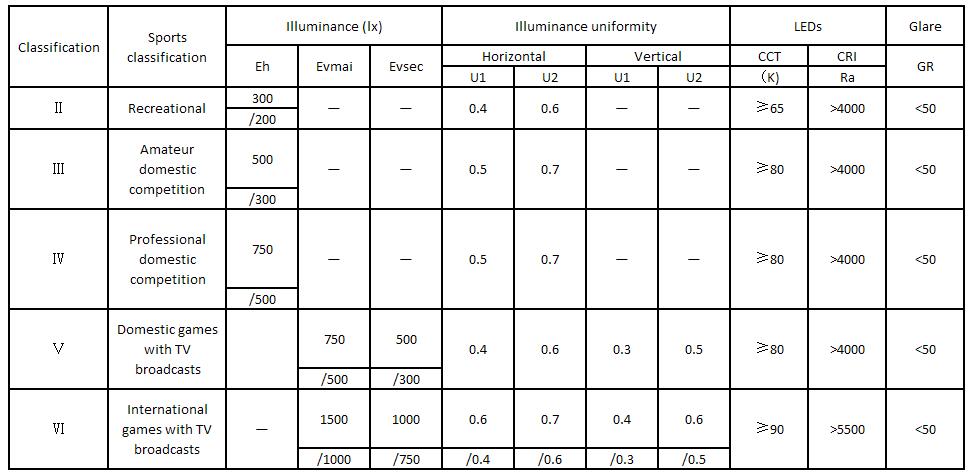 PS: The data is only intercepted from Classification II to VI levels.
Baseball field lighting design and layout guide
Baseball field lighting, football field lighting, and other stadium lighting designs ultimately depend on the requirements of the facility. A diamond that is mainly used for training as well as youth and amateur games, for example, requires less light than a professional or collegiate diamond that has to look good for the cameras on top of the actual sporting demands.
The main problems of the existing baseball lighting system design lie in the following aspects:
Insufficient illumination
The illuminance ratio (ie uniformity) of the infield and outfield lights does not meet the requirements
Incorrect pole position and height
illuminance ratio

A max/min ratio of under 3 is typically regarded to be even illumination, however a max/min ratio exceeding 3 might suggest patchy regions of light. In baseball illumination, a max/min ratio of 2 is regarded appropriate inside the infield at any level of play while 2.5 is considered optimum for the outfield.
We can refer to the first part of the article for the requirements of illumination. Uniformity is more complicated and we will not discuss it in detail here. Usually, the uniformity has a greater relationship with the position/height of the light pole and the optical design of LED lamps. In summary, we believe that the position and height of the light pole are important to the lighting of the baseball field. Below we focus on the layout and height settings of the light poles.
Dimension of the baseball diamond
Before introducing the distribution and height of light poles, let's first introduce the size of the baseball field, because this has a great relationship with the distribution of light poles. Baseball is a unique sport because the size of the field varies, it all depends on the level of the game. For example, a small baseball league field has a smaller size. As the level of the sport increases, so will the size of its baseball field. At the same time, its illumination level is also closely related to the size of the venue, because the competition venues of professional competitions are larger, and the corresponding illumination requirements are also higher.
The distance between bases on each side of a standard baseball field is 27.43 meters. At least 325 feet between home plate and the nearest fence, stand, or another obstacle on the left and right outfield foul lines; in midfield, between the home plate and the nearest fence, stand, or other obstacle distance of at least 400 feet. However, some clubs are allowed to build ballparks smaller than the required size. For example, in low-level baseball games, the diamond measures 60ft on all sides of infields, high schools, amateur games, and minor league games require 70 inches or more, while professional games use the standard 90 inches or 27.43 meters.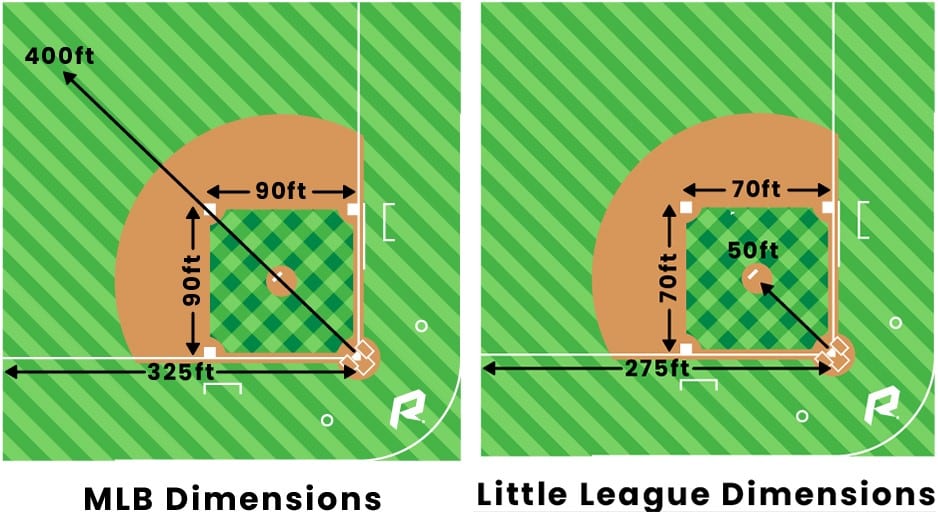 Layout and height of poles
Minor league baseball requires only four light pole baseball diamonds, two on each side of home plate, and then two more light poles behind the right and left-center fields. As the diamond expands at the high school, college, and minor league levels, two light poles will be added near the first and third base. Due to the size of the diamond and competitive requirements, maximum lighting was required, and in the outfield, two lighting towers were added just inside the foul bar. In this way, there are a total of four lamp posts around the outfield and four in the infield.
Diagram of pole layout for reference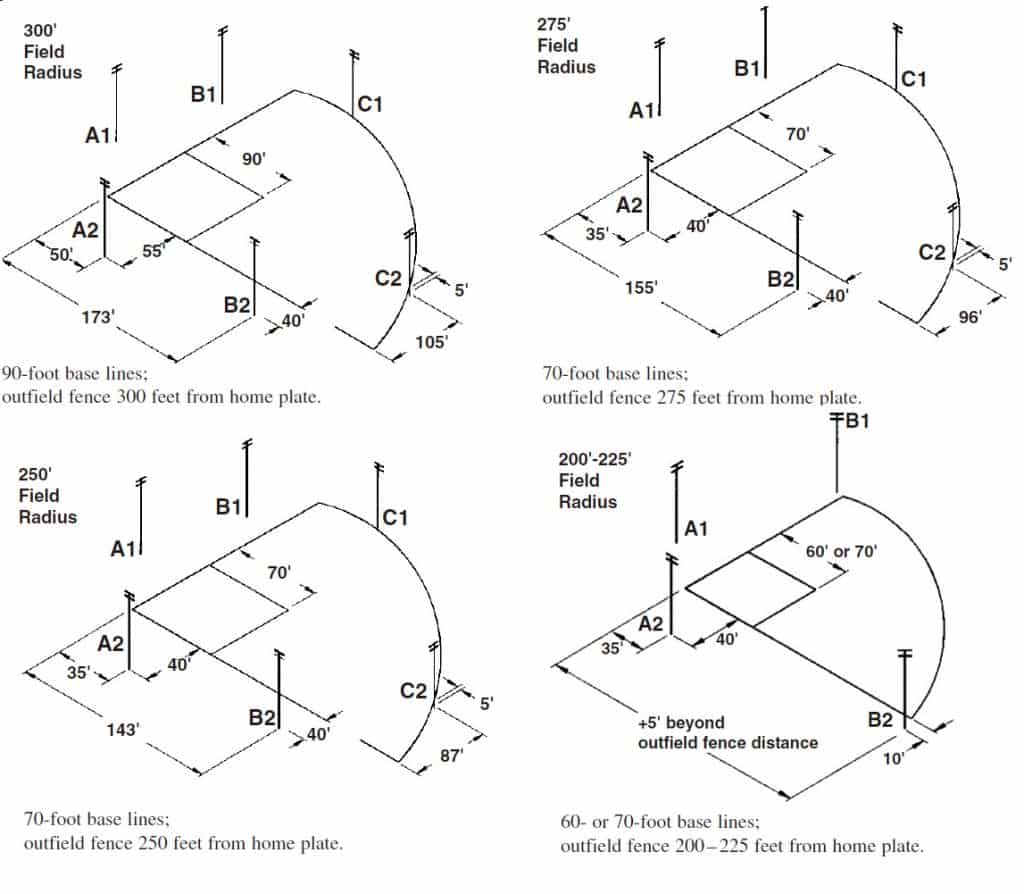 We have listed here the number of light poles (high mast) and the suggested minimum height for the light poles. In fact, the height of the light poles is often much higher than this height. At the same time, for glare control higher fixture mounting heights may be required. Also, if obstructions or common poles for multiple fields require poles to be set back farther from the field, then taller poles may be required. For example, the actual installation height of lighting fixtures in high school baseball fields is often greater than 28 m, and the installation height of lighting fixtures in baseball fields for major games is often greater than 35 m.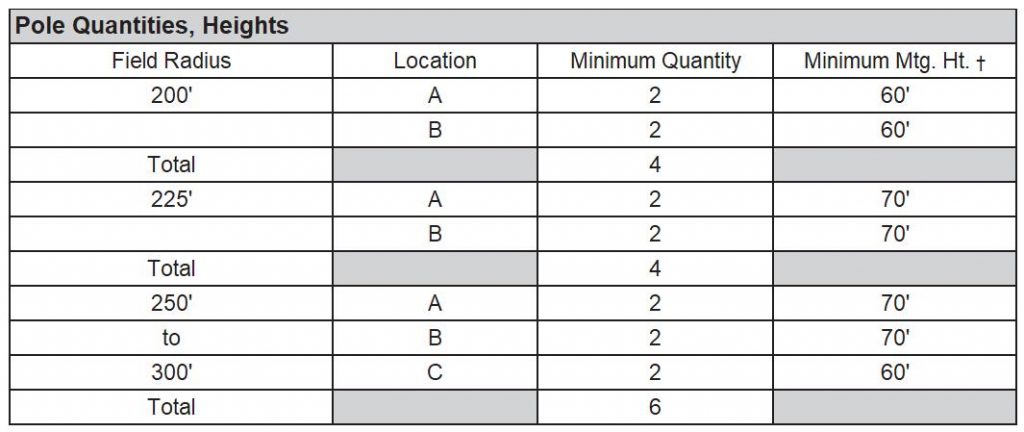 Why you should consider LED lighting for your baseball field?
Energy saving
For enhancing the performance and the vision of players and spectators, a high brightness level is required. With the same wattage, LED lights are capable of providing high lux levels in comparison to traditional lights. In others words, we can save energy by using LED flood lights to replace the traditional lights.
Energy Efficient
LED lights are known for saving energy because their luminous efficiency is higher. Normally it can reach 150lm/W. For some LED floodlights, it even can reach 200lm/W. And normally the higher luminous efficiency, the more LEDs that we used which makes sure you are getting high-quality LED lights. But pay attention to the efficiency data which should be provided by a third-party testing lab.
Heat Dissipation
The cooling system for LEDs is crucial as persistent and strong heat might damage the LED chips. To improve the lifespan of the light, a cooling system is designed. This is to make sure that the LED light performs well.
Cost of Maintenance
LED lights are designed to reduce maintenance costs. Since these lights have a longer lifespan, they will last for at least 100,000 hours. So, you don't have to worry about maintenance costs.
Long lifetime
LED floodlights with over 100,000hrs lifetime. Based on theoretical life, we can use these lights to illuminate baseball fields for over 50 years (calculated at 4 hours a day).
Optical Design
The LED lights have an advanced system that will minimize the glare and spill light. It provides all the light the field needs without wasting any light and decreasing the lighting to the residual or dark sky.
Warm-up Time
LED lights don't need any warm-up time. This means they will illuminate the whole area without causing any delays. However, for MH or HPS lamps, it will take a few minutes to be full-powered.
CRI
The higher CRI, the better color render ability. Normally the CRI of LEDs can be over 70%. For broadcast TV games, we can use LED flood lights with CRI90 to give better audience visual effects and live effects.
Warranty
Since LEDs have a long lifespan, the manufacturers normally offer a 5 to 10 years warranty. It will make sure that we will not pay much for repairing or the maintenance costs in the future.
High IP and IK rating
Another factor that you have to consider is that the LED light must be water-resistant and impact factor. The high water resistance is to prevent various problems caused by exposure of the light fixture parts to water, while the high IK light fixture is to protect the light fixture from baseball hits Impact. Because we all like a home run, but we don't want this to cause problems with the lights.
| | | | |
| --- | --- | --- | --- |
| Comparison | Metal Halide Lamp | LED Football Stadium Lights | Winner |
| Energy Saving | 2000w MH lamp has 130,000-170,000lm | 1000w is over 150,000lm | LED |
| Light Efficiency (lm/w) | 65-85 lm/w | 150-190 lm/w | LED |
| Heat Sink ( Main factor affects lifespan) | >100℃ | <75℃ | LED |
| Lifetime Costs | High maintenance cost of frequently repairing each year | Less maintenance cost | LED |
| Lifespan | Within 10,000hrs | >100,000hrs | LED |
| Optical design | >30% lighting spilled into the sky | >90% of lighting is made full use in the field | LED |
| Warm-up Time | About 5 minutes | No warm-up time | LED |
| CRI(The higher, the better ) | <60 | 80+/90+ | LED |
| Warranty | <3 years | >5 -10 years | LED |
| IP and IK | IP65 or IK08 | IP66 or IK10 | LED |
How much to retrofit your baseball field lighting system with LEDs?
It is recommended that before buying LED sports field lights for baseball lighting, you need to have a rough idea of how much it will cost. When you are calculating the cost of LED lighting, you have to know how many LED lamps you need and their wattage. Then you have to consider the cost of lamps, installation cost, electricity cost, maintenance cost, and much more.
Wattage, quantity, and price
When we are going to replace the traditional lamps with LEDs, it's much easier for you to find the quantity. And the wattage of LED floodlights can refer to below table.
Conversion table: HPS to LED baseball lighting
| HPS fixture wattage | LED fixture wattage | Energy savings |
| --- | --- | --- |
| 500 W | 125 – 200 W | 50 – 75% |
| 750 W | 200 – 400 W | 50 – 75% |
| 1000 W | 250 – 500 W | 50 – 75% |
| 1500 W | 400 – 750 W | 50 – 75% |
| 2000 W | 500 – 1000 W | 50 – 75% |
If you are going to replace all the HPS lamps of a baseball diamond, we assume that there are 96 pieces of HPS lamps, then normally we need about 32 pieces of LED floodlights (at the same wattage) to replace them. The cost of these lamps is about $40,000. If you still want to go with a 1000-watt HPS lamp which costs between $100 and $140 per lamp. We require 3 pieces of HPS lamps, each at 1,000 watts, to be comparable to an LED. So the total cost of the HPS lights purchasing is about a third of LEDs. However, the HPS lamp must be replaced from time to time during use, which is expensive. Normally the lifetime of HPS is less than a third of LEDs which means we need to replace it twice during LEDs' lifetime. So the cost for lamps is almost the same, while you have to pay maintenance costs and extra electricity bills. Therefore, LED stadium light is the best choice for baseball field lighting. Even if you pay a relatively high price at the beginning, you can keep the light steady for a long time.
If you are going to install LED flood light for your new baseball diamond, we should get the wattage and quantity of LED flood lamps as per lighting design. Normally the installation of an LED baseball field lighting system costs between $40,000 and $160,000. It depends on size of a baseball diamond, level of competition, and product quality. When the conditions of the earthwork, cable, and other structural components differ, the cost of the lighting system can be higher.
The above offer doesn't include the high mast (lights poles), cables, and bracket, so for a new installation, you need to pay almost another $40,000 to $160,000. While If your sports facility already has an existing lighting tower installed what you need is to get the LED floodlights to be installed and then reconnected. This will cost much less.
Keep in mind, that the more professional the baseball game is, the higher the cost of lighting the stadium will be. For instance, the cost of lighting a stadium for recreational purposes is between $30,000 to $40,000, then for a professional game, it might be three or four times higher.
Energy cost and maintenance cost
To understand this, you have to take a look at an example. For instance, we need a 50,000W LED for lighting up the high school baseball field. The lights are turned on for 4 hours a day and the running cost for a day might be 50,000 x 4 x 0.2/1000 = $40. Compared to traditional lamps, you can save about $1593 per month. For a year, we can save about 19381 USD. So we can get more than 70,000USD saved in 5 years by which we can get the initial cost to be paid back. See attached comparison table between LED and HID lighting solutions.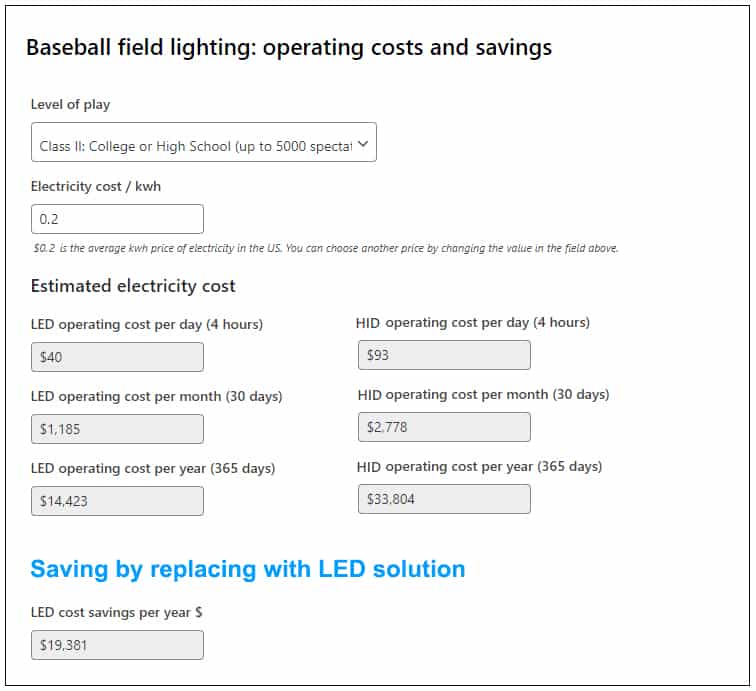 As to the maintenance cost when a failure comes up, it's almost zero. LED floodlights are normally with a 5-10 years warranty. This means we will send you spare parts or a whole lamp for replacement in case of a malfunction. But as we said before, LED lights are famous for their long lifespan, so we rarely encounter this kind of problem.
Conclusion
In both professional and amateur arenas and stadiums, outdoor sports field lighting is frequently utilized to illuminate the field or stage. Customers have depended on the quality of ZGSM's tried-and-true LED sports lighting systems for new construction and retrofit projects for many years. Through this article, I hope you have gained some understanding of baseball field lighting. ZGSM believes it is important to follow the appropriate standards and guidelines when it comes to professional baseball field lighting. This article mainly introduces the standard of baseball diamond lighting, including the illumination requirements and uniformity of the inner and outer fields, and also explains the size of the baseball field, the layout, and the height of the light poles. It also tells us the advantages of LED lamps in baseball field lighting applications. Finally, we give the cost and maintenance cost of an LED solution. Hopefully, these will serve as a little hint for your baseball field lighting. Of course, if you need us to help with lighting design, we are also very happy. In addition, if you have concerns about whether to retrofit baseball field lighting, you can also evaluate the advantages of LED solutions introduced in this article. Finally, I hope you can make a breakthrough in your project design and find your favorite LED light. If you want to enjoy the free lighting design of ZGSM, please send an email to [email protected] to contact us.
Rated Products
Related Blogs
Related Cases
People also ask
Author introduction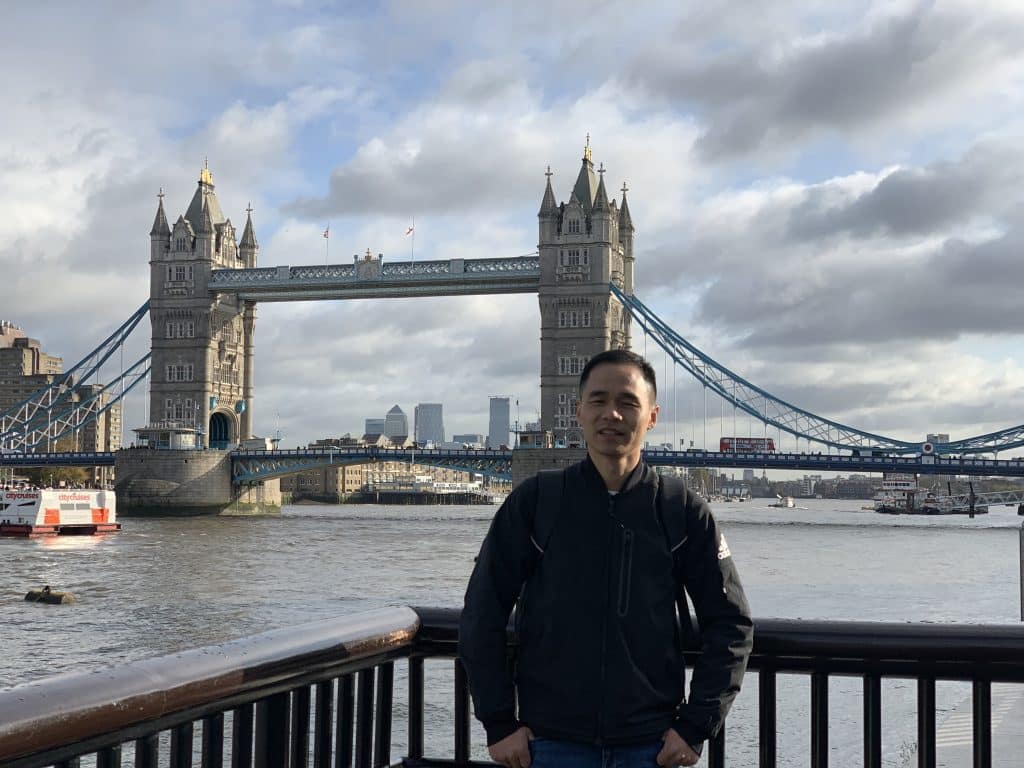 Hello Customers,
My name is Taylor Gong, I'm the product manager of ZGSM Tech. I have been in the LED lights industry for more than 13 years. Good at lighting design, street light system configuration, and bidding technology support. Feel free to contact us. I'm happy to provide you with the best service and products.
Email: [email protected] | WhatsApp: +8615068758483