Find a solution for your sports field – Tennis court lighting
Find a solution for your sports field – Tennis court lighting
Introduction
Outdoor sports lighting is a kind of site light fixture used to illuminate huge areas for sporting events or other major outdoor events and activities, such as football lighting. LED Sports lighting fixtures are commonly installed on poles 40 to 100 feet tall, with 1 to 12 lights per pole. In recent years, the sports field lighting market has developed rapidly. One of the main reasons is to replace old traditional lights with LED lights. In addition, more and more people are going to pay more attention to sports, which is not only a form of leisure but also very good for health. So now many new venues are also being built at an accelerated pace which of course includes tennis courts. In this article, we will let you know the tennis court size, reason for tennis court lighting, lighting design, and final the tennis court lighting cost.
Reasons for tennis court lighting
In tennis, some professional players can serve more than 200 kilometers per hour. Because the speed of tennis is too fast, it is difficult to judge its impact on tennis. This also greatly increases the difficulty of tennis matches, and the requirements for tennis lighting (illumination and glare values) are also more strict and professional.
For the non-competition tennis courts, people also want to be able to enjoy these sports comfortably after a day's work, so we have to provide ample lighting for the stadium at night. This not only improves the safety of sports but also gives players a pleasant mood for exercise.
So how do provide proper lighting for tennis courts? This requires suitable lighting fixtures to provide a bright and comfortable lighting environment for sports facilities. What do you want to achieve and what information do you need to know before starting your project? Does this confuse you? Follow these steps and you may have a clearer idea of ​​how to get started.
Tennis lighting standards
Firstly, you shall know the standards of tennis lighting. We have listed the lighting requirement for tennis court lighting below tables. This is based on China standard GB 50034-2013. We think the standards will be similar to those in your country. If there are any differences, we can go with your requirements as yours.
Lighting parameters for outdoor tennis courts*
| | | | | | |
| --- | --- | --- | --- | --- | --- |
| | Maintained average illuminance (lux) | Uniformity of illuminance (Emin/Eave) | Glare(GR) | Light color temperature (K) | Light color rendering (Ra) |
| Class I | > 700 | > 0.7 | < 50 | > 4000 | > 65 |
| Class II | > 500 | > 0.6 | < 50 | > 4000 | > 65 |
| Class III | > 300 | > 0.6 | < 55 | > 4000 | > 65 |
Lighting parameters for indoor tennis courts*
| | | | | | |
| --- | --- | --- | --- | --- | --- |
| | Maintained average illuminance (lux) | Uniformity of illuminance (Emin/Eave) | Glare(GR) | Light color temperature (K) | Light color rendering (Ra) |
| Class I | > 500 | > 0.7 | < 30 | > 4000 | > 65 |
| Class II | > 300 | > 0.6 | < 30 | > 4000 | > 65 |
| Class III | > 300 | > 0.6 | < 35 | > 4000 | > 65 |
*For competition-level tennis courts which normally have live TV broadcasts, they also impose stricter requirements on lighting. Generally, the lighting requirements of such courts are 2 to 3 times higher than that of ordinary courts. For example, it requires at least CRI 80 for international competition. And illumination level can reach 2000lux for some of them.
Which should be considered for tennis court lighting?
Dimension of tennis court
Mostly, the court is 78 feet long and 27 feet wide for single matches, and 36 feet for double matches. Furthermore, we want to know the extra extension area of a tennis court. Or if the tennis court isn't a standard size, please let us know.
Average tennis court size
The average tennis court size for singles play is 78 feet long and 27 feet wide, while the size for doubles play is 78 feet long and 36 feet wide. The net is positioned at the center of the court and stands 3 feet high at the center and 3.5 feet high at the posts. The court is divided into two equal halves by a center service line, which is 2 inches wide. The service boxes are located on each side of the center service line and are 21 feet long and 13.5 feet wide. The outermost lines on the sides and the back of the court are called the baseline and the side lines, respectively. The court is made of a variety of surfaces such as grass, clay, and hard court, each having its own unique playing characteristics.
How many feet is a tennis court
The serve line is 21 feet from the net and the tennis court is 78 feet long. The singles courts are 27 feet wide, while the doubles courts are 36 feet wide. A singles court has a total playing space of 2,106 square feet, while a doubles court has 2,808 square feet.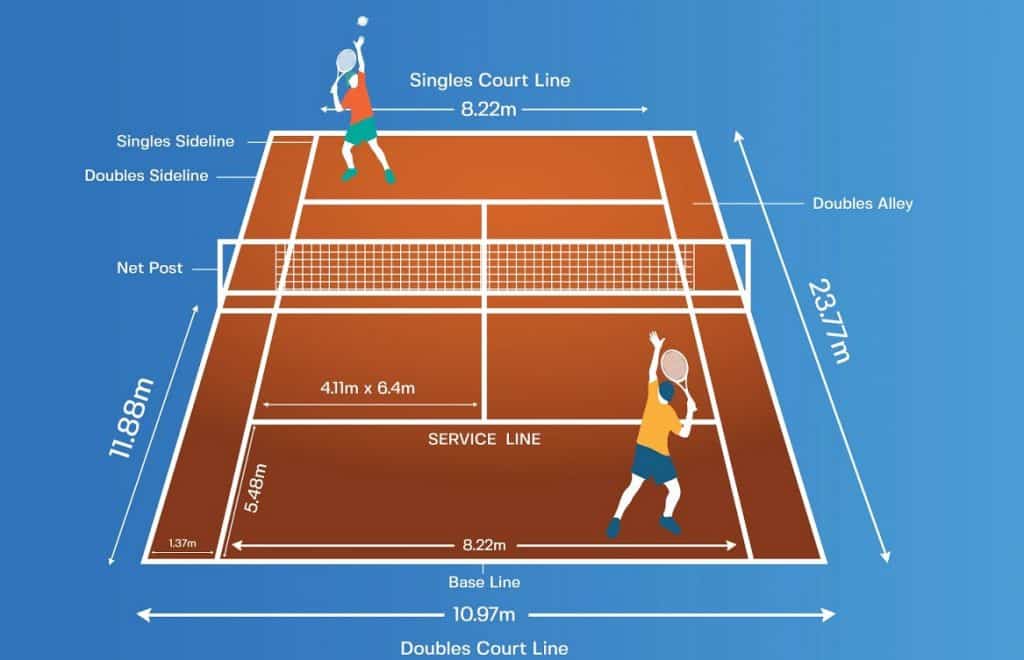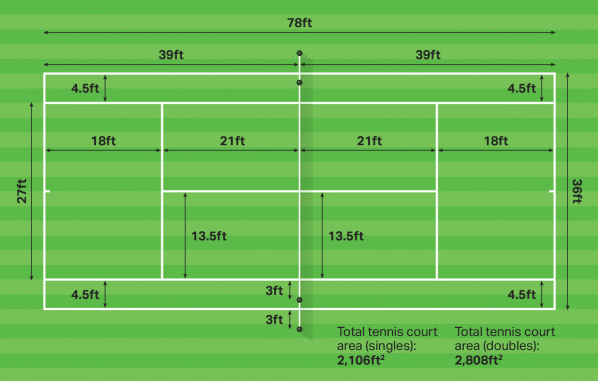 Pole location/height
We have listed the most common layout of poles for the tennis courts. Normally it will be 4 poles, 6 poles, or 8 poles. And the installation light is normally 8 meters, 10 meters, or 12 meters. This is important because it refers to the lighting design result and also the choice of LED lights.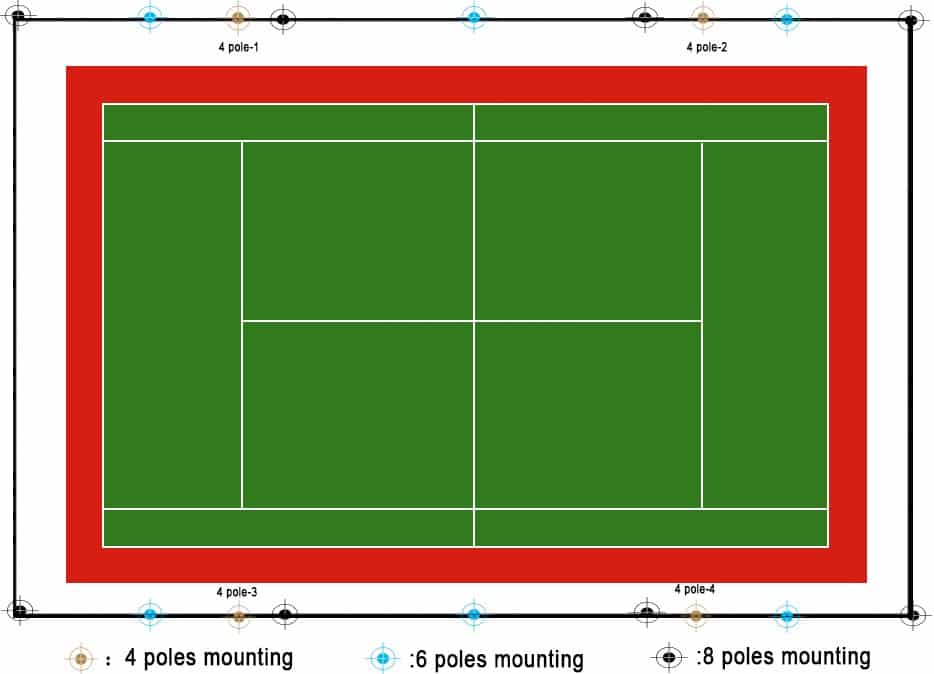 Spill light
If there is only one tennis court, we don't need to pay much attention to spill light. But if there are 2 or 3 or more tennis courts in one field, we should pay attention to the spill light from another tennis court. We have listed the results of 1 tennis court or 3 tennis court lighting results below. As you can see, the ones in the middle of other courts are normally with high lux level than others. So for saving cost, we can reduce the number of lamps for the middle tennis court.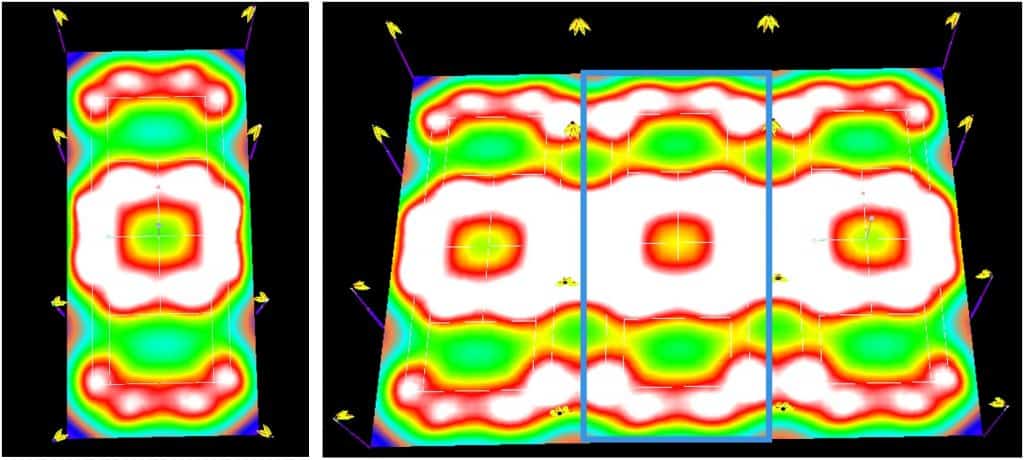 Others (Lux level, GR, U0, CRI, and Ra)
Besides dimension, pole location/height, and spill light, the lux level, GR, overall uniformity (U0), CRI, and Ra all should be considered in tennis court lighting. And we can find the information in section 3. To reach the requirement such as lux level, GR, and uniformity for different tennis courts, we need the help of Dialux lighting design so we will discuss them together with how to choose the right lighting fixtures in section 5.
Choose suitable lighting fixtures for your tennis
To get a better LED light for your tennis court, we think we should pay more attention to the wattage, installation bracket, and lighting distribution. So we will explain these three main points in this section. All are based on the outdoor tennis courts because we think once you are familiar with outdoor tennis court lighting, it will be very easy for you to change to the indoor tennis courts.
Wattage
Quick choose by checking the wattage of existing lamps
For old stadium lamps, it's either with a high-pressure sodium bulb or a metal halide bulb. Replacing a 1000W high-pressure sodium stadium light, normally 400W LED flood light is enough. We suggest the wattage of LED floodlights can be 25% to 40% of existing high-pressure sodium light wattage.
Wattage as per lighting design
Based on sections 3 and 4, we have the information including tennis court dimension (for example 40*20 m), lux level(1000 lux), and 16 pieces of lamps, then we can know that the wattage should be at least 40*20*1000/16/160/0.8=390 watts. Here we assume the efficiency of our floodlight is 160lm/W and the maintenance factor is 0.8 for lighting design. Considering that about 20% will spread into the outside of the tennis court, the final wattage will be about 500W (390/0.8). Of course, if the quantity of lamps is less than 16 pieces, the wattage will be higher than now. And the reverse is also true.
Installation bracket
In order to be able to install the lamps on the court smoothly, the installation method of the lamps needs to be considered. Our Zoom series floodlights provide different mounting brackets, the following are our common brackets for mounting to the light pole. With these kinds of brackets, we can easily adjust the projection angle of lighting fixtures that meet the project's requirements. Not only can be used as baseball field lighting but also can meet the lighting needs of sports venues such as football field lighting. If you have other requirements, you can contact us so that we can customize them for your project.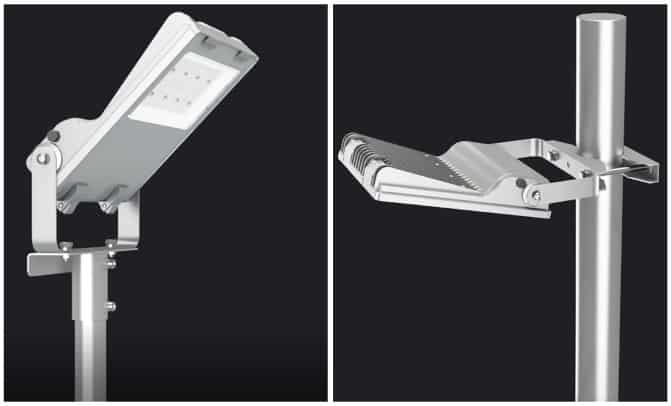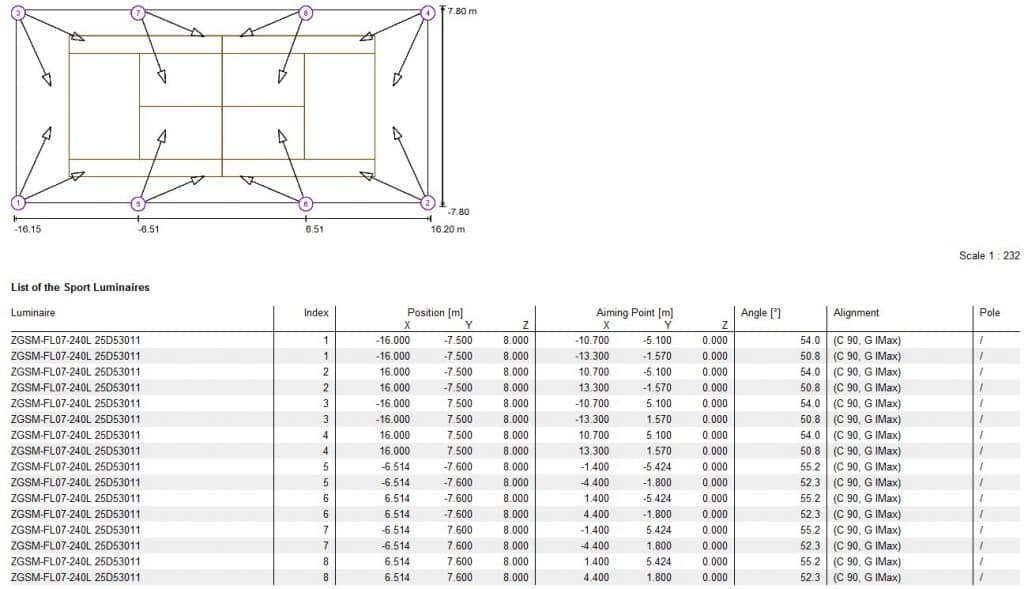 Lighting distribution
The even distribution of lighting is critical to the athletic experience of the athletes and the visual effects of the audience. To light up a tennis court, overall uniformity is critical. This shows the ratio between minimum and maximum illuminance. Typically, a light uniformity of 0.6 to 0.7 is sufficient.
Below we have listed the lighting results of three different lighting distributions (lens) of our Zoom series floodlights in different installation scenarios. Our company's lighting designer told me that the lighting distribution needs to be based on the arrangement of the light poles, the height of the light poles, and the size of the stadium, which means there is no uniform standard. Normally, stadium lighting requires 2 or more lighting distributions to meet the requirements of lighting design.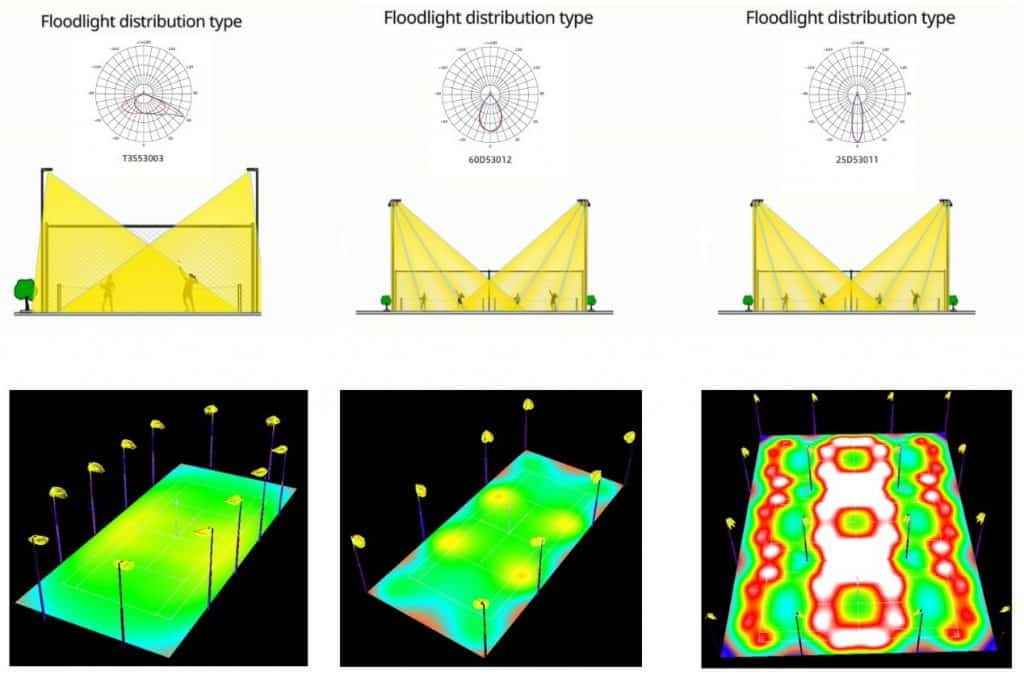 Besides these factors, the waterproof, efficiency, life Span, heat dissipation, and warranty should also be considered when you are choosing LED light for our tennis courts. Limited by space, we will discuss them in our other blogs.
Our project for your reference
We have many experiences in sports lighting including football lighting, basketball lighting, baseball lighting, tennis court lighting, golf course lighting, etc. Below is one of the projects for a tennis court in Mexico. In this project, we used 8 pieces ZGSM-TGD840J 30°, and 8 pieces ZGSM-TGD840J 60°, all in 5000K and CRI 70. These lights are installed on 12m height poles with 2 pieces of lamps on each pole. The overall uniformity and lighting level are all good. These lamps, it's enough for this arena as our client told us.
Tennis court lighting cost
In recent years, many tennis court operators have been installing modern LED lighting systems. According to product quality, whether to install light poles, lighting fixtures and regional labor differences, the cost of installing LED tennis court lighting ranges from $11,200 to $28,000 per standard court. Of course, this is just an estimate, and for the actual cost we recommended the buyers to contact us directly. We will propose a complete solution for you according to the actual project situation and lighting simulation, and analyze the various costs of the tennis lighting installation project. The table below is the cost of the standard tennis court we are currently implementing for your reference.
| | |
| --- | --- |
| Item | Cost |
| Lamps for Tennis court light lighting | $4,800 – $12,000 |
| Pole / High mast for tennis court | $4,000 – $10,000 |
| Installation/Wire connection of fixtures | $2,400 – $6,000 |
| Total | $11,200 – $28,000 |
Summary
Therefore, lighting is an essential factor for tennis courts as it relates to the ability, experience of the players, and the safety of everyone. Every factor is critical when choosing the best lighting solution. The size of the stadium, the layout of light poles, the requirements for illuminance and uniformity, determine what kind of lamps and what kind of lens are suitable for this stadium. ZGSM has a lot of experience and many series of floodlight products, I believe our solutions can be applied to your tennis court. For more information, please contact us.
For Street Lighting Design Guide, you can read our related article "Key Factors to Consider in the Street Lighting Design".
Rated Products
Related Blogs
Related Cases
People also ask
Author introduction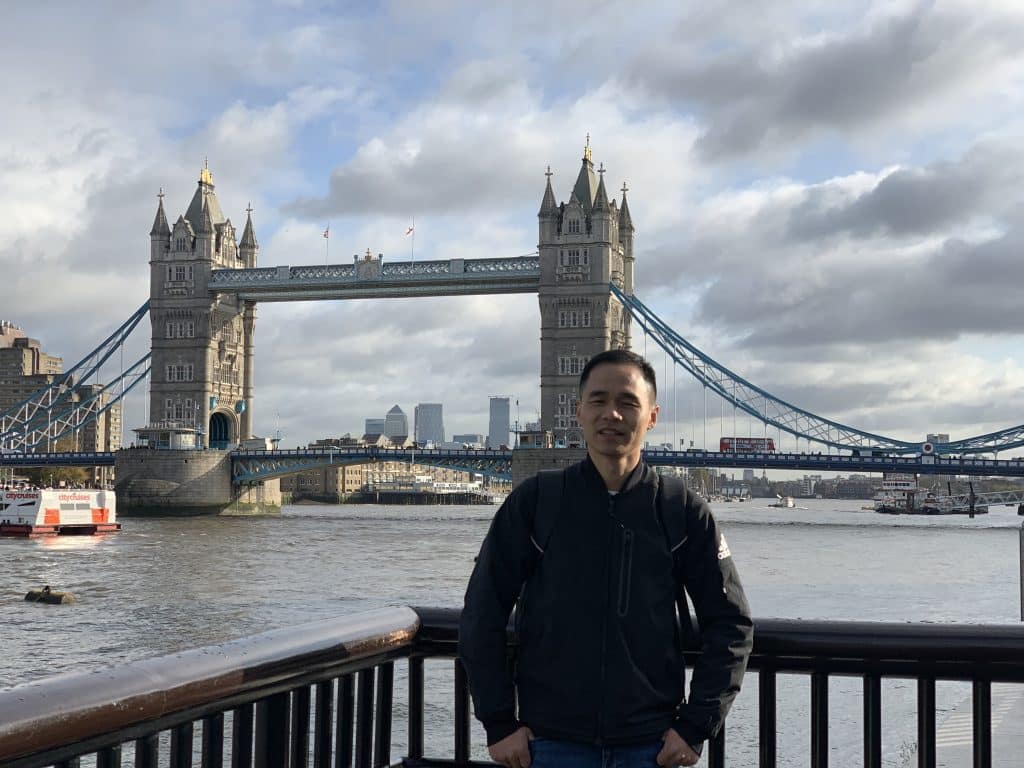 Hello Customers,
My name is Taylor Gong, I'm the product manager of ZGSM Tech. I have been in the LED lights industry for more than 13 years. Good at lighting design, street light system configuration, and bidding technology support. Feel free to contact us. I'm happy to provide you with the best service and products.
Email: [email protected] | WhatsApp: +8615068758483