Guide to get billboard illuminated correctly
Guide to get billboard illuminated correctly
Introduction
A billboard (also known as a hoarding in the UK and many other parts of the world) is a large outdoor advertising structure designed to establish a brand or promote a product. They are usually found in high-traffic areas, such as busy areas or on the side of roads. Billboards display large advertisements to passing pedestrians and drivers to maximize the attention of pedestrians and drivers to the products they promote. The investment is valuable once a pedestrian or driver notices and reads the advertisement on the billboard. However, as the saying goes, safety comes first. Too-attractive billboards can distract pedestrians and drivers, which can be dangerous for them. Therefore, the correct billboard lighting plays an important role in ensuring the safety of the billboard and increasing its attractiveness of the billboard.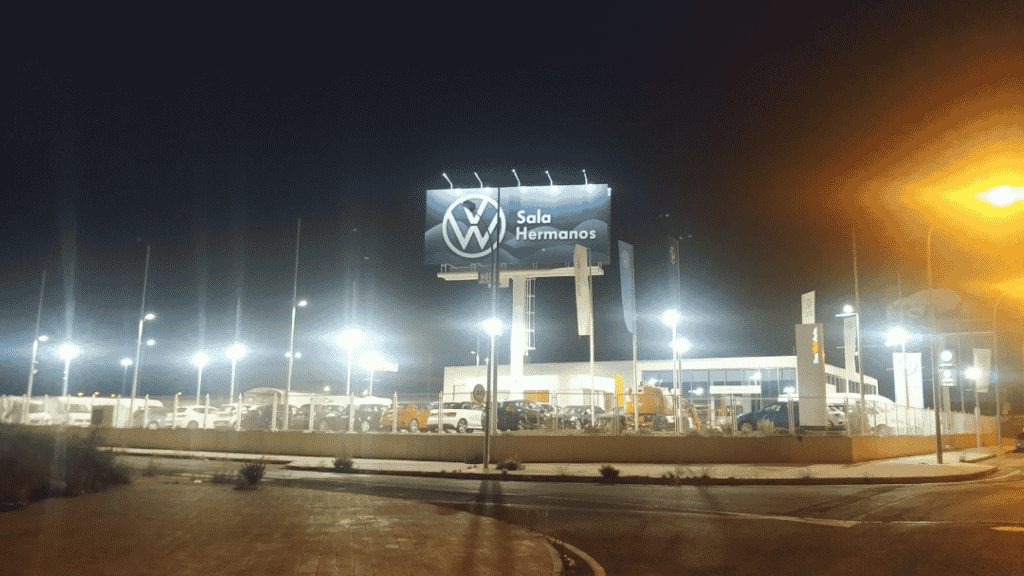 Billboard classification
Billboards are mainly located on major highways, freeways, or arterial roads, and in some areas where consumers are concentrated (mainly vehicular traffic). There are two main kinds of billboards, traditional billboards, and digital billboards. The main difference between them is the way they provide lighting which enables drivers or pedestrians to read the messages.
Traditional billboards have the text and/or pictures printed on paper or vinyl and then attached to the building's façade or signage surface. Because paper and vinyl films don't emit light, traditional billboards can pass light onto or reflect light onto their surface so that pedestrians can read the information on the billboard at night. During the day, the information on the billboard is easier to read due to the abundant light. Instead, when night falls, we need an external light source to illuminate the billboard so that people can focus on the information on the billboard. Since billboards are generally mounted on high poles, high-power LED floodlights are installed on the top and/or bottom of the billboards to provide adequate lighting.
Digital billboards are billboards in which the computer changes its digital image every few seconds. Advanced technology enables billboards to emit light on their own. Digital billboards are visible because the light comes from inside the billboard. Unlike traditional billboards, digital billboards must be dimmed to a higher brightness for clear visibility during the day. But at night, the high-brightness light of digital billboards can cause glare. Excessive lighting can not only make people unreadable but also cause driver discomfort and accidents.
Of course, in addition to these two types of billboards, there are also some small classified billboards, such as multi-purpose billboards. Advertising signs can combine their primary use with telecommunication antennas or public lighting supports. Typically, the structure has a steel rod with coupling flanges on the above-mounted billboard structure, which may contain a telecommunications antenna. However, the lighting is still provided by external LED lamps like traditional billboards.
Types of Billboard
Fixed billboard. ad banners. Electronic billboard. Wallscapes. Billboards on wheels. lintel posts. Billboards with interactivity. Wild Adverts.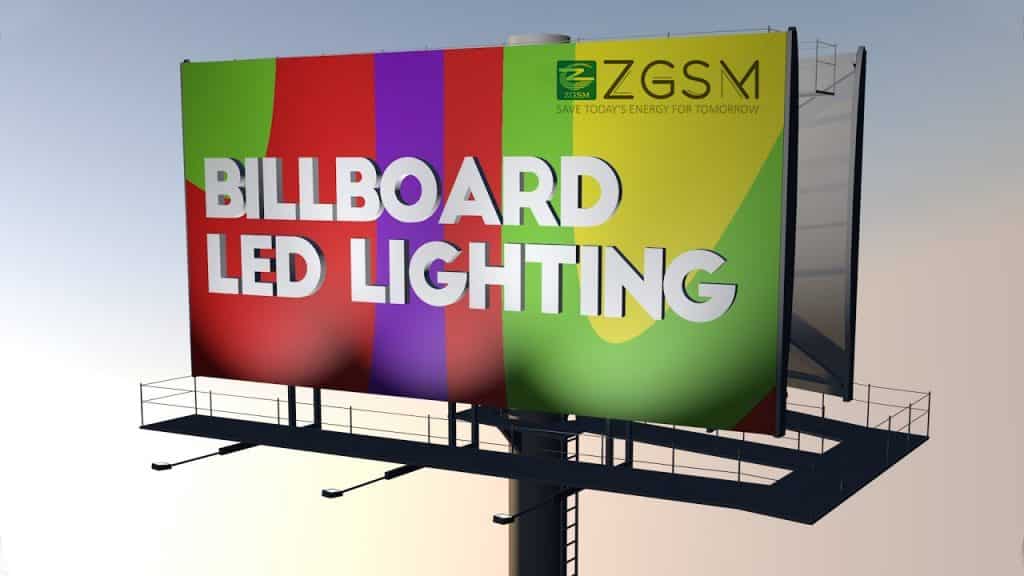 Requirements for billboard illumination
Now that digital billboards can emit their own light, let's talk about traditional billboard lighting and how to get it illuminated in the right way.
The purpose of billboard lighting is to light up advertisements so that both drivers and pedestrians can see and read the advertisements. Excess light can cause intrusion and glare. Luminaires transmit light from billboards to dark skies, nearby residents, or plants, disturbing humans and animals. Furthermore, glare is dangerous because it causes discomfort, disability, and excessive light, which can lead to a temporary lack of recognition and response in heavy traffic.

ZGSM thinks that the billboard lighting on the left is more suitable, while the main problem with the billboard lighting on the right is that it is too bright, which will have an impact on humans and the environment. That is to say, when illuminating billboards, in addition to meeting the requirements of illuminance, it is also necessary to prevent lighting pollution including too high illuminance and uncomfortable glare. Because unnecessary high brightness is a complete waste of energy and harmful to the environment and humans. Carefully simulated lighting design can not only save initial investment and later energy costs but also reasonable lighting can achieve the expected advertising effect. While this may sound difficult, consulting a professional lighting manufacturer can help you resolve these issues faster. ZGSM provides free lighting design and custom fixtures, contact us to get your own lighting solution.
We looked for relevant standards, but there were not many references to billboard lighting. For example, the IES Lighting Handbook 9th Edition recommends illuminance levels between 20 and 100 footcandles (FC) and uniformity (defined as the ratio of maximum to minimum light levels) should be 4.0 or less for billboards. The reason we think is that the environment and the material of the billboard have a bearing on the actual lighting effect. For example, the farther the billboard is from the road, the higher the illumination it needs. Or the environment where the billboard is located is relatively dark, so the required illumination will be relatively lower. Or the material reflection coefficient of the billboard is high, so the illumination we need can also be lower. The following is a three-level classification according to the surface color of the billboard and its environment.
If you have a dark surface and a bright background, then you need more light. In this case, we consider 1000 lux to be the appropriate illuminance. Remember, if the background is brighter than the object, the visibility will be significantly reduced, so we need more lighting.
If you have a bright surface against a bright background then generally 500 lux is sufficient. In these cases, you may be tempted to choose not to use lights, but the illuminance value of the billboard should be slightly higher than the ambient environment to make the billboard more attractive, generally, 500lux is sufficient.
Finally, if you have a billboard and it's in a dark environment, then 250 LUX (bright surface) or 500 LUX (dark surface) is all you need. Remember, even a dim light can achieve great lighting effects when it's dark all around, and your LED billboard lights don't need to be that powerful at this time.
| | | | |
| --- | --- | --- | --- |
| Billboard lighting | Surface of billboard | Background | Lux requirement |
| Situation 1 | Dark | Bright | 1000lux |
| Situation 2 | Bright | Bright | 500lux |
| Situation 3 | Dark | Dark | 500lux |
| Situation 4 | Bright | Dark | 250lux |
Billboard lighting requirement recommendation
To sum up, LED billboard lighting should adjust the brightness according to the ambient brightness. For example, the illumination of billboards should be lower in the open field at night, such as on highways. But for billboards in commercial areas, their illuminance value should be slightly higher than the ambient environment for a more competitive appeal.
Btw, the lighting of the billboards cannot affect the life of the residential area. The following are restrictions on billboard lighting for windows in residential areas.
1. Before 23:00 every day, the vertical surface illuminance of residential windows is limited to 10Lux, so as to avoid the night lighting of outdoor advertising facilities affecting the normal life of residents.
2. After 23:00, the vertical illuminance of residential windows is limited to within 5Lux. In addition, the night lighting of outdoor advertising facilities requires automatic control of the lighting period. From 0:00 to 5:00 every day, outdoor advertising facilities are prohibited from turning on the lighting devices.
Recommendations for billboard illumination
According to the above information, we knew the relevant standards for billboard lighting. Here we summarize these considerations for billboards.
The main consideration for billboard lighting
Illumination requirements: recommended according to the actual situation, generally between 250lx and 1000lx.
Uniformity: The uniformity (ratio of maximum brightness to minimum brightness) for billboards should be 4.0 or less.
CRI: The color rendering index of lighting fixtures should be higher than 80.
Lighting hours: Commercial billboards must not be illuminated before and after business hours
Other: Billboards within 300 feet of a residence should not be illuminated. The light source should not be directly seen by drivers or pedestrians.
Common design guide for billboard lighting
Traditional billboards are generally installed on poles or buildings at a certain height from the ground. They also vary in size. There are some simple formulas that relate to the size or height of a billboard. However, please note that the below formula is for reference only, and the specific billboard lighting design needs to be determined according to the specific situation. Below are some billboards which are common in our lives.

If the height of the billboard is less than 8 meters and it is wider, the lamps can be installed on one side, and the distance between the lamps is about 1 to 2 meters. Wide beam angle lighting fixtures will be more suitable for this type of billboard. It is usually recommended that the lamps be installed above the billboard because they can darken the sky. However, in practical applications, in order to facilitate the maintenance of the lamps, the lighting is placed at the bottom of the billboard.
For wide billboards with a height of 8 to 12 meters, upper and lower bidirectional lighting should be used. This type of billboard is also suitable for lighting fixtures with wide beam angles. The distance between lamps and lanterns should be between 1.5 and 2.6 meters.
Another type of billboard is elongated, for which lighting fixtures with narrow or medium beam angles are suitable. The position of the light fixture depends on the height of the billboard light. For very tall billboards, it is best to install lighting fixtures on both sides.
Below is the diagram of three common layouts of billboard lighting design.

Advantages of ZGSM LED flood light for billboard lighting
Different mounting options
ZGSM floodlights have a variety of installation options, such as standard bracket installation, pole installation, clamp installation, and arm mounting. Basically, it can meet most billboard application scenarios.

Adjustable beam angle
ZGSM's floodlights have different beam angle options. Different beam angles can be applied to billboards of different sizes. There are symmetrical and asymmetrical spectrums so that your billboards are evenly lit.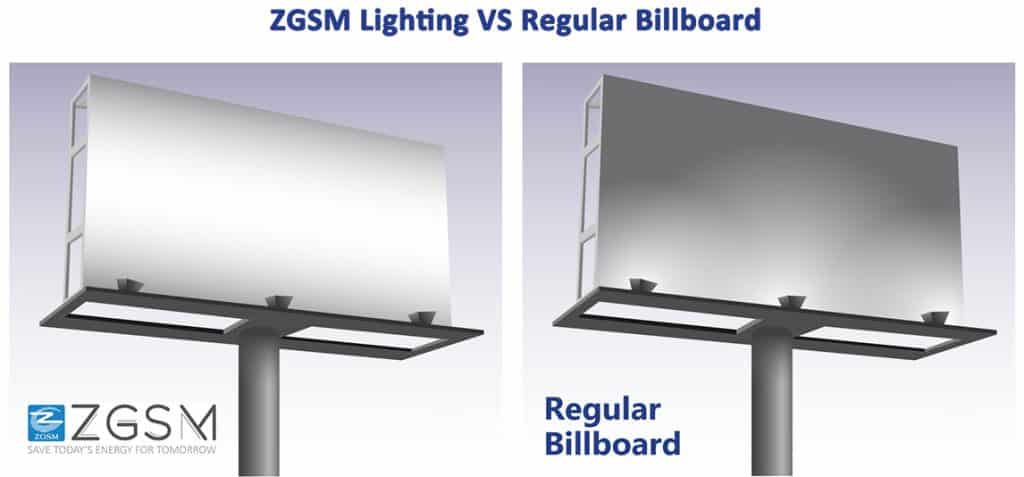 Suitable for both billboard and floodlighting
In addition to billboard lighting, our LED lamps can also be applied to another outdoor lighting such as roads, perimeters, courtyards, sports areas like tennis courts, small football lighting pitches, etc.
Easy for maintenance
Buckle design makes it very easy for further maintenance. Although we used world-class, approbated quality components (LEDs /Driver), the tool-less opening design makes it easy and quick to complete repairs for rare failures.
High IP and IK rating
High light IP rating and IK rating, a must-have attribute for outdoor lighting. ZGSM provides third-party tested light IP rating and IK rating reports so that you can use our lamps with confidence and make them perform better in outdoor billboard lighting.
Others
ZGSM flood lights such as our Zoom series have other advantages like an equipped vent to avoid internal fogging and frosting, 5 years warranty, good heat dissipation, etc.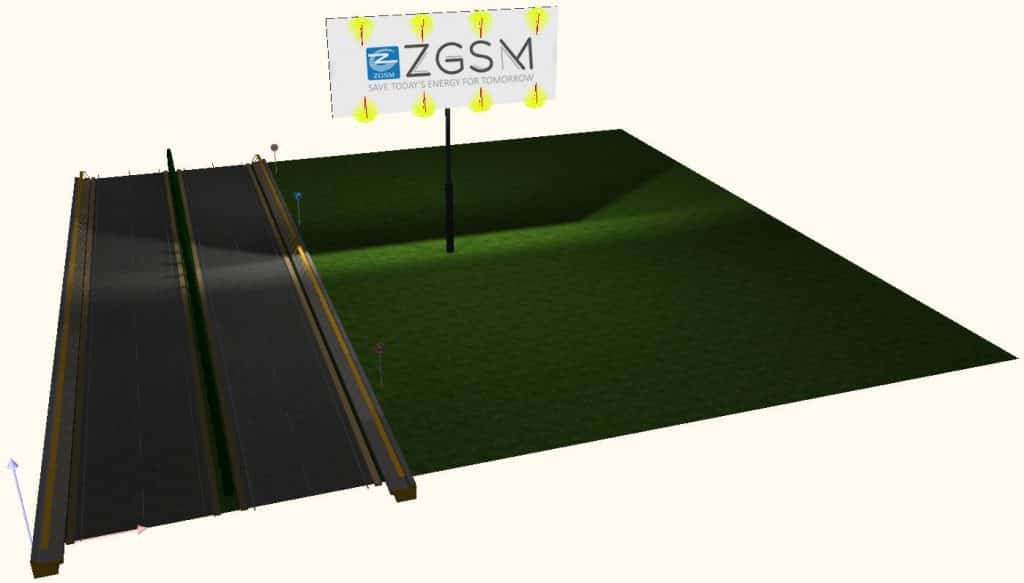 Summary
Discussed above are some of the billboard lighting standards you need to know, billboard lighting design and the advantages of LED in billboard lighting, and more. As LED lighting solutions have replaced traditional lighting solutions, the demand for LED floodlights is also increasing. If you want to install LED flood light for your billboard and bring bright light and a more attractive design to your billboard, ZGSM is a trusted manufacturer of high-quality billboard lighting solutions. We can provide you with a range of solutions, from billboard lighting planning to LED luminaire selection, placement, and lighting distribution options, as well as other functional options. Please contact us as soon as possible and let us light up your billboard.
Rated Products
Related Blogs
Related Cases
People also ask
Author introduction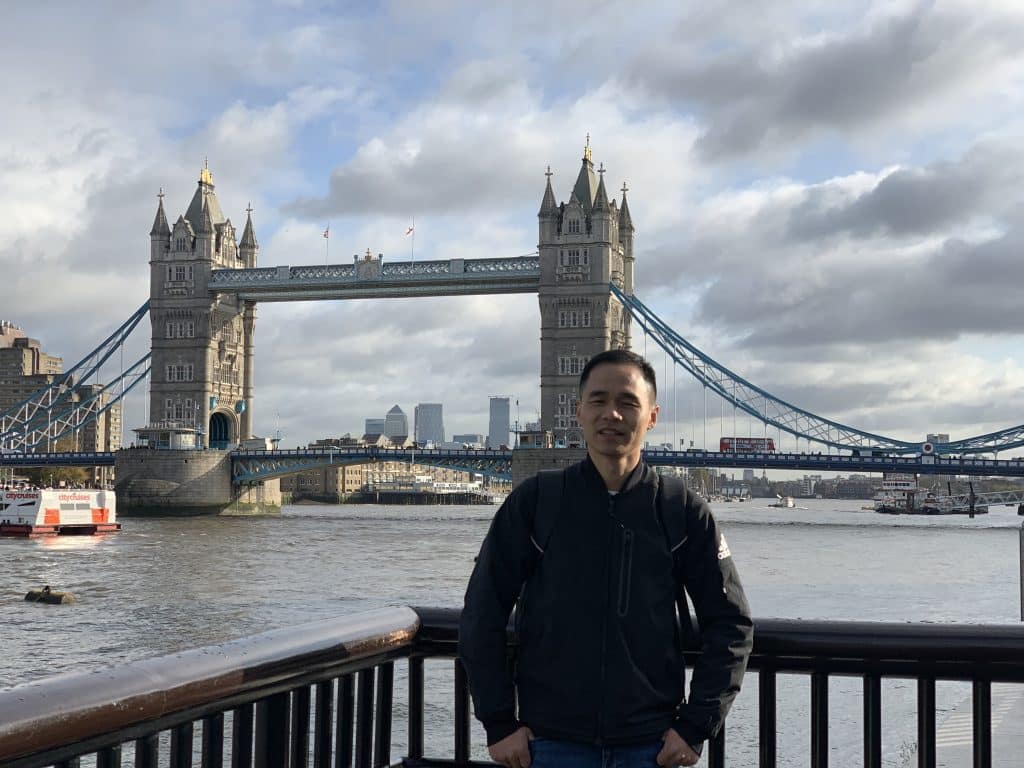 Hello Customers,
My name is Taylor Gong, I'm the product manager of ZGSM Tech. I have been in the LED lights industry for more than 13 years. Good at lighting design, street light system configuration, and bidding technology support. Feel free to contact us. I'm happy to provide you with the best service and products.
Email: info@zgsm-china.com | WhatsApp: +8615068758483