Series Cropluster Pluggable Plant Grow Light
Series Cropluster LED grow Light innovatively adopts a plug-in module design, which can realize any combination of different powers, and also facilitates the replacement and upgrading of modules. Cropluster led grow light can provide more control for your crop growth, improve crop quality, better consistency, and energy-saving up to 75%. LED is more energy-saving, has low heat production, and has more uniform light distribution, making it an ideal choice for crop cultivation in a closed environment. Cropluster full spectrum led grow lights have many applications, such as plant factories, seedlings, and scientific research, suitable for planting the following crops, flowerbed plants and perennials, cut flowers, seedlings, and potted plants (mainly tulips), leafy vegetables, herbs, and berries, etc.
Watts: 420w, 650w, 720w
PPE: 2.6 – 2.8 μmol/J or on request
plug-in module design
Spectra can be customized according to request
Stretched aluminum radiator, excellent heat dissipation effect
pluggable waterproof connectors,
0-10V, Knob Stages: OFF- 25- 50- 75- 100%- EXT (External Dimming enable when dimmer connected.)
| | |
| --- | --- |
| Series No | Series Cropluster |
| Power | 420W, 650W, 750W |
| PPE | 2.8 μmol/J @ 230V AC |
| Input Voltage | 100-240/277 VAC, 50 / 60 Hz |
| Power Factor | >0.95 |
| Thermal Management | Passive |
| IP Rating | IP65 |
| Max. Ambient Temperature | 40°C |
| CCT | LED, 3000K + 5000K + 660nm + 730nm |
| Spectrum | According to plant or Customer specified |
| THD | < 20% |
| Beam Angle | 120° |
| Mounting Option | Hanging (Default comes with 2 pcs of 1/8" Rope Hanger – Not suitable for prolonged exposure under UV) |
| Warranty | 5 Year Standard Warranty |
| Certification | CE, ROHS |
| Control | 2 x RJ45 (6P6C) |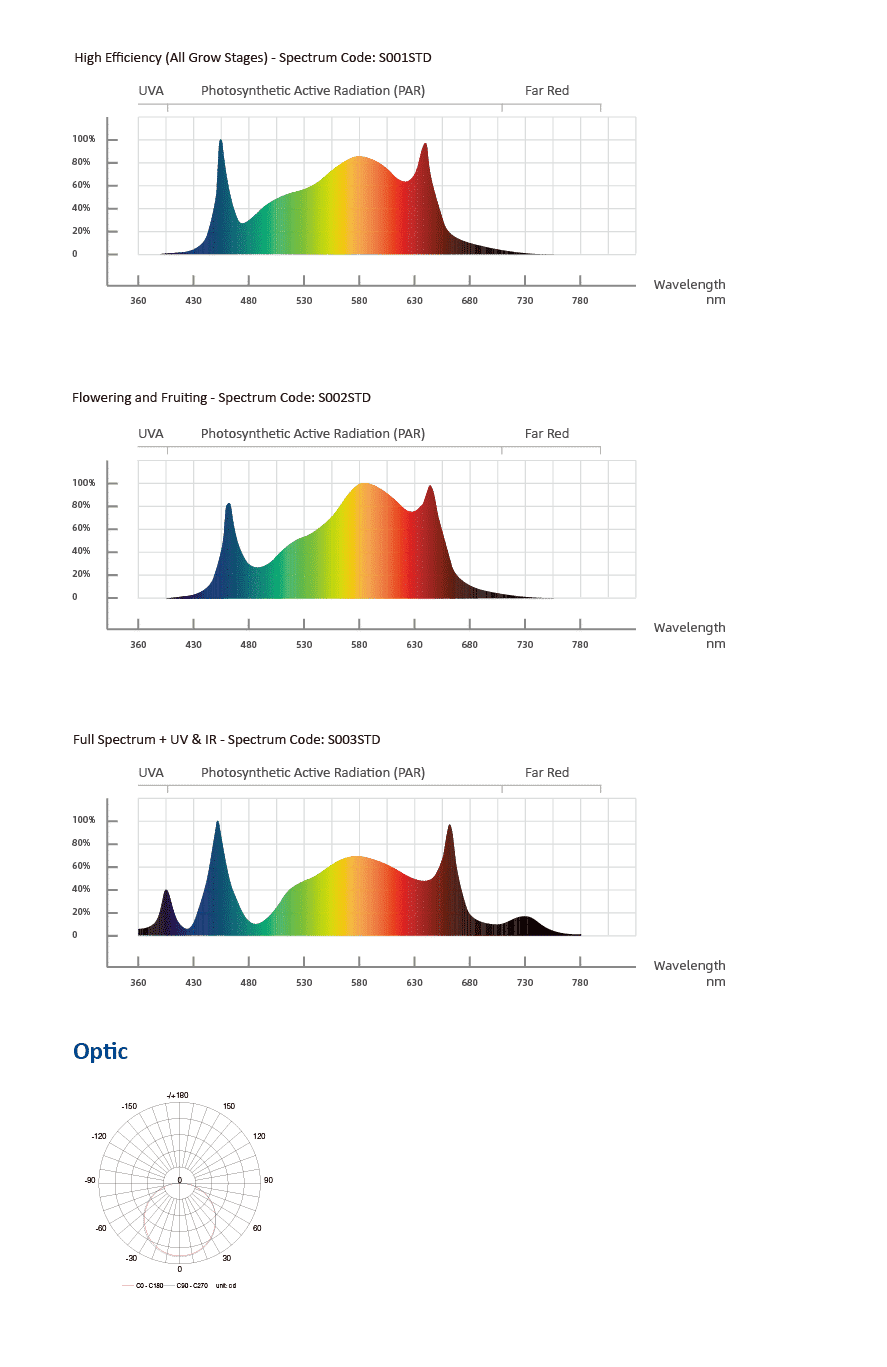 Can any LED light be used as a grow light?
Even though they emit some of the wavelengths required by plants, regular LED lights cannot be used as grow lights. Plants demand a lot of light, and regular LED lights don't provide it. LED grow lights are designed to optimize red and blue light, which is essential for plant growth.
How far away should LED grow lights be from seedlings?
How far away from the seedlings should the LED grow lights be? Seedlings are delicate and should be started at the maximum recommended distance from the LED grow light. The safe distance for all Cropluster LED grow lights is from 12-36 inches above the seedling, depending on the size of the light.
Should I dim my LED grow lights for seedlings?
To assist your plant to grow properly, you must be able to manage your grow light. When your plants are stressed or when you're applying foliar and insecticides, you'll need to dim the lights.
What makes an LED a grow light?
LED grow lights are full-spectrum LEDs designed to enhance photosynthesis and allow plants to grow in the absence of sunshine. LED grow lights are perfect for all types of indoor plants as well as additional illumination for outdoor and greenhouse plants.